Kootenai County GOP condemns sanctions, praises Russia for resisting 'progressive globalist agenda'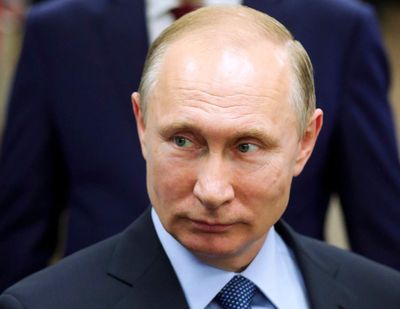 Bucking Idaho's two GOP senators, the Kootenai County Republican Party has approved a resolution praising Russia for resisting a "progressive globalist agenda."
The county Republican Central Committee narrowly passed the resolution on Tuesday favoring friendlier relations with Russia and condemning the Russian sanctions bill that was sponsored by Idaho GOP Sen. Mike Crapo and passed overwhelmingly by both the U.S. House and Senate.
The resolution praises Russia and denounces Crapo and Idaho GOP Sen. Jim Risch for supporting the measure. It also calls for them to "re-examine their foreign policy orientations" and adopt "an anti-globalist, America-first foreign policy orientation."
Lindsay Nothern, communications director for Crapo, said Wednesday his office didn't know about the Kootenai County GOP resolution.
"We certainly weren't thinking about globalism when we wrote the bill," Nothern said. "It was more about adding up all the things that Russia has been doing over the last couple, three years and saying that they probably deserve increased sanctions. … Congress feels strongly about this, and it's a bipartisan thing."
Bjorn Handeen, a North Idaho real estate agent and the precinct committeeman who sponsored the resolution, said the vote was focused on avoiding actions that could spark a war.
"A lot of us feel like we missed the boat when it came to the Iraq War, that there should have been a greater grass-roots movement to oppose movements toward war then. And so now, we're not going to make that mistake again."
Handeen said, "It's traditionally understood that sanctions are the first step towards war. It's not a peaceful move. Real people suffer under sanctions."
Crapo's bill expands and strengthens existing sanctions against Russia for its actions in Ukraine and Crimea, its "brazen cyberattacks and interference in elections" and its "continuing aggression in Syria."
It also requires Congress to vote before any sanctions on Russia are lifted, and it would expand tracking of illicit finances linked to Russia. It passed the Senate on June 15 with only Sens. Rand Paul of Kentucky and Mike Lee of Utah voting no. An agreement was reached between the House and Senate over the weekend on minor changes to the bill, and President Trump announced on Sunday that he'd sign it. On Tuesday, it passed the House with just three no votes, from Reps. Jimmy Duncan, R-Tenn; Justin Amash, R-Mich.; and Thomas Massie, R-Ky. It's now pending a final vote in the Senate on the House version.
Handeen said the few dissenters in the House and Senate are people "that North Idaho Republicans really look up to."
"I would question what Mike Crapo and Jim Risch's foreign policy expertise actually is," Handeen said. "If you ask me, anyone that does not read antiwar.com does not qualify to be a foreign policy leader."
Crapo is a Harvard-educated attorney who chairs the Senate Banking Committee. Risch, also an attorney, serves on the Senate Foreign Relations Committee and the Senate Intelligence Committee, giving him access to classified briefings.
Antiwar.com is published by the Randolph Bourne Institute, a Redwood City, California, nonprofit founded in 2001 that promotes noninterventionist foreign policy.
The Kootenai County vote was close, at 20-18; arguing strenuously against it was another member of the Kootenai County central committee, Sid Smith, who also is the regional director for Risch.
"I think that it's pretty unfortunate that the resolution was approved," Smith said Wednesday. He said he described Russia's lack of freedom of assembly and speech, and how critics of Russian President Vladimir Putin "seem to have a pattern of disappearing or turning up dead, and a few things like that." And he pointed out that "those are not things that mesh with our Republican values."
Smith said he also disagreed with the resolution's suggestion "that if you supported sanctions against Russia then you are a progressive globalist." Smith said Idaho's two GOP senators are "anything but progressive."
"That guy is super-smart, and I would tread lightly contradicting him," Handeen said, "but I guess we both laid out arguments, and although he was more eloquent than I was, I think that obviously more people agreed with what the resolution was saying."
Handeen, who has been on the central committee since 2010, said, "I come from the Ron Paul movement. … I recognize that even among my Ron Paul friends, I'm kind of an outlier. Lots of people care about economic issues or debunking climate change and things like that, and personally I don't care about any of that stuff. I got interested in politics during the run-up to the Iraq war, which I saw then as a bad move, and that's what's kept me engaged ever since."
He added that he's had inquiries from several other county GOP central committees about adopting similar resolutions.
Smith said he tried to remind his fellow committee members about the panel's role.
"Central committees are traditionally tasked with recruiting Republicans and getting them elected to local offices, raising money," he said. "We're really getting out of our element to think that we have the expertise as a body to carry out policy analysis on the state level or the national level, much less the international level."
Handeen said the Kootenai County central committee typically debates and votes on resolutions every month. When it stopped doing that for a while, he said, "the meetings, they went along so quickly that it was barely worth the drive for some people."
---