News > Business
Liberty Lake's Telect bought by Connecticut electronics company
July 26, 2017 Updated Wed., July 26, 2017 at 10:46 p.m.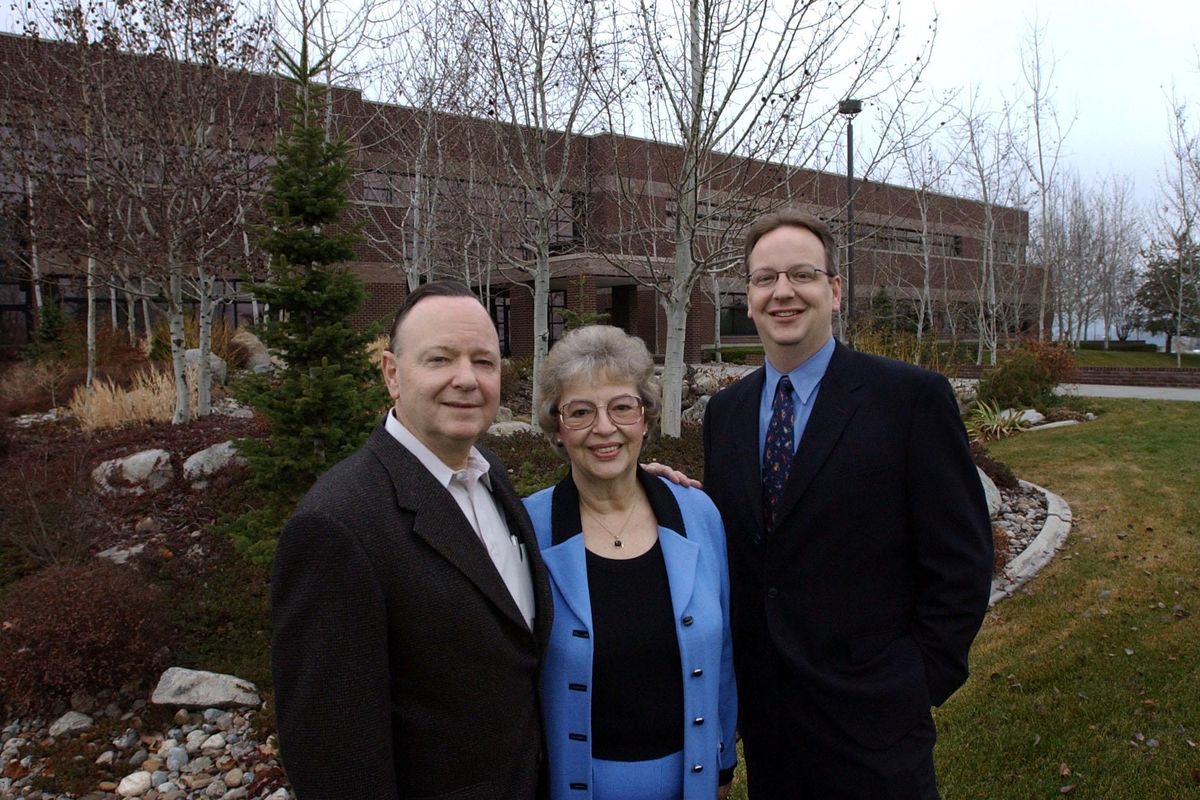 The Telect team. Bill, Judi and son Wayne Williams in front of the Liberty Lake office building in 2002. (Steve Thompson / The Spokesman-Review)
Telect Inc., a Liberty Lake-based telecommunications hardware company, has sold to a giant in the industry, Amphenol Corp.
The purchase occurred earlier this month, marking the end of local ownership of a company that began in Spokane Valley in 1982 with just three employees, Judi and Bill Williams and their son, Wayne.
The terms of the sale were not disclosed, but Amphenol reported sales of more than $1.6 billion in the recently ended second quarter. Telect has annual sales of about $45 million, according to the report.
Telect CEO Wayne Williams said Wednesday his company wasn't for sale, but Amphenol approached Telect after it "found value in our profile."
Now known as Amphenol Telect, the company will remain in Liberty Lake and retain its 230 employees, Williams said.
"There are no plans to move the business outside of Liberty Lake," he said. "We have nothing planned on that. The intention is that they want to keep it managed, keep the culture of the business and the employees of the business here."
Following the purchases of Avista Corp. and Pathology Associates Medical Laboratories, or PAML, Telect's acquisition is the third time this year that a local company has been bought by a firm located far from Spokane.
According to Bloomberg, Amphenol "designs, manufactures and markets electrical, electronic and fiber optic connectors, interconnect systems and coaxial and flat-ribbon cable." Its products are used in telephone, wireless and data communications systems, as well as cable television systems and military aerospace electronics.
The company is currently in an "active acquisition" phase, according to a quarterly earnings statement released today. Along with Telect, the Connecticut company purchased Meggitt PLC and Intelligente Sensorsysteme Dresden, technology companies specializing in sensors.
While it's unclear what the future holds for Telect, its revenue amounts to about one-half of 1 percent of Amphenol's.
"Amphenol is a much larger company. They have a market capitalization of almost $23 billion and $6.5 billion in revenue over the last 12 months," said Jim Czirr, vice president of equity research at Hart Capital Management, a Spokane-based financial adviser. "For them, this is a very small acquisition."
According to the quarterly report, Telect is a "manufacturer of DC power distribution as well as fiber and copper interconnect products for data centers in the broadband, information technology and data communications and mobile networks markets."
Wayne Williams became the company's CEO in 1997, succeeding his father. His mother, Judi, was a well-known face in the Spokane business world for years. The elder Williamses took on advisory roles in 2000, and only recently went into full retirement.
Telect's sales are a long way off from the company's peak nearly 20 years ago, when the company reported annual sales of $265 million and employed 2,300 people in Washington state, Mexico, Poland and Brazil. After the tech bubble popped in 2001, the company lost many of its sales and began laying off employees in droves. About 800 employees were cut in five months.
Before the decline, Telect was among Spokane's success stories. Anticipating the breakup of AT&T after telecommunications industry deregulation, the Williamses founded the company to design, engineer, manufacture and market a variety of products for the telecommunications industry.
Within three years, the company had 40 employees and $4 million in sales, including a contract with Boeing.
The company had hundreds of products in seven categories, mostly cables, connecters and other components consumers never see. It had more than 400 customers, mostly telephone operating companies. In 1987, the company formed Telect Fiber Optics Inc. and aimed for the federal government and medical industry to be its biggest clients.
Its growth continued unabated. In 1988, sales were $7.5 million, branch offices were in five states and the company had 125 employees. A year later, sales exceeded $12 million, and the company employed 200.
In the 1990s, after the approval of the North American Free Trade Agreement, the company found new customers and built a factory in Guadalajara, Mexico. It soon expanded into Wroclaw, Poland, and leased factory space on the outskirts of Sao Paulo.
When the industry faced a rapidly shrinking market, Telect went through massive change, leading to layoffs, plummeting sales and an aborted plan to take the company public.
In recent years, the company closed its plants in Plano, Texas, and Poland. The company maintains its plant in Mexico.
Williams said he views the acquisition as simply a new challenge in a long career.
"I'm the general manager. Same role, but now I report to a new boss and I've got a new company that owns our stock," he said. "I'm excited about that. It's another challenge in my 35 years in the telecommunications business."
Williams noted that while the two companies just joined forces, they have a long history stretching back to Telect's first days in 1982.
"We were putting Amphenol connectors on our cables back then," he said. "It really is an interesting uniting between our two businesses."
Local journalism is essential.
Give directly to The Spokesman-Review's Northwest Passages community forums series -- which helps to offset the costs of several reporter and editor positions at the newspaper -- by using the easy options below. Gifts processed in this system are not tax deductible, but are predominately used to help meet the local financial requirements needed to receive national matching-grant funds.
Subscribe now to get breaking news alerts in your email inbox
Get breaking news delivered to your inbox as it happens.
---