News > Spokane
Spokane pool sharks pursue trip to Vegas championships
Wed., July 26, 2017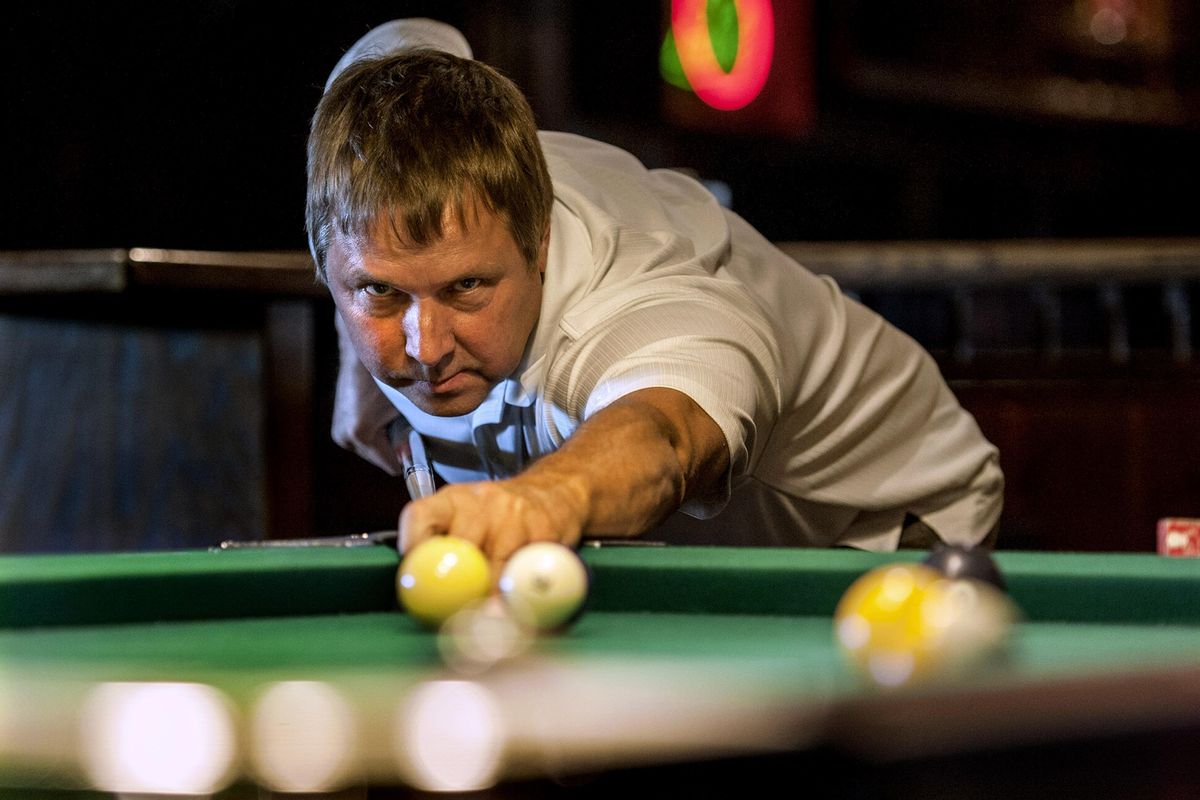 Bob Reimer eyes his next shot while playing pool at Annie Fannies Bar Grill & Casino in Spokane on Sunday, July 16, 2017. His team won the City Cup championship and will now travel to Las Vegas to compete. (Kathy Plonka / The Spokesman-Review)
It's noon on a Tuesday at 7th Rail in North Spokane. The doors just unlocked for business and a handful of regulars saunter in to stake out a comfy bar stool where they will lose track of time over a few rounds of the "usual."
It's here, where seven pool tables are fit for some of Spokane's finest billiards players.
On any given day, the 7th Rail and other pool halls such as Snoops Saloon or the Black Diamond become second homes to pool players of varying skill levels ranked from one to seven, with seven being the highest.
Some play just for the love of the game. Others are preparing for a shot at the 2017 American Poolplayers Association World Pool Champion title, set to begin in Las Vegas this August.
"It's highly competitive, it's highly social, and aside from the money, a lot of players go for the prestige of it all," said co-owner and league operator of the Spokane American Poolplayers Association (APA), John Wenglewski.
The road to Vegas is a long one and teams that qualify for the trip, via the summer City Cup Championship, have put many hours into perfecting their game.
The City Cup, hosted at Snoops Saloon, is a three-weekend event in June. This year, the event paid out almost $132,000 in winnings, and at the end of the month, 11 teams were awarded the ultimate prize, a spot in the Vegas tournament, courtesy of the APA.
The Cup, as does the Vegas tournament, includes 9-ball, 8-ball, Masters, Jack-N-Jill and Ladies 8-ball divisions. Team scores are based heavily on handicaps, so beginner and master players are needed to make a competitive team.
"Low-rated players are just as vital to a pool team as those that are ranked higher," said level-seven Spokane local, Harold Prine.
Prine, who won a national title in 2004, has been hard at work perfecting his skills for 23 years now.
"You become addicted to the challenge of it and when you miss a shot, you're going to practice that 70 times over until you can't miss it," Prine said. "It's a game of muscle memory, alignment, and fundamentals."
To be great at pool is not easy. It is a study of geometry and becoming great is a matter of becoming consistent, and when the ability of making a shot rests at the end of a 13-millimeter cue tip, developing that consistency requires years of repetition.
Due to the handicap, every seven such as Prine, must be balanced by a beginner player if a team has any shot at winning.
"It doesn't matter if you're 70 or 30, guy or girl, fit or out of shape, handicap or not, pool is an equal-opportunity game," said general manager of Global Billiard Supply, Aaron Armstrong. "Everyone has a chance."
Allowing everyone the opportunity to play pool has been one of Spokane APA's missions since John and his wife, Sandy, bought the city franchise in 1989.
The Wenglewskis purchased the franchise partially because of the city's long-standing population of players. But Spokane's most significant boom in pool talent happened when the long-awaited APA finally made it to the city.
Since then, it has become the largest pool league in the area, boasting thousands of members. This is largely due to the handicap rule of the APA because as lower-ranked players become better, teams must incorporate novice players to keep a competitive handicap.
These new and needed players continue building the pool scene every year, creating more teams.
Austin Fraser, owner of Snoops, opened The Venue right next door to the saloon more than 12 years ago to accommodate the increasing number of City Cup participants. The two buildings, both equipped with immaculate tables are connected by way of a parking lot during the tournament, which is transformed into a temporary beer garden.
"We feed and water them and provide the building," Fraser said. "It's always a fun and busy time. Some days the team puts in 16 hour days to make the tournament happen."
After 12 years of hosting the event, Fraser says the league continues to grow in popularity.
According to Armstrong, Global Billiard, which first opened in 1965, has developed its inventory to accommodate the needs of players over the years.
"As a testament to John and Sandy, the APA has sort of made pool a very normal and acceptable activity," Armstrong said. "They brought us business that we didn't have 40 or 50 years ago."
The development of pool both locally and nationally has brought benefits for local businesses and an appreciation for the game.
"It's not just about becoming the best, there's so much more to it," Wengleski said. "It's much richer than that."
Local journalism is essential.
Give directly to The Spokesman-Review's Northwest Passages community forums series -- which helps to offset the costs of several reporter and editor positions at the newspaper -- by using the easy options below. Gifts processed in this system are not tax deductible, but are predominately used to help meet the local financial requirements needed to receive national matching-grant funds.
Subscribe now to get breaking news alerts in your email inbox
Get breaking news delivered to your inbox as it happens.
---