A&E > Food
The Spokane Eating Guide: Where to get the best steaks in town
Wed., July 26, 2017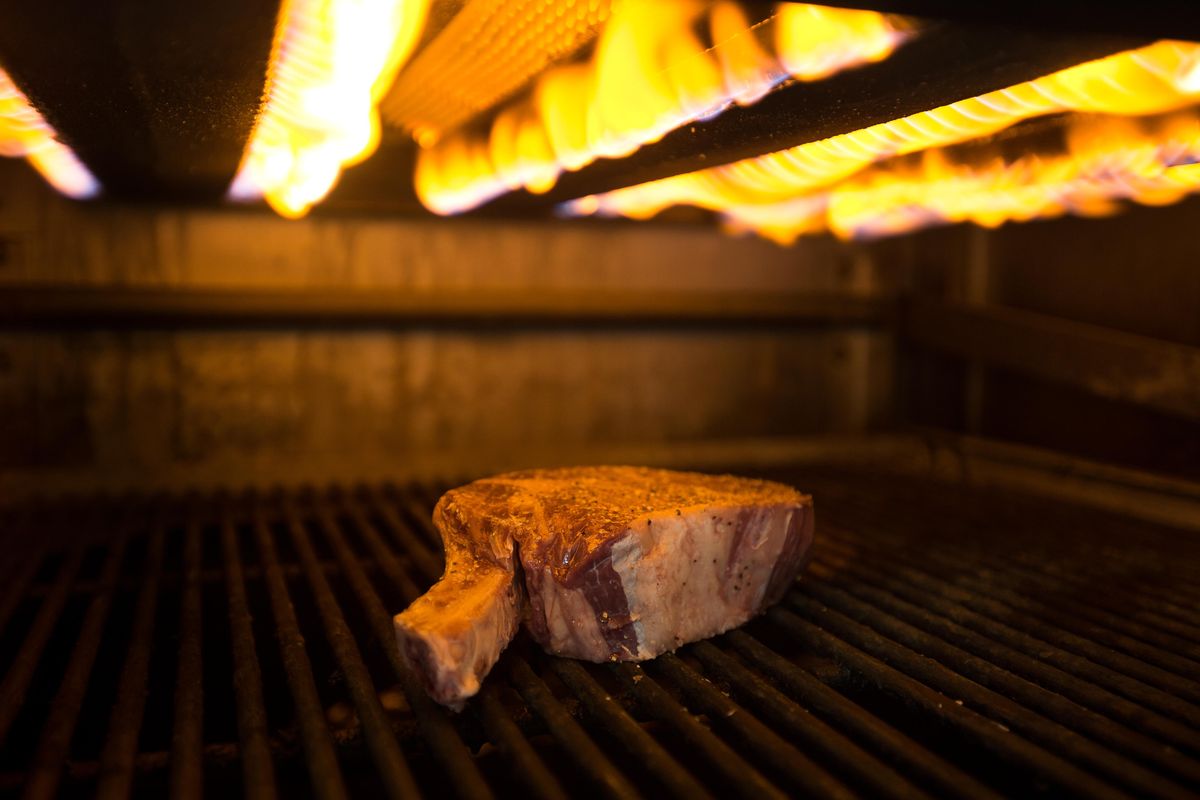 A steak is seen cooking at Spencer's Steakhouse on Wednesday, July 12, 2017, in Spokane, Wash. (Tyler Tjomsland / The Spokesman-Review)
Get a knife. It's steak night.
Hopefully, the meat cuts like butter. Because, whatever you did before you got here, you most definitely didn't order it well done.
Thick, rich and tender, meaty, juicy and seared to perfection, naked or saucy, or dressed with a pile of buttery mushrooms or tangy blue cheese or melted onions or all or some of the above, there is no substitution for a well-prepared cut of quality beefsteak.
Here's where to go for steak in Spokane.
Churchill's Steakhouse
The refined dining room of this downtown steakhouse is reminiscent of those you might find in Chicago or New York City – and unmatched in this region. Come here, especially if money is no object, for a luxurious dinner in an elegant setting with an award-winning wine selection. Churchill's offers high-quality steaks, ranging from $36 for a 10-ounce top sirloin to $65 for a 28-ounce porterhouse. A 16-ounce bone-in tenderloin steak is $62. An 8-ounce filet mignon is $48. Embellishments include a 12-ounce Maine lobster tail at market price and sauteed crab meat with asparagus and bearnaise sauce for another $18. Additional toppings – caramelized sweet onions, peppercorn cream sauce, blue cheese crumbles, bacon, bearnaise sauce – are $5 each. Expect table linens and hospitality, even in the wood-lined basement lounge, where the experience is a little more casual and a professional piano player adds to the ambiance every night of the week. 165 S. Post St. (509) 474-9888. churchillssteakhouse.com.
Masselow's Steakhouse
Start with a drink in the lounge, set around a contemporary fire feature in the lobby just outside the intimate, dimly lighted restaurant. A sepia-toned portrait of namesake Chief Masselow watches over the dignified dining room where guests can make a selection from the extensive wine list while getting lost in the deep, private booths. Start with a $15 cheese plate that includes honeycomb from Green Bluff or carpaccio of prime tenderloin with capers and cracked pepper for $12. Steaks run from $38 for a 12-ounce New York to $110 for a 40-ounce porterhouse meant for two. Sauces – bearnaise, peppercorn demi-glace, bacon-Gorgonzola, horseradish aioli, house steak – are another $3 each or three for $6. Additions include a giant prawn for $5 to a lobster tail at market price. Add a Dungeness-and-red-crab cake for $14. Northern Quest Resort and Casino, 100 N. Hayford Road in Airway Heights. (509) 481-6020. masselows.com.
Wolf Lodge Inn
Unleash your inner cowboy at this Wild West-inspired spot, legendary around these parts for its rustic interior done in wood, stone and leather – you'll see a saddle or two – as well as its history. Located about 8 miles east of Coeur d'Alene, Wolf Lodge was established in 1939 as a convenience store and became a steakhouse in the 1970s. The steaks are cooked over a tamarack fire, giving them a distinctive flavor, and they run from $23 for the Lil' Dude, a 10-ounce baseball cut sirloin, to $46 for the Rancher, a 16-ounce ribeye paired with a 16-ounce sirloin for a full 32 ounces of steak. The Ranch Hand is 8-ounces of filet medallions topped with sauteed mushrooms and green onions for $30. Add a side of trout for $11 or a side of salmon for $12. Entrees are served with the soup of the day, choice of potato or veggie, bread and beans. 11741 E. Frontage Road, Coeur d'Alene. (208) 664-6665. wolflodgecda.com. Note: There's a sister location in Spokane: Wolf Creek Steakhouse, 104 S. Freya St. (509) 535-8972. wolflodgespokane.com
Clinkerdagger
One of the signature dishes at this longtime Spokane establishment, opened more than 40 years ago, is the rock salt roasted prime rib, served with mashed potatoes, seasonal veggies and horseradish. It comes in two kinds of cuts – regular for $37 or the Clinkerdagger's Cut for $45 – slow-cooked with herbed butter and finished under high heat to develop the crust. Look, also, for filet mignon with smoked mushrooms and truffle oil, mashed potatoes and brandy-mustard sauce for $42 or $49, or the grilled apple-wood smoked sirloin with fries, mustard-garlic aioli and grilled tomatoes for $32. Look, also, for surf-and-turf dinner combos for $40 to $56. The darkened dining room overlooks the Spokane River, providing diners with spectacular views of rushing water. At the Flour Mill, 621 W. Mallon St. (509) 328-5965. clinkerdagger.com.
Spencer's for Steaks and Chops
This traditional hotel steak and chop house features prime and natural cuts aged between 21 and 28 days. They run from $44 for a filet mignon to $82 for a porterhouse meant for two. Steaks are prepared in a 1,600-degree-infrared broiler. Add-ons include house steak sauce for $3, a half-pound of Alaskan red king crab legs for $18 and a North Atlantic lobster tail at market price. The Six Onion Soup, topped with a layer of Gruyere cheese, receives rave reviews. Look, also, for a comprehensive wine list. At DoubleTree by Hilton Hotel Spokane City Center, 322 N. Spokane Falls Court. (509) 455-9600. doubletree3.hilton.com
The Cedars Floating Restaurant
Watch guests arrive by boat at this floating eatery, buoyed by some 600,000 pounds of Styrofoam encased in concrete. Founded in 1965 where Lake Coeur d'Alene becomes the Spokane River, the Cedars has long been a popular destination dining experience. It features a comprehensive wine list and an array of steaks – ranging from $23 for an 8-ounce center cut sirloin to $42 for the 16-ounce Wooden Boat Cut prime rib. The prime rib also comes in 14- and 10-ounce portions. A specialty here is the tangy biergarten sauce on the 14-ounce $36 ribeye or 8-ounce $41 filet mignon. Additions include sauteed mushrooms for $6, pan-seared scallops for $15 and 5-ounce Maine lobster tail for $18. Upgrade the baked potato for $2.50 to get apple wood-smoked bacon, green onion and cheddar. 1514 N. Marina Drive, Coeur d'Alene. (208) 664-2922. cedarsfloatingrestaurant.com
Max at Mirabeau
This contemporary upscale hotel restaurant offers a variety of cuts – from an 8-ounce, hickory-rubbed baseball cut top sirloin with mashed potatoes, smoked onion and port demi-glace to a 14-ounce ancho chili-rubbed ribeye steak with mashed potatoes and huckleberry-herb butter. There's a 12-ounce New York peppercorn steak, too, as well as a 10-ounce center-cut filet mignon and filet mignon medallions with a Dijon-Madeira demi-glace and pan-seared Gorgonzola gnocchi. Add-ons include a shrimp skewer, steamed asparagus, Gorgonzola and frizzled onions, wild mushrooms with Madeira and herb butter, Dungeness crab with bearnaise sauce, Alaska king crab legs and Maine lobster tail. 1100 N. Sullivan Road, Spokane Valley. (509) 922-6252. maxatmirabeau.com
Satay Bistro
Known, as its name suggests, for satays as well as tapas and pasta, this Coeur d'Alene restaurant offers a high-end wine list – a spiral staircase leads to the wine cellar with seating for private parties – as well as a small but high-quality selection of steaks. Start with brie baked in puff pastry with red grapes, cocktail crackers and a cognac-and-raisin drizzle. The bistro steak features an espresso rub, cranberry-pomegranate reduction and portobello risotto. Look, also, for a bourbon blueberry tenderloin featuring thyme-and-pepper-rubbed medallions, whipped potatoes and baby vegetables. The filet mignon is 10 ounces and comes with a Fontina-and-Yukon-gold gratin. 2501 N. Fourth St., Coeur d'Alene. (208) 765-2555. sataybistro.com
Clover
Opened in 2012, this cozy restaurant tucked into a turn-of-the-century Craftsman-style bungalow near Gonzaga University isn't a traditional steakhouse. But its 8-ounce chili-rubbed tri tip with wheat berries and wild mushrooms for $32 and 12-ounce rib-eye is aged – in house and served with truffle butter, charred leek puree and tri-color, herb-roasted potatoes – aren't to be overlooked. 913 E. Sharp Ave. (509) 487-2937. cloverspokane.com
Wild Sage American Bistro
This intimate downtown restaurant specializes in high-quality Inland Northwest fare, including regionally raised Kobe beef. Look for flank steak from Snake River Farms with chimichurri, ancho chili aioli and roasted new potato salad for $34 as well as the $39 filet of sirloin with roasted new potatoes, crispy leeks, seasonal greens and Gorgonzola tallow. 916 W. Second Ave. (509) 456-7575. wildsagebistro.com
Dave's Bar and Grill
Come here when you're craving steak that won't break the bank. This popular spot, known for its friendly service and down-home feel, offers specials every night of the week. Expect cuts from $12.99 – for a 6-ounce sirloin Saturday – to $18.99 – for a 12-ounce ribeye Thursday and 12-ounce prime rib Monday and Wednesday. Look, also, for a 16-ounce T-bone steak with salad and fries for $19.99, among other options. 12124 E. Sprague Ave. (509) 926-9640. davesbarandgrill.com
For the complete Spokane Eating Guide, visit www.spokesman.com/eating-guide/.
Missed a spot? Please let us know by posting a comment on the story online. Or, Food editor Adriana Janovich can be reached at adrianaj@spokesman.com or 999 W. Riverside Ave., Spokane, WA 99201.
Local journalism is essential.
Give directly to The Spokesman-Review's Northwest Passages community forums series -- which helps to offset the costs of several reporter and editor positions at the newspaper -- by using the easy options below. Gifts processed in this system are not tax deductible, but are predominately used to help meet the local financial requirements needed to receive national matching-grant funds.
Subscribe to the Spokane7 email newsletter
Get the day's top entertainment headlines delivered to your inbox every morning.
---