News > Spokane
Avista's ownership in a Montana coal plant is under scrutiny in Ontario, which has banned coal-fired electricity
Sat., July 29, 2017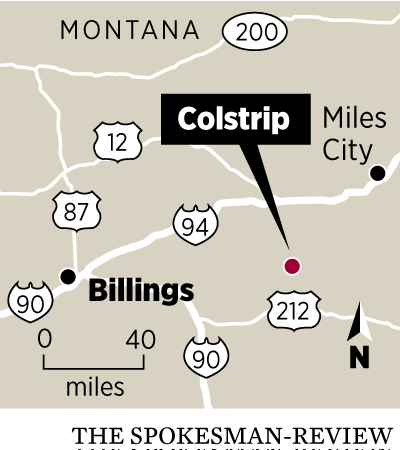 Avista customers may not realize it, but some of their electricity comes from a coal-fired plant on Montana's eastern plains.
The Spokane-based utility gets about 9 percent of its electricity from the Colstrip generating station, which ranks among the West's top emitters of greenhouse gases.
With Avista Corp. poised to be acquired by Hydro One of Ontario in a $5.3 billion sale next year, the utility's partial ownership in Colstrip has come under scrutiny in Canada.
"In Ontario, burning coal to produce electricity is illegal – a position supported by the vast majority of Ontarians," fumed the Ontario Clean Air Alliance in a news release, accusing Hydro One of "investing in dirty air south of the border."
The alliance encouraged the province's residents to lobby Ontario Premier Kathleen Wynne to scuttle the deal or pressure Hydro One to divest itself of Colstrip.
Three years ago, Ontario became the first regional government in North America to ban coal-fired electricity. The government shut down the last of five coal plants that once supplied Canada's most populous province with electricity and outlawed new coal-fired plants.
The move led to a visit by former Vice President Al Gore, who congratulated Wynne on the province's coal-free status. Gore's efforts to educate U.S. citizens about climate change was featured in the Academy Award-winning 2006 documentary "An Inconvenient Truth."
"You won't find another jurisdiction, pretty much around the world, that has gone as far in terms of renewable clean energy as Ontario," Wynne told reporters in a media briefing last week.
But Wynne found herself on the defensive after the Hydro One deal was announced, with political opponents accusing her of hypocrisy. The government of Ontario is Hydro One's largest stockholder, with about 45 percent of the shares.
Wynne said she contacted Hydro One's chairman, Mayo Schmidt, after the utility's proposed purchase of Avista was announced. During the conversation, Wynne said, she talked about the "coal-free electricity grid here in Ontario" and opportunities "for that value system to be shared in another jurisdiction."
In media briefings, both Avista and Hydro One have played up the renewable energy they sell to customers.
Avista gets about half of its electricity from dams. The utility also has biomass, wind and solar in its portfolio, along with Colstrip and natural gas-fired electricity.
Hydro One buys electricity and distributes it to 1.3 million customers in suburban and rural Ontario. The province has invested heavily in hydropower and other renewable resources. It also has large nuclear plants.
Colstrip is one of the largest coal-burning plants west of the Mississippi, producing about 16 million metric tons of carbon dioxide and other climate-warming gases each year, according to the U.S. Environmental Protection Agency
Avista is one of six owners of the coal plant. The utility bought a 15 percent stake in Colstrip's units 3 and 4 in the 1980s.
Avista expects Colstrip to be a viable part of its energy mix through at least 2037, said Jason Thackston, the company's senior vice president for energy resources.
Replacing Avista's stake in Colstrip with a cleaner burning natural gas plant would cost between $235 million and $300 million, Thackston said. However, Avista's draft energy plan for the next 20 years indicates the utility could reduce the electricity it gets from Colstrip and buy more energy on the wholesale market.
"That would reduce the amount of greenhouse gas emissions," Thackston said.
The Sierra Club's Beyond Coal Campaign wants to see Colstrip shut down. Hydro One's purchase of Avista, which still has to pass regulatory approval from state and federal authorities, could help move the utility to "greater accountability on climate change," said Doug Howell, a senior representative for the Sierra Club's Beyond Coal campaign.
Puget Sound Energy, which is a large stakeholder in Colstrip, agreed to close two of the plant's older units by 2022 under a settlement with the Sierra Club and a Montana environmental group. The utility, which has 1.1 million customers in Western Washington, also has indicated that it could exit from Colstrip by 2030.
"There has been a lot of rhetoric around coal and coal making a comeback," said Caleb Heeringa, deputy press secretary for the Beyond Coal Campaign. "Cleaner alternatives continue to be cheaper."
Local journalism is essential.
Give directly to The Spokesman-Review's Northwest Passages community forums series -- which helps to offset the costs of several reporter and editor positions at the newspaper -- by using the easy options below. Gifts processed in this system are not tax deductible, but are predominately used to help meet the local financial requirements needed to receive national matching-grant funds.
Subscribe now to get breaking news alerts in your email inbox
Get breaking news delivered to your inbox as it happens.
---