A&E > Art
Art school exhibit brings geography to life
UPDATED: Fri., June 2, 2017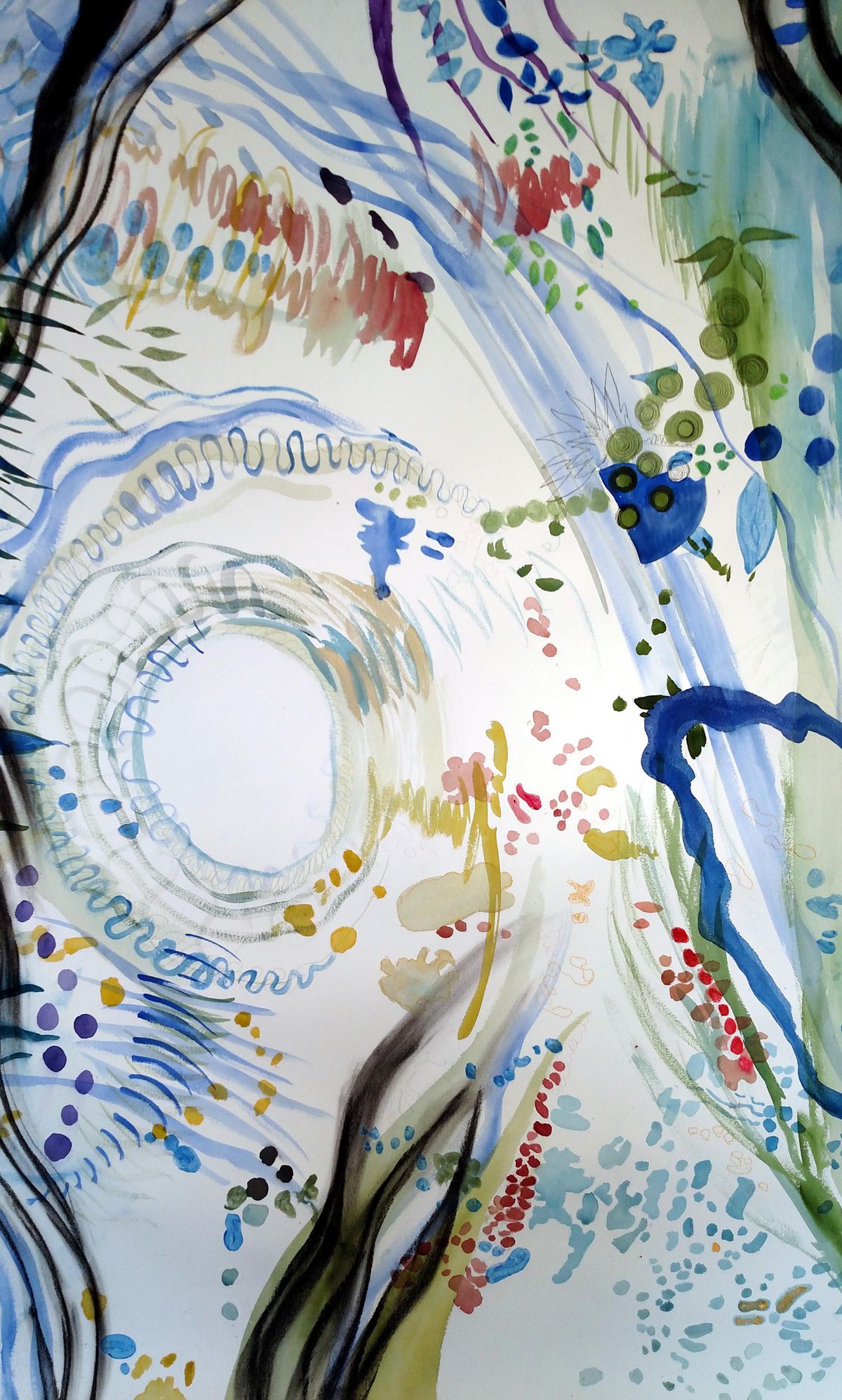 "Big River" by Karen Mobley (Karen Mobley)
When Megan Perkins was in middle school, she employed a creative trick to stay focused during class. She drew pictures of her teachers and fellow students in countless sketchbooks.
"Sketching helped quiet the part of my 14-year-old brain that didn't really want to be there some days," Perkins said. "I just loved making marks on paper, recording things about my life or things that happened to me and my observations about the world."
Fast-forward 15 years later, and the Seattle-area native is still at it. Sketching is more than just a fun activity for Perkins. It's an obsession that has become her life's work.
And her art is getting noticed. A landscape that Perkins recently created using her urban sketch style was chosen for display in the Spokane Art School Gallery's juried show, "Between the Cascades and the Rockies," open now through July 28 in the Garland District.
Whether Perkins wins a ribbon or not, she has already won the social media contest: Her "Road Into Hills" has been the image the Spokane Art School chose to put on its website and Facebook invitations for the event.
"I was excited it got picked for social media coverage, and just to be in the show," Perkins said. "(Established artists such as) Tom Quinn and Karen Mobley were in there. I was like 'Wow, I'm in really fancy company!'"
While Perkins' pieces may not be as detailed or "finished" as some paintings audiences are accustomed to seeing at local exhibitions, they were never meant to be. The whole notion of sketching has to do with capturing the essence of what you like, quickly.
"My favorite thing about watercolor is that immediacy," Perkins said.
What Perkins' work has is undeniable beauty and vibrancy. The 29-year-old is a leader in Spokane's growing urban sketching trend, said art school board president Sue Bradley.
"It's not supposed to be a studied studio-made, worked-over product. It's just supposed to be a notation, like a visual diary," Bradley said. "You get down the big stuff, the simple stuff, and it reminds you of what you liked about the scene later."
The first show Perkins ever landed was the very first Terrain juried exhibition held 9 years ago. Since then she's shown pieces at the Chase Gallery, Little Dog Art Gallery, and she will sell her works at the annual Terrain Bazaar this month.
Perkins has recently launched her own project, Artist's Eye on Spokane, a year-long adventure chronicling the city's people, events and culture. She has already shared several "Artist's Eye on Spokane" sketches on her project's Facebook and Instagram, including sketches of runners at Bloomsday, welders restoring the Looff Carrousel, and arrowleaf balsamroot at Dishman Hills. Future Artist's Eye on Spokane plans include exploring the iconic scenes at Hoopfest and the Spokane Symphony.
"My goal is to go to a cultural event or place somewhere in Spokane about every week or so and sketch and paint what I see," Perkins said.
Another wow-worthy piece chosen for the art school show comes from renowned local artist Mobley. Her "Big River" is a 3-by-4- foot abstract painting evoking swirling waters, pebbles and plants. Mobley's painting stems from a series of large-scale works she began last year for Window Dressing, the nonprofit that fills empty storefronts with art.
By watercolor standards, the work is huge. "Normally you think of watercolors of being a half sheet of watercolor paper, and it's kinda small, and fiddly, " Mobley said. "Window Dressing needed large works to fill a shop window, and I found it's really fun to work big."
The resulting painting she chose – a watercolor that includes charcoal, crayon and pencil – is a study in exuberance. The piece works not only on a larger, structural level, but also offers plenty of interest within the layers.
Fellow artist Joe Guarisco might argue that size is not everything. Three of his watercolors, hardly bigger than postage stamps, are highlights of the show. His miniatures of iconic paintings throughout history, such as the Mona Lisa and Girl With a Pearl Earring, thrilled gallery attendees when he unveiled them last year.
Spokane Art School instructor and delightful surrealist Tom Quinn brings his quirky humor to the gallery with "The Offering," a finely crafted watercolor of a woman being served fish on a beach next to a bird. Or is the bird the one being offered something to eat?
Several other established and emerging artists were chosen to show their exciting interpretations of "Between the Cascades and the Rockies." They include Julie Ann Burkhart, Raven Farneman, Kim Gardell, Joyce Gruenewald, Nicole Monbray, Janean Phillips, Mikel Reuter, and Dian Zahner.
From traditional landscapes of riverbanks to a self-portrait of a woman with a black eye, there is something for everyone in this livelier-than-usual world of watercolors.
Local journalism is essential.
Give directly to The Spokesman-Review's Northwest Passages community forums series -- which helps to offset the costs of several reporter and editor positions at the newspaper -- by using the easy options below. Gifts processed in this system are not tax deductible, but are predominately used to help meet the local financial requirements needed to receive national matching-grant funds.
Subscribe to the Spokane7 email newsletter
Get the day's top entertainment headlines delivered to your inbox every morning.
---