News > Nation
Mnuchin, Mulvaney at odds over U.S. debt limit
June 3, 2017 Updated Sat., June 3, 2017 at 6:30 p.m.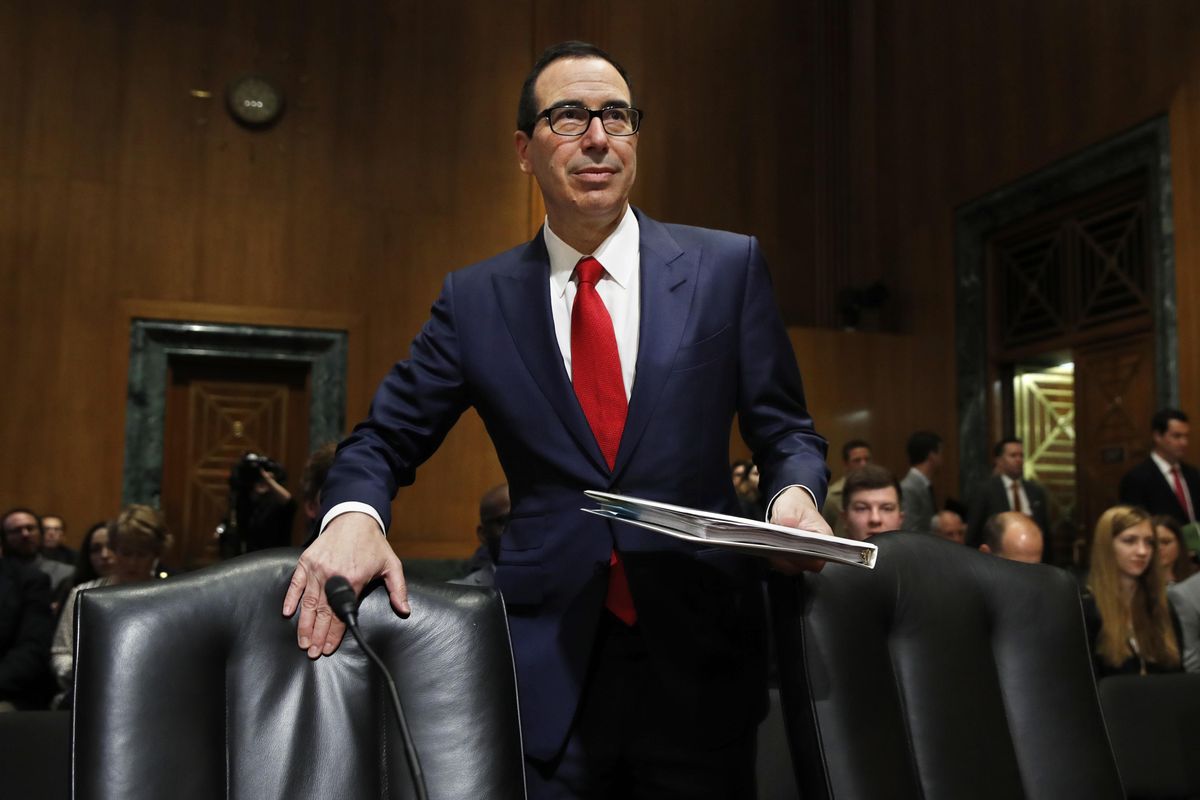 Treasury Secretary Steven Mnuchin arrives on Capitol Hill in Washington, Thursday, May 25, 2017, to testify before a Senate Finance Committee hearing on the Treasury Department's fiscal year 2018 budget proposals. (Jacquelyn Martin / Associated Press)
WASHINGTON – A division within the Trump administration over how to avoid a default on the national debt burst into the open, with the president's treasury secretary and budget director publicly at odds over strategy.
The U.S. is expected to reach its debt ceiling – a legal limit on how much the government can borrow – by as soon as August. If Congress doesn't act to raise the ceiling, the government would default for the first time in its history.
Treasury Secretary Steven Mnuchin signaled a preference for a so-called "clean" bill to raise the debt limit, one without any spending reductions or other policy riders. But Office of Management and Budget Director Mick Mulvaney, who is also a member of Trump's Cabinet, said he'd "like to see things attached to it that drive certain spending reforms and debt reforms in the future," in an interview with the Washington Examiner published Wednesday.
Mulvaney's opposition to unconditionally raising the debt ceiling will likely encourage House conservatives to dig in on their demands for steep reductions in spending in return for an increase, complicating the task of passing the measure through both chambers of Congress. The administration would have to win over more Democrats to counter any Republican defections.
Mulvaney also challenged the Treasury secretary's traditional role as primary spokesman on matters involving U.S. government debt, telling the Examiner that Mnuchin's congressional testimony doesn't necessarily represent the administration's position.
White House spokeswoman Natalie Strom declined to address the disagreement, stressing that both Cabinet members were working toward a common goal of increasing the debt limit.
"The administration's position is that the debt limit must be increased," Strom said. "The vehicle for increasing the debt limit is ultimately up to Congress."
The two men can't even agree on when the debt ceiling will be reached. Mulvaney says as early as August, and Mnuchin will only say the second half of the year, more in line with analysts' estimates of October or November.
The wrangling between the White House and Treasury over when the government will run out of money and what to do about it adds to the chaotic political backdrop of the Trump White House. In previous administrations, it would have been unusual for an internal administration dispute to emerge so publicly. It complicates congressional action, where lawmakers are not yet able to tell what the president would like them to do.
"Anything that shows lack of unity in the executive branch is making it difficult for the majority leader in the Senate and the speaker to move forward on bigger agenda items" such as a tax overhaul and repeal of the Obamacare health law, said Bill Hoagland, senior vice president at the Wasington-based Bipartisan Policy Center and a former Republican budget staffer on Capitol Hill. "We're still getting a White House that's not quite coordinated on its message and that means a Republican Congress has difficulty knowing from day to day what they should be pursuing."
Still, investors showed no signs of alarm, in part because they are accustomed to political grandstanding preceding an inevitable debt-ceiling increase.
"We have to put things in context, as far as the confusion coming out of the White House overall," said Jim Caron, a senior fixed-income portfolio manager in New York at Morgan Stanley Investment Management, which oversees more than $400 billion. "Maybe we are just used to that kind of thing right now."
Mulvaney's perspective, he said, comes from drawing up a budget with "a lot of what-ifs. Mnuchin is looking at more hard data as we see it today and this is what we project into the future."
History shows that there's a lot at stake.
In 2011, political paralysis raised the risk of default, contributing to S&P Global Ratings's decision to downgrade the U.S. to AA+ from AAA, the first-ever sovereign rating reduction for the country. In October 2013, an 11th-hour deal reopened the government after a 16-day partial shutdown. The protracted conflict caused a spike in rates on Treasury bills whose payments were due between late October and mid-November. The overall added costs to taxpayers ranged from $38 million to more than $70 million, according to a study by the Government Accountability Office.
"We are far enough away from the debt ceiling so markets are not focused on it so much now," said Ward McCarthy, chief financial economist at Jefferies LLC in New York. The sparring between Mnuchin and Mulvaney "is just another example of the chaotic state of play in D.C. at the moment. Nothing is getting done."
The conservative House Freedom Caucus, which Mulvaney co-founded as a representative from South Carolina, said last month it will continue to demand that any debt limit increase be paired with measures to cut or cap spending.
The group has about three dozen members, which could be enough to prevent Republicans from passing a debt-limit bill on their own. In 2015, the last time House Republican leaders had to address the debt ceiling, they relied mostly on minority Democrats to provide enough "yes" votes for a bill – suggesting Democrats will have significant leverage in the coming debate.
Democrats have applauded Mnuchin for calling for a clean increase, warning that any repeat of Republicans' attempt in 2011 to use the debt ceiling to force a budget-cutting agreement would damage the economy.
Local journalism is essential.
Give directly to The Spokesman-Review's Northwest Passages community forums series -- which helps to offset the costs of several reporter and editor positions at the newspaper -- by using the easy options below. Gifts processed in this system are not tax deductible, but are predominately used to help meet the local financial requirements needed to receive national matching-grant funds.
Subscribe now to get breaking news alerts in your email inbox
Get breaking news delivered to your inbox as it happens.
---