Ten top Spokane pizza places: No matter how you slice it, these piping-hot pies will please your palate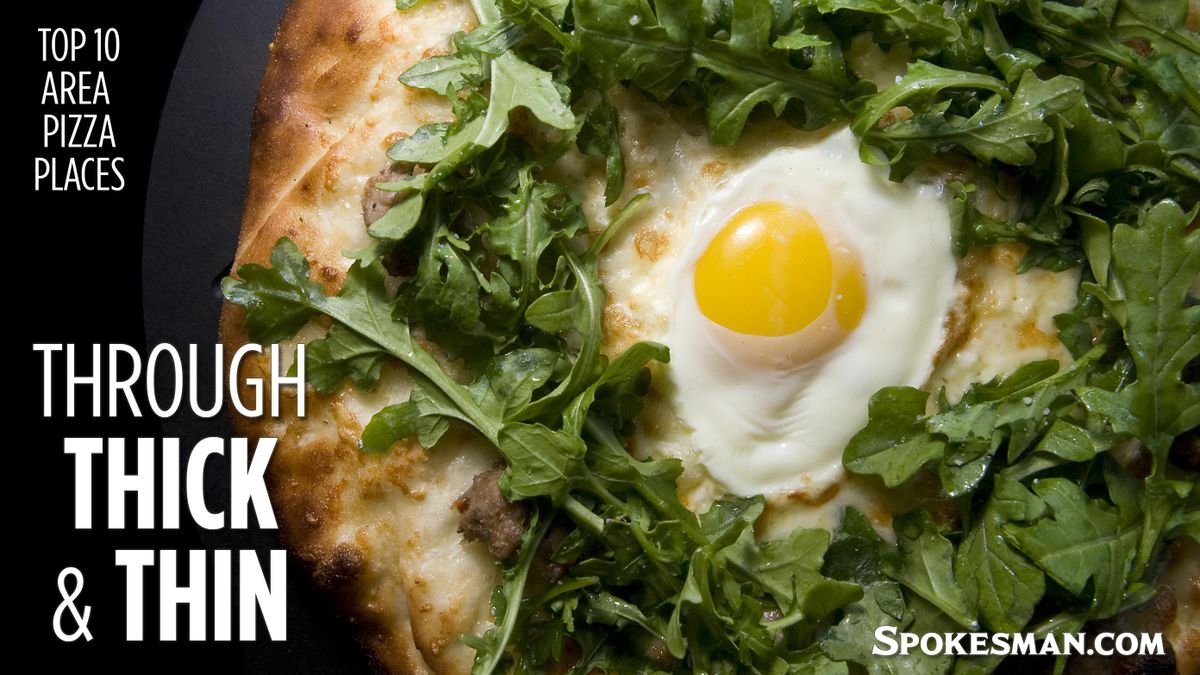 Easily shareable and perfectly transportable, pizza is quite possibly the world's most moveable feast.
Even if you don't get it delivered or take it to go, it's super-satisfying, an all-in-one dish that definitely outweighs the sum of its melty, meaty, carbohydratey, cheesy and veggie parts.
While Spokane isn't famous for its pies like New York or Chicago, there are some wonderfully filling and comforting versions to be found here and throughout the Inland Northwest.
Whether you prefer your pizza with a crispy, wood-fired crust or thick and pliable chewy base, bubbling cheese on a bed of baked dough is pretty much always a crowd-pleaser.
It might have been invented in Italy, but – any way you slice it – pizza is one of America's top foods, right up there with burgers and hot dogs, french fries and apple pie.
Here are some of the Spokane area's best places to get pizza.
Veraci Pizza
This is where Spokane chefs go for pizza. Chad White, owner of Zona Blanca in downtown Spokane and a former contestant on Bravo's "Top Chef," recommends Classic Pepperoni. "Nothing better," White said – except maybe Hot Coppa, with caramelized onion, Beecher's Flagship cheese, garlic olive oil and hot coppa salami. It comes highly recommended by Adam Hegsted, who owns Wandering Table and Yards Bruncheon across the street in Kendall Yards.
He describes Veraci's style as "ultra thin, high heat with wood fire. Very rustic flavor of the crust with minimalistic toppings. Chewy crust with a little char which I really like." Restaurateur Kate Hansen's favorite: Luna Rossa from Veraci's mobile wood-fired oven during Thursday Market in the South Perry District – "hands down!" It features sausage, salami, fresh mozzarella, roasted red peppers and red sauce. "There's something about eating it in the open air, with the sun shining and music playing, knowing it's crafted by hand with farmed ingredients," she said. "So, so good!"
Top-sellers are Earth Pie with spinach, tomatoes, mushrooms and feta; Spicy Tony with pepperoni, sausage, provolone, mushrooms and spicy red sauce; and Chicken Pesto with grilled chicken, tomatoes, fresh mozzarella and pesto. Look, also, for the Brussels and Bacon. All are wood-fired, Neapolitan-style pizzas with thin, charred, crispy crusts. They also come with Veraci's signature three cheese blend: Romano, Parmesan and Mozzarella – and a sweeping view of downtown Spokane, the Spokane River and Centennial Trail. 1333 W. Summit Parkway. (509) 389-0029. veracispokane.com.
Republic Pi and Flying Goat
These sister pizza places have the same owners, but different crusts. At Flying Goat in Spokane's Audubon neighborhood, the crust offers a hint of sourdough. The crust at Republic Pi on the South Hill is New World meets Neapolitan with added extra-virgin olive oil and semolina flour. Both locations feature patio seating and the favorite Kiernan with Italian sausage, arugula and an over-medium egg. (At Republic Pi, it's called No. 37 and serves as a fundraiser for the nonprofit Team Gleason, which raises money to fight ALS.)
Tuesday – when all pies are $10, dine in or carry out – is the night to go to Republic Pi, which has a wood-fired oven and East-meets-West vibe and divides its menu by "traditionalists" and "progressives." Look for Fairview – with garlic cream, ham, pear, Gorgonzola and a white balsamic reduction – in the first category. In the second, look for Thornton with pesto, garlic rosemary chicken and Mama Lil's pickled peppers.
At Flying Goat, which has a rustic ambiance and lots of reclaimed wood, find Wellington with roasted asparagus, mushrooms, garlic, heavy cream and oregano. D Street features yellow coconut curry, cilantro, Sriracha sauce, carrot, jalapeno, potato and chicken.
Providence includes roasted Brussels sprouts, bacon, smoked red onions and a dark balsamic reduction. Republic Pi is at the Manito Shopping Center, 611 E. 30th Ave. (509) 863-9196. republicpi.com. Flying Goat is at 3318 W. Northwest Blvd. (509) 327-8277. theflyinggoat.com.
South Perry Pizza
This neighborhood eatery becomes particularly busy on Thursday nights during farmers market season, when the South Perry neighborhood is bustling with shoppers and diners. In warm weather, the roll-top door opens onto a patio overlooking vibrant and charming South Perry Street. The crust here isn't too thick or too thin.
Try the Rustica, with chicken Italian sausage, goat cheese, Mozzarella, roasted red peppers, pine nuts and zucchini – yes, zucchini! Another favorite: the Rosa with olive oil, Provolone, mascarpone, red onion, rosemary and toasted pistachios. 1011 S. Perry St. (509) 290-6047. southperrypizzaspokane.com.
Fire Artisan Pizza
The feel at Fire is sleek, minimalist and modern with big, black-and-white prints punctuated with rustic touches such as exposed brick walls and reclaimed wood. The wood-fired crusts feature a dusty char flavor. Look for the salty-sweet Gordy with gorgonzola, mozzarella, provolone, dates and balsamic reduction. Or, try Honey Badger with rosemary, red chili flakes, gorgonzola, pecorino, Italian salami and honey.
The Thai is another favorite with sweet chili sauce, mozzarella, provolone, serrano peppers, chicken, green onions, cashews, cilantro and Sriracha. One of the best parts: there are two locations, one in downtown Spokane and another in downtown Coeur d'Alene. 517 Sherman Ave. in Coeur d'Alene. (208) 676-1743.fireartisanpizza.com. 816 W. Sprague Ave. (509) 413-1856. firepizzaspokane.com.
Piccolo Kitchen and Bar
It might be located in a nondescript gas station strip mall, but this cozy, hole-in-the-wall artisan pizza place has plenty of charm. The decor seems to follow the "Portlandia" school of design – "Put a bird on it!" – and feels whimsical yet not over-the-top. Influences are Italian and just a little hipster. The blue-tiled, wood-fired oven is as beautiful as it is functional, and the charred, thin-crust pies it yields come in creative combinations.
The Ladieu is topped with charred grapes, shallot, goat cheese, port reduction, herbed chicken, spinach and ricotta cream. The Thai Peanut features Brussels sprouts, carrot, baby bok choy, peppers, jalapeno and coconut-marinated chicken. The Brasato comes with huckleberry barbecue sauce, braised beef, bacon, mozzarella, pineapple, jalapeño, shallots and cilantro. 21718 E. Mission Ave. in Liberty Lake. (509) 926-5900. piccolopizza.net.
Iron Goat Brewing
Pizza goes great with a pint, and this spacious, industrial-feeling spot in downtown Spokane makes both. Favorites include the Head Butt IPA and Spicy Banh Mi with chili aioli, pulled pork, Serrano peppers, cilantro, Sriracha and green chili sauce. Also right up there: the Thai – with peanut sauce, chicken, roasted red peppers, chili sauce, sesame seeds and crushed peanuts – and the Dates with olive oil, goat cheese, arugula, prosciutto, balsamic vinegar and, of course, dates. Plus, there's always a special, which keeps things interesting. 1302 W. Second Ave. (509) 474-0722. irongoatbrewing.com.
The Boiler Room
Come for pizza, linger on the patio for a craft cocktail or two. This newer establishment on Spokane's North Side is modern and minimalist with an industrial edge. Pizza is wood-fired. Happy hour features specials on swill as well as pies. 6501 N. Cedar Road. (509) 863-9213. boilerroompizza.com.
Embers by the Lake
Wood-fired pizza is served on wooden boards at this popular and casual spot at Hauser Lake. The open-concept, family-friendly dining room is anchored by a fireplace. Blankets are provided for those who opt to sit outdoors. Patio seating features romantic lake views accented with strings of lights. Pizza is hearty and gourmet. 12008 N. Woodland Beach Drive in Hauser. (208) 262-8219.
Pete's Pizza
Build your own one-, two- or three-topping pizza at Pete's, which bills itself as the "Calzone King." Pies come in small, medium and large. And, of course, customers can always add more toppings. Sauces are marinara, garlic, barbecue, ranch and pesto. Cheeses are mozzarella, cheddar, feta, provolone and ricotta. Toppings include meatballs, salami, bacon, anchovies, broccoli, artichoke hearts, pepperoncini, sun-dried tomatoes, roasted red pepper and sliced egg.
Pete's Combo features pepperoni, Canadian bacon, sausage, mushrooms, black olives, green peppers, onion and pineapple. But the calzones – Hawaiian, Spicy Hawaiian, Chicken Cheddar Deluxe, Chicken Bacon Ranch, Roasted Garlic Chicken, Pete's Favorite (with ricotta and meatballs) and more – enjoy a cult following. 821 E. Sharp Ave. (509) 487-9795. 2328 W. Northwest Blvd. (509) 326-1900. petesspokane.com.
Honorable mention
The Beer Buddies at Bennedito's Pizza are downright addictive. Order them as an appetizer to split with friends and try – just try – not to order another basket and fill up before the pizza comes. These little dough balls – gone in two or three bites – are smothered in butter and topped with Parmesan. They come in white or wheat for $5.99 and are perfect for dipping. Sauces include red tomato, pesto and ranch. A serious problem is loading up on them, and then not having room for pizza, which features a thicker, chewier crust and has kind of a cult following around these parts. The original location opened in 1996 and, for many, Bennidito's serves up a side of nostalgia as well as melty, cheesy goodness. Plus, there's a wide selection, plus hot and cold sandwiches, sides and salads. On the South Hill: 1426 S. Lincoln St. (509) 455-7411. benniditos.com. Brewpub: 1909 E. Sprague Ave. (509) 290-5018. benniditosbrewpub.com.
---