News > Crime/Public Safety
Daughter seeks to reopen investigation into death of battered Spokane Valley mother
June 8, 2017 Updated Thu., June 8, 2017 at 8:43 a.m.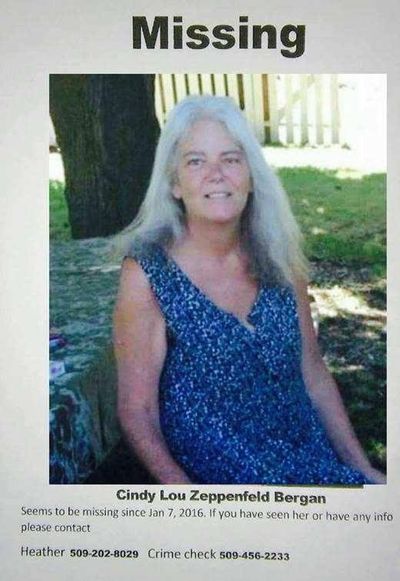 The daughter of a Spokane Valley woman believes the cause of her mother's 2016 death is as clear as the plastic used to wrap her battered body before it was found dumped on the side of a road near Cataldo, Idaho.
But the investigation into 46-year-old Cindy Lou Zeppenfeld Bergan's death stalled in April 2016 after Spokane County Medical Examiner Dr. John Howard determined that Bergan died from a probable heart attack and listed the manner of death as "natural."
"I want her death certificate changed," Bergan's daughter, Heather Ostby, said. "I don't want them to blame her death on her."
Ostby, 30, of Spokane, said she has forwarded her mother's file to an ongoing investigation by the Washington Department of Health, which is looking into several rulings by the Spokane County Medical Examiner's Office.
The DOH investigation was launched earlier this year following rulings on cause and manner of death for many cases in which the victims' families didn't agree with the medical examiner's findings.
In Bergan's case, Howard noted that she was nude and wrapped in plastic that was bound by duct tape. Bergan had lacerations on her forehead, black eyes and changes in skin pigment indicative of a lack of oxygen that could have come from strangulation.
Yet after reviewing the case, Howard ruled Bergan died from a probable heart attack brought on by "cardiomyopathy" or disease of the heart that was partly caused by alcoholism, according to her autopsy.
Problem was, Bergan did not drink to excess, Ostby said.
"They basically blamed her as an alcoholic who had a heart attack. That's simply not what happened," she said. "I want them to open their eyes and to see this for what it was."
According to court records, Bergan and her boyfriend, Jay Scribner, had a rocky relationship. They had a history of domestic violence, Spokane County Sheriff's detective Lyle Johnston wrote in court records.
Scribner was arrested Dec. 19, 2015, and again Dec. 30, 2015, both on domestic violence charges. Just a week later, on Jan. 5, 2016, Bergan filed for a protection order against Scribner.
"I am fearful of more harm as (he) is getting madder by the day," she wrote. "He has taken my phone, wallet and house key to remove me from our home."
The next day, which would be the last time anyone saw Bergan alive, Spokane Police responded to another argument and removed Scribner from their home at 415 S. Chronicle Road.
On Jan. 7, 2016, a camera that reads license plates on cars traveling along Interstate 90 at Post Falls recorded Scribner's car traveling eastbound into Idaho. Three weeks later on Jan. 23, a passer-by found Bergan's body wrapped in plastic, dumped on the side of the road near Cataldo.
Once her body was discovered, sheriff's detectives went to speak with Scribner. He had not yet been told that Bergan's body had been found.
"When asked about where Bergan might be, Scribner said he didn't know, but was glad to just be rid of her," Johnston wrote.
Since then, the investigation into Bergan's death has languished.
Kootenai County Sheriff's detective Dennis Stinebaugh said he could not discuss details of the death, as the case remains open.
However, Ostby said it's her understanding that Kootenai County officials are only investigating the possible charge of unlawful disposal of human remains, which is a felony.
The Spokane County Sheriff's Office handled the investigation into how Bergan died. But it relied heavily on Howard's determination of the cause and manner of death in April 2016, Ostby said.
"I got the autopsy a week later in the mail. I started flying off the handle," Ostby said. "As I read the autopsy, every bell and whistle that could have gone off had. The injuries were by the dozens. They said, 'Oh those are postmortem.' "
A call placed Wednesday to the medical examiner's office was not immediately returned.
Bergan then spoke to detective Johnston, who had filed the search warrant to obtain Scribner's phone records.
"He sympathized with me," Ostby said. Johnston "said the circumstances don't add up, but the medical examiner is the expert witness and with a natural manner of death, it's not going to work."
Efforts to reach Jay Scribner on Wednesday by The Spokesman-Review were unsuccessful.
Reached late Wednesday, Sheriff Ozzie Knezovich said he is aware of Bergan's death but said a medical examiner's ruling would not stop any homicide investigation. He said the case remains open.
"Just because a medical examiner makes a decision, I don't believe that is set in stone," Knezovich said. "It's the evidence that takes us where we need to go."
Ostby said she hopes the investigation by the state health officials will convince someone to reopen her mother's autopsy findings even though she's already accepted that charges may never be filed.
"They took the blame off the real person and put it on her. I think that's unacceptable," she said. "Her body tells the truth."
Local journalism is essential.
Give directly to The Spokesman-Review's Northwest Passages community forums series -- which helps to offset the costs of several reporter and editor positions at the newspaper -- by using the easy options below. Gifts processed in this system are not tax deductible, but are predominately used to help meet the local financial requirements needed to receive national matching-grant funds.
Subscribe now to get breaking news alerts in your email inbox
Get breaking news delivered to your inbox as it happens.
---