News > Spokane
Holocaust Survivor to visit Spokane in June
Sun., June 11, 2017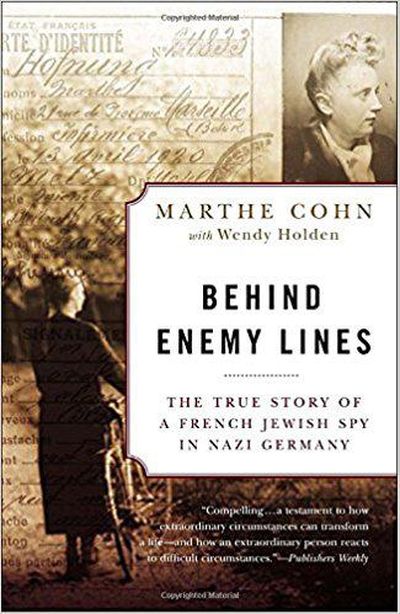 Marthe Cohn was only 24 years old when she crawled across a field and under barbed wire, behind enemy lines in Nazi Germany, to glean vital information about plans for the German army's retreat and counterattack in southern Germany during the final months of World War II.
Later, she crawled back across the border, again and again, bringing vital information to Allied intelligence officers.
Today Cohn, 97, travels the country sharing her story of surviving the Holocaust, and will speak in Spokane on Wednesday at the Spokane Convention Center, according to Rabbi Yisroel Hahn of the Chabad community center here.
Cohn will share experiences from the book she co-authored in 2006 with writer Wendy Holden, titled "Behind Enemy Lines: The True Story of a French Jewish Spy in Nazi Germany."
Hahn said Cohn, who was fluent in German, traveled into German territory and collected critical intelligence for the French army. She was decorated with the Croix de Guerre in 1945 for her work as a member of the French army intelligence service.
"She was a spy for the Allies. Here is a woman who was Jewish, who put her own life in danger," said Hahn. "She didn't have to do this. She really put herself on the line on behalf of the world, so to speak. To me, she's a remarkable person; she is really a part of history."
Cohn, from her home in Rancho Palos Verdes, California, said she didn't start speaking about her experiences until 1999, after she received the Medaille Militaire from the French government, a relatively rare medal awarded for outstanding military service, given in the past to the likes of Winston Churchill.
"After the war nobody wanted to talk about it. People wanted to live and see the future and not talk about war," Cohn said.
Cohn had not even told her children or grandchildren to what extent she had been involved in the French resistance.
"Receiving the medal resulted in much publicity and I was invited to give talks about my life. Until then I didn't speak about it," Cohn said. "The memory of what happened in the past is very important to the future. Most people, especially young people, don't know what happened more than 70 years ago."
Cohn never intended to become a spy, but when French army officials realized in 1944 that the blond, 4-foot-11-inch French nurse could speak German, she posed as a young German nurse who was trying to find a fictional fiance.
Even before she secreted behind German lines, Cohn and her family frequently found their lives in mortal danger as Jews in Nazi-occupied France. Born in 1920, Marthe Hoffnung (Cohn) grew up speaking both German and French in the Lorraine region of France, which is close to the German border.
In 1942, after her younger sister Stephanie was arrested and, unbeknownst to the family, killed in Auschwitz, her fiance, also part of the French resistance, was shot by the Germans in Paris in 1943.
The Hoffnung family fled German-occupied France to the southern territory controlled at the time by the Vichy government.
After the war, Cohn returned to a career in nursing in France before studying in Geneva where, in 1956, she met and married her husband, Major L. Cohn. The couple moved to the United States in the late 1950s where he worked as an anesthesiologist, she as a nurse.
Marthe Cohn will be the second Holocaust speaker Rabbi Hahn has hosted in Spokane. Dr. Jacob Eisenbach, a 93-year-old Holocaust survivor, spoke in March.
"I expected to sell about 100 tickets for the event," said Hahn, who booked a room at the Davenport Hotel.
Much to his surprise, when all was said and done, more than 1,400 people attended the event, which was moved to the Spokane Convention Center to accommodate a sold-out crowd.
Hahn said he started promoting the speaking engagement on Facebook only three weeks before the event.
"It blew my mind how many people showed up," he added. "It was incredibly successful."
Hahn moved to Spokane from New York 10 years ago with his wife, Sarah, to head the Chabad Jewish center here. The couple have six children ages 1 through 12. Hahn said he feels an obligation to bring Holocaust survivors to the Spokane community.
"You know we live in a world of serious intolerance," he said.
"These Holocaust survivors experienced the most destructive intolerance the world has ever seen in recorded history. And we have to remember that this is where this (intolerance) leads. This type of intolerance leads to real hate. Real acts of violence," he added.
In the past two months, Spokane has experienced several episodes of anti-Semitic vandalism, as well as a recent spate of hate crimes. Earlier in the spring, the words "Get out" were spray-painted on the home of a refugee family on the South Side; in late April, anti-Semitic graffiti praising Adolf Hitler was found on a door of the downtown Community Building.
But Hahn said intolerance is not only against Jews, Muslims or other religions.
"The real intolerance is … in ourselves, in the community, in families, and with workers who don't talk to one another because they have different opinions," he said.
"If we care about intolerance, we should start with tolerance in our homes, within our communities, within our families, within our workplace," Hahn added.
Hahn conceded he has not experienced serious anti-Semitism in Spokane since moving here, but said he was surprised and angered by several neo-Nazi rants on the Facebook event page advertising the Cohn event.
"They made vile, hateful comments," he said on Facebook. "The best response we can have to such disgraceful messages, is to pack the Spokane Convention Center (in) June."
Hahn said he reported the Facebook posts to local law enforcement authorities and to the FBI.
Cohn added that she is extremely unhappy to see an increase in anti-Semitism acts across the country in the past year.
"I am very disappointed with what is going on in the United States right now," Cohn said. "I can't do much, but I try to do as much as I can to fight it on my level. It's important to be involved. You cannot just lie down and wait to die. You have to continue to fight."
Local journalism is essential.
Give directly to The Spokesman-Review's Northwest Passages community forums series -- which helps to offset the costs of several reporter and editor positions at the newspaper -- by using the easy options below. Gifts processed in this system are not tax deductible, but are predominately used to help meet the local financial requirements needed to receive national matching-grant funds.
Subscribe to the Coronavirus newsletter
Get the day's latest Coronavirus news delivered to your inbox by subscribing to our newsletter.
---
Subscribe and log in to the Spokesman-Review to read and comment on this story