Sports > Seattle Mariners
Gonzaga's Wyatt Mills drafted by Seattle Mariners in 3rd round
June 13, 2017 Updated Tue., June 13, 2017 at 9:19 p.m.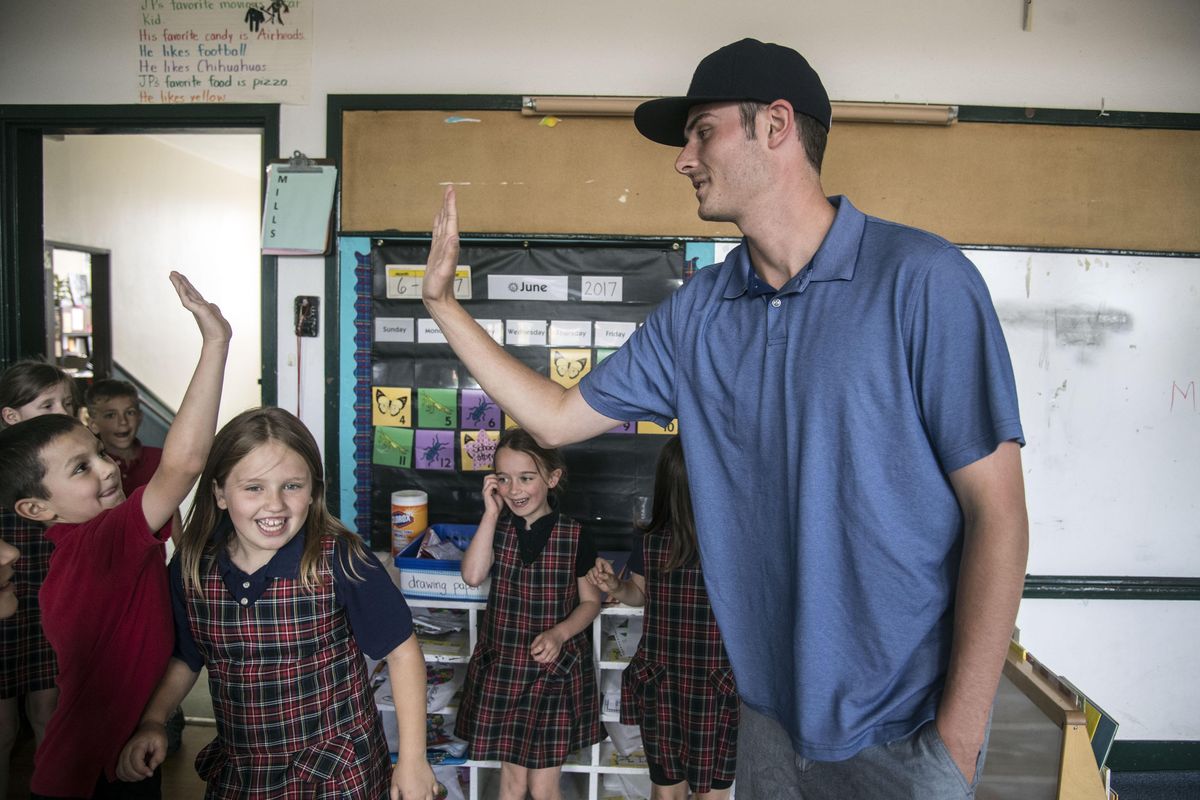 Wyatt Mills slaps five with St. Aloysius Catholic School second grader Taylor Mauss, June 13, 2017, after Mills was drafted by the Seattle Mariners in the third round on Tuesday. Mills, a right-handed pitcher, attended the school as a child and was visiting the classroom taught by his mother, Pat. Amelia Pielli, second grade, and Lola Wadkins, first grade, are at center. Dan Pelle/THE SPOKESMAN-REVIEW (Dan Pelle / The Spokesman-Review)
The Mariners have had their pitching issues of late.
It's a little early to expect Gonzaga University right-handed closer Wyatt Mills to step up and help, but he's looking forward to eventually making a difference.
Mills was drafted Tuesday by the Mariners in the third round with the 93rd pick overall. Mills will receive a $125,000 bonus when he flies to Arizona on Friday to sign a minor league contract with Seattle.
"It's the perfect scenario – a dream come true," Mills said while standing in his mother's classroom at St. Aloysius Catholic School. "I had just talked with the Twins and they had the first pick in the fourth round and said they were interested in me there. But the Mariners beat them to it."
Mills thought he'd be drafted high – much higher than the 17th round a year ago when Tampa Bay selected him – but he was pleasantly surprised the Mariners picked him in the third.
"College seniors usually go somewhere in the eighth, ninth or 10th rounds," Mills said. "High school kids and college juniors usually go in the first three rounds."
If a high school senior is drafted in the 93rd spot, he can generally command a $580,000 signing bonus, Mills said. A finance major, Mills was hoping for 40 percent of that number or roughly $279,000.
When the Mariners called Mills on Monday night to gauge his interest, Mills said he'd sign for $125,000. He believes that oral agreement opened the door for Seattle to pick him.
Mills made himself into a different commodity. An over-the-top thrower at Gonzaga Prep, Mills, a walk-on at GU, knew he had to do something different to make himself marketable.
So after his freshman collegiate season, he turned himself into a sidewinder – similar to current Mariners pitcher Steve Cishek.
"I felt like I didn't have much more ceiling," Mills said.
The 6-foot-3, 200-pound Mills broke the GU saves record this spring, finishing with 12. He was 2-2 with a 1.79 ERA in 22 appearances.
"There aren't many pitchers that throw like me with decent velocity from my arm angle," Mills said.
He was honest why he didn't sign with Tampa Bay last summer.
"I didn't get what I wanted," Mills said.
GU coach Mark Machtolf rewarded Mills by putting him on scholarship this year.
Mills is the first player G-Prep coach Brian Munhall has had drafted.
"Wyatt certainly wasn't the best pitcher we had at the time," Munhall said. "He ended up walking on at Gonzaga all based on potential – if he fills out and puts on some weight."
Call it potential realized. Mills left G-Prep a lanky, razor-thin pitcher weighing 165 pounds.
"It's pretty crazy what he did. He needed to change so he dropped down to three-quarter," Munhall said. "How do you explain a kid going from throwing 80 mph to mid 90s?"
Mills pushed 95 mph often this spring.
"You don't see many guys change their arm slot," Munhall said.
It got Mills drafted.
Mills said the plan is for him to make his professional debut with Everett of the Northwest League.
And Mills already knows when Everett visits Spokane. It's in late July.
Mills was in contact with 27 of 30 major league teams. He visited the Kansas City Royals last week. Seven to 10 teams were calling on a regular basis in the last week.
His agent called about six picks before the Mariners were up.
"He told me the Mariners were going to pick me," Mills said.
Mills didn't have any concern that another team before Seattle would select him because he hadn't talked signing bonus with any of them. The Yankees had the 92nd pick.
He hopes to climb the minor league ladder quickly.
"Some teams I talked to told me they'd be aggressive with me and move me along through the system," Mills said.
By late morning, Mills phone had reached well over 100 texts and he had had more than 20 mentions on Twitter.
Mills' strength is a two-seam sinker to go with a slider. He has been working on a change-up and knows he'll need a third pitch to get left-handers out.
Morgan goes in eighth round
Gonzaga junior starter Eli Morgan was drafted in the eighth round and 252nd overall to the Cleveland Indians.
Morgan earned Second Team All-America honors from Collegiate Baseball after one of the best seasons by a Gonzaga starter in recent history. Morgan struck out 138 batters as a junior, second-most in program records and third-most in the country after the West Coast Conference Championships. He twice fanned 15 batters this year – one of only four pitchers in the nation with multiple 15-K games – and was four outs away from a perfect game March 17 against Pacific.
Morgan went 10-2 and ranks among Gonzaga's career top three in winning percentage (second; 21-5, .808) and strikeouts (third; 281).
This is the second consecutive and third time in the last five years two Bulldogs went on day two of the draft.
Local journalism is essential.
Give directly to The Spokesman-Review's Northwest Passages community forums series -- which helps to offset the costs of several reporter and editor positions at the newspaper -- by using the easy options below. Gifts processed in this system are not tax deductible, but are predominately used to help meet the local financial requirements needed to receive national matching-grant funds.
Subscribe to the sports newsletter
Get the day's top sports headlines and breaking news delivered to your inbox by subscribing here.
---