Sports > Spokane Indians
John Blanchette: Short-season baseball fits Spokane well
Thu., June 15, 2017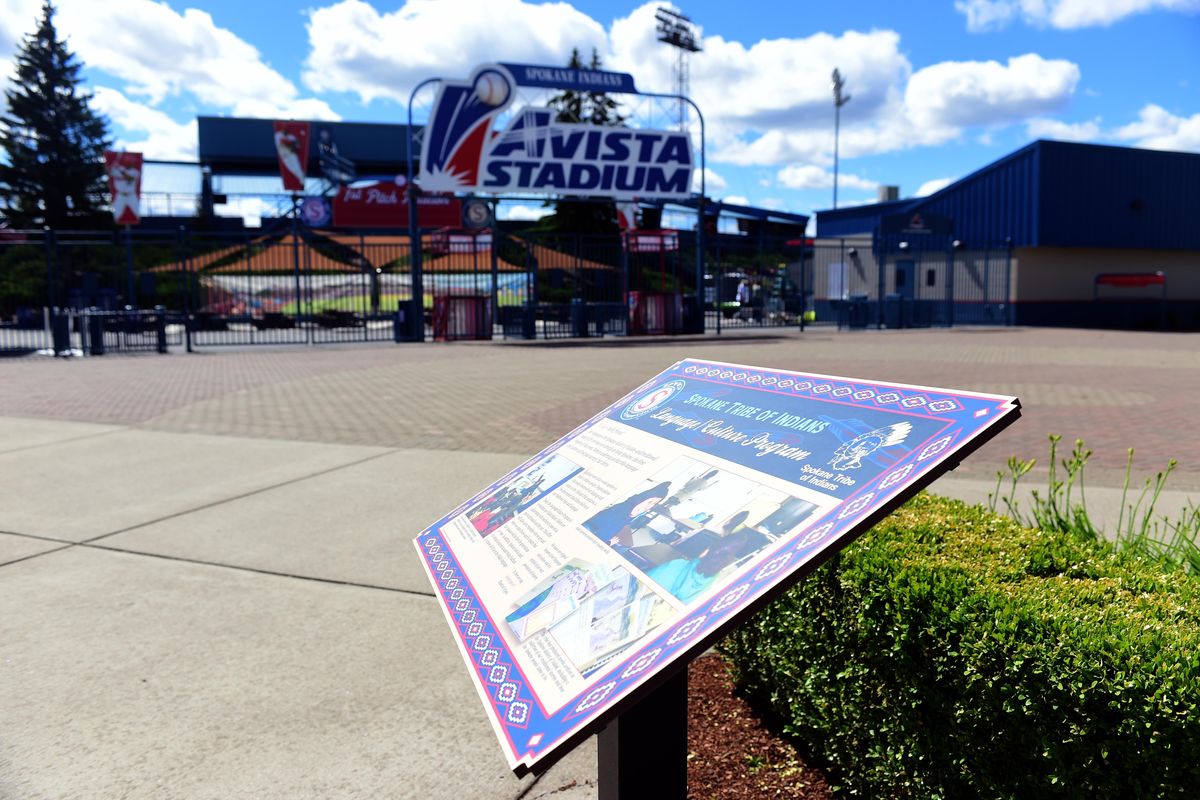 Avista Stadium sparkles every June. In recent years, signs telling about the Spokane Tribe of Indians are posted around the facility. (Jesse Tinsley / The Spokesman-Review)
Let's set the WABAC machine for the year 1982, when Spokane was feeling butt-hurt, burned and betrayed when its baseball team was spirited off to Las Vegas, and by local guys, no less.
The old Triple-A two-step.
Wait, what? Nobody remembers?
Well, sure, that was a generation and more ago, and in another era altogether when these things went down harder. The step down – OK, the free-fall in the elevator shaft – from being a heartbeat from Major League Baseball to whatever it was Spokane was going to get as a consolation prize seemed at the time like a blow to the civic dignity, even if hauty big cities sneer at 'Triple-A towns.'
But economic ebb and flow is ever ongoing. In the interim, Spokane has also lost horse racing, the Crescent, Cougar football games at Albi Stadium, the Fort Spokane Brewery, Seahawks camp and, it appears, the Imax Theater.
Yet we've learned to invent, grow or rebuild other things that matter: the Spokane Arena, the Davenport, Bloomsday and Hoopfest, the Fox, Gonzaga basketball and the Milk Bottle and Ferguson's. There's a craft brewery on every corner. We'll keep you posted on the Pavilion roof.
And there's still baseball. Thursday launches Year 35 of the short-season era of the Spokane Indians, not including an orphan summer back in the 1970s.
"And every year, it gets better," said Bobby Brett, the ownership group's managing partner.
He's not talking about the standings, which are subject in every minor league town to the spikes and valleys of the talent scouted and assembled by the parent club – in this case, the Texas Rangers. Lately it's been more valleys; Spokane's three Northwest League championships and another finals appearance as a Rangers affiliate came in the first eight years of this 15-year marriage.
But the ballpark looks a little nicer every June. The parking's still free. You can still get in for $6 and on some nights a hot dog is just a buck.
The franchise's value does noting but grow.
And fate has treated Spokane pretty well.
Just look back at that last year in Triple-A, when Spokane was in the five-team North Division of the Pacific Coast League.
"Edmonton? Gone," noted Brett. "Portland – gone. Vancouver – gone. Tacoma's hung in there because the city invested in the ballpark."
True enough, Edmonton is out of the minor league business altogether. Vancouver lost its club to a shiny new stadium in Sacramento in 2000 and joined Spokane in the NWL. Portland lost one PCL team in 1994, returned after a six-year stay in the NWL, then lost a turf war with soccer and saw Triple-A leave for good. An NWL team in suburban Hillsboro claimed the territory in 2013.
Calgary, Honolulu and Tucson – also in the PCL in 1982 – find themselves without affiliated teams, too.
And Las Vegas, which pilfered Spokane's toy?
The 51s, as they're now known, were 14th of 16 PCL teams in attendance last year – and averaged about 200 fewer fans per game than did the 2016 Indians. The club is almost a decade into agitating the city for another new stadium, having gone into overdrive two years ago when sewage backed up into the dugout at Cashman Field.
It would be karma, if the former Spokane owners hadn't sold out long ago.
Minor league baseball is big business now. That Sacramento franchise is the most valued non-MLB property at nearly $50 million. The valuations aren't that gaudy in the low minors, but consider that Brett's $138,000 purchase from Sunshine Baseball Inc., 32 years ago is probably worth $5 million now.
A major reason is the partnership Brett forged with Spokane County from the start. That first year, Brett bought 1,000 new seats, the county bought the paint. The continued upgrades have kept a ballpark that's pushing 60 years old looking like one of the more than 60 newer stadiums minor league baseball has built since 2000.
But it always looks better under sunny skies.
"In the geographics we have, short-season works," Brett said. "We're selling baseball when the grass is green and there's pent-up demand. Every minor league team has 20 good promotions, but in Triple-A you have 20 in 72 games and here you have 20 in 36 games."
The numbers bear it out. Average yearly attendance in 24 Triple-A seasons: 155,674. In single-A, 156,096 – with just over half the dates.
The players? Well, nobody knows these guys who just pulled into town, for sure. But the players shuttling between Tacoma and Seattle these days aren't exactly household names – unless you count Felix Hernandez on a rehab assignment. And if you were watching the Cubs making World Series history in Game 7 last November, that was 2013 Indians alum Kyle Hendricks starting the game and Carl Edwards from the Class of 2012 with the ball in the ninth inning.
Through 2013, not a single Spokane team has failed to produce at least one big leaguer.
"It was ugly when Triple-A left – people were mad," Brett said. "The first two years at this level weren't good. I came out in the summer of 1985 to look at it and things were improving, but they were still losing money and motivated to sell. Maybe at the end of the year they might have thought, 'It's getting better – let's hang on to it.' But I think my timing was perfect."
Spokane's, too.
Local journalism is essential.
Give directly to The Spokesman-Review's Northwest Passages community forums series -- which helps to offset the costs of several reporter and editor positions at the newspaper -- by using the easy options below. Gifts processed in this system are not tax deductible, but are predominately used to help meet the local financial requirements needed to receive national matching-grant funds.
Subscribe to the sports newsletter
Get the day's top sports headlines and breaking news delivered to your inbox by subscribing here.
---