Sports > Spokane Indians
Tricks, trivia & treats: Everything you need to know about going to Avista Stadium
Thu., June 15, 2017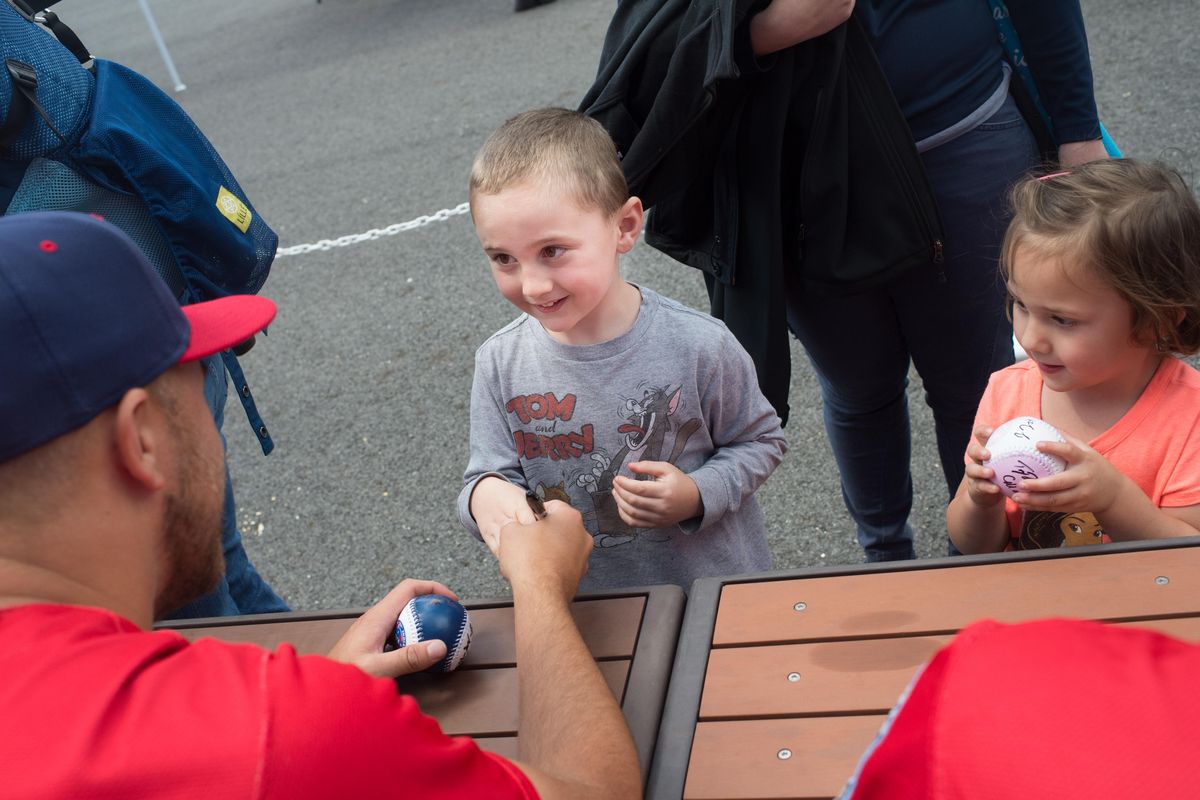 Noah Alves, 5, shakes the hand of pitcher Joe Kuzia after getting a ball signed as Noah's sister Penny, 3, waits her turn during team's FanFest last Saturday. (Tyler Tjomsland / The Spokesman-Review)
Going to an Indians baseball game is as much a part of summer life in Eastern Washington as heading to the lakes or making fun of people from Seattle. Still, there are a few things you've always wanted to ask someone.
You've always wondered how you could be a part of one of those crazy games in between innings. Or maybe you just wondered where to find the biggest bathrooms. Or the really important stuff, like where are the shortest lines for a beer.
You've even heard rumors of a buried safe. And its puzzled you why the Canadian national anthem is sung before some games.
Well, you've come to the right place.
The Spokesman-Review has been going to games at this ballpark long before it was named after one of our utility companies. We know things.
There are all sorts of food and beverage options at the main concession area right as you enter the park. But you want a hot dog, some nachos, a slice of pizza and a beer. And possibly those tasty-looking tater tots. Do you have to stand in each line? No. All items are available at each line. You're good. Order it all. But you know that's like 5,200 calories, right? We're totally not passing judgment, especially if you got in all of your steps today.


Well, you can't get everything at every line. There are express lines on each side of that main concession stand. You can't order everything on the menu from those lines. That's why they're called express lines. But if all you need is a soda, beer or peanuts, this is the line you want.


Are there any other places for shorter lines? Possibly. The lines at the concession stand behind third base can be shorter, but they also only have certain foods – like Chinese, Mexican and a new baked-potato bar.


About that third-base concession stand – most things on that menu can be turned into a wrap. If that's what you're into. Again, we're not passing judgment.


I'm super cheap. But also hungry. Can I bring my own food to the game? No, no you can't, and it's literally a league rule. And now that we know this about you, you can't date our friend, either. They're not going to card you if you order the kids meal, and it's pretty affordable.


Speaking of the kids meal, along with the hot dog and chicken strips, you get french fries and a small soda. Or you can switch the fries with apples and switch the soda for juice. These options are new this season.


Here's our final food secret. The lines are almost always shorter in the Diamond Club area, if you know someone who can sneak you up there. You also can get a quesadilla and pretty tasty brisket sandwich there. Both are only available at that concession stand.


The women's restroom on the third-base side is bigger than the one on the first-base side. The men's restrooms are basically the same on each side.


Do you want to get your kid's birthday announced? It's free. Go to the information booth by the team store early in the game to get on the announcement list.


That information booth is also where you can sign up to be a part of the on-field games that happen in between innings.


There's a hand-operated, old-school scoreboard on the pressbox because there are some outfield seats in the stadium that can't see the main scoreboard.


All the outfield fence signs are hand-painted, with Avista Stadium being one of the very last ballparks in the nation to do that.


All right, we fibbed. Here's another fun food tip if you have kids with you. At Otto's Sweet Tooth, you can ask to spin the "Wheel of Snowcone" to get a random flavor for your icy treat.


Kids can go on the field for the seventh-inning stretch, but must get a pass from an usher ahead of time.


When the Vancouver Canadians are in town to play the Indians, both "The Star-Spangled Banner" and "O Canada" are sung before the game.


The stadium was built in just three months in 1958.


Batting practice is free to watch before most home games. Yes, even if you don't have a ticket to the game. That's because it typically occurs before the stadium opens for ticketed attendees of that night's game. However, you might not get to see all of batting practice. They clear out the stadium to get it ready to let in the paying customers.


The Rim of Honor was created at the stadium in 2007 to honor legendary Spokane players and coaches (plus others who have connections to the team). There are four permanent members: players Dwight Aden, Levi McCormack and Maury Wills (who also scored the first run in the stadium), and manager Tommy Lasorda.


Yes, the field looks great. It's overseeded, and has been voted as the best field in the league, by the league's managers, 22 times since 1997. The Sports Turf Managers Association has named Avista Stadium as its "field of the year" three times.


There totally is a buried safe in the team's offices. It was discovered by contractors a few years ago when renovations were being made, and team officials decided to leave the safe not only unopened, but also in its original location. There's a special floor hatch in the team's administrative offices to see the safe.
Local journalism is essential.
Give directly to The Spokesman-Review's Northwest Passages community forums series -- which helps to offset the costs of several reporter and editor positions at the newspaper -- by using the easy options below. Gifts processed in this system are not tax deductible, but are predominately used to help meet the local financial requirements needed to receive national matching-grant funds.
Subscribe to the sports newsletter
Get the day's top sports headlines and breaking news delivered to your inbox by subscribing here.
---