News > Marijuana
Pot shop vs. video arcade: City council members call 'shenanigans' after marijuana license is rejected
UPDATED: Fri., June 16, 2017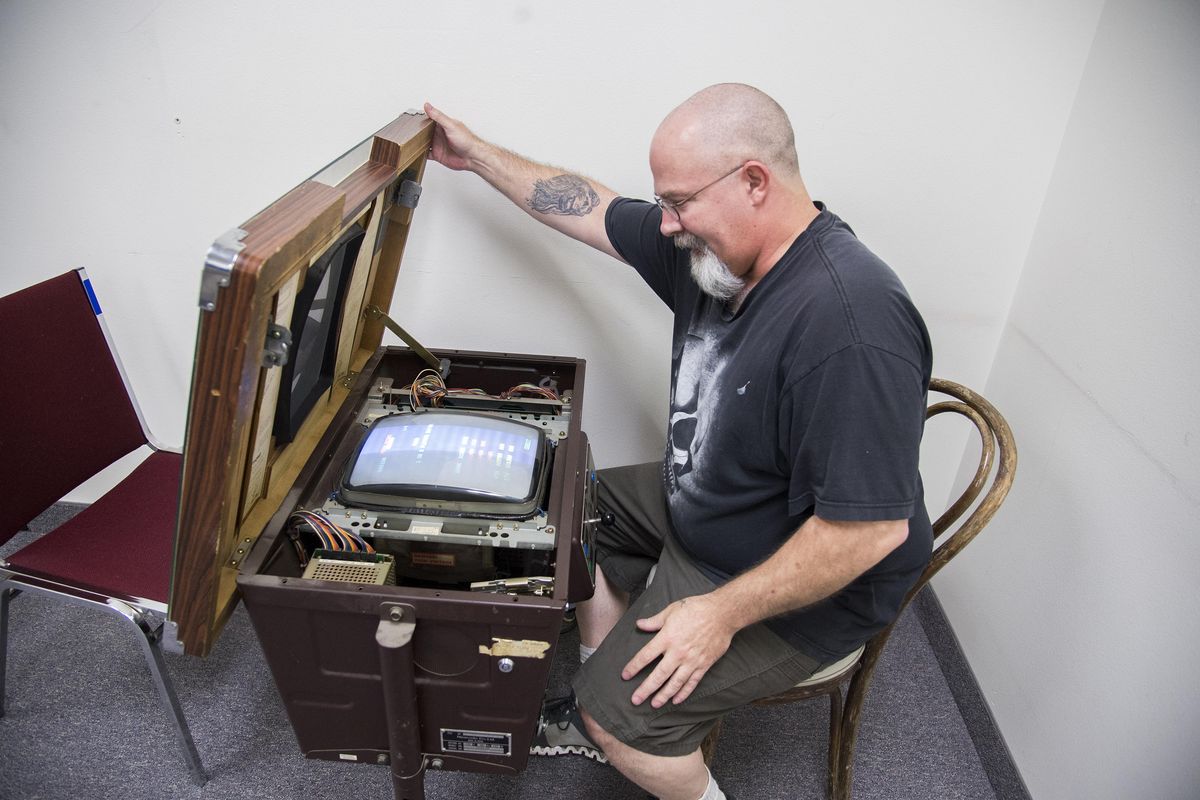 Looking inside an old Pac-Man video game, Ken Rosen, says he is the unpaid care attendant to the machines, at the Old Fashioned Arcade, which opened at 3917 E. Main Ave. earlier this year. The arcade, with a foosball table and less than a dozen working pinball and video arcade games, effectively ended the prospects of pot retailer Smokane moving to a location about 600 feet away. (Colin Mulvany / The Spokesman-Review)
An alleged space invader is disrupting plans for a new pot shop in a Spokane industrial park, prompting calls of "shenanigans" from an unusual ally.
Pot shop Smokane, located to the west of the East Town Shopping Center, received permits from the city in August 2016 to move to an East Spokane industrial park. Seven months later, its application for a license to begin selling marijuana – a license that is issued by the Washington Liquor and Cannabis Board – was rejected. The reason? A second business, the "Old Fashioned Fun Arcade," had gone up in the interim, just 600 feet from the new location.
According to city ordinance, pot shops cannot be licensed within 1,000 feet of any business that caters specifically to kids, arcades among them.
The arcade consists of four operating cabinets, three pinball machines and ping pong and foosball tables. It charges no admission fee, and had no customers when the Spokesman-Review visited Thursday. The single employee on site said he was a volunteer.
The abrupt denial of the license, after Smokane had already secured its building permits, has drawn a curious ally to the pot shop's cause: City Councilman Mike Fagan, who has, in the past, criticized the marijuana industry and supported efforts to suppress its spread in the city.
Fagan and others question the legitimacy of the arcade, as well as its suppressive effect on what is effectively a new player in a competitive market. "By all appearances, I'm looking at shenanigans," Fagan said.
He has asked that Spokane temporarily ease the so-called "buffer zone" preventing state-licensed marijuana stores from opening within 1,000 feet of a video arcade. The six-month reprieve would allow Smokane's owners to move near the arcade.
The case for the arcade
Ken Rosen, who described himself as the arcade's caretaker, welcomed guests into one of the offices Thursday, its space cluttered with operating and in-progress arcade machines. The location, he said, draws children visiting the next-door offices of the nonprofit Christian Youth Theater.
Rosen said the business is a bona fide arcade, despite not charging admission, "if the rules are based in logic."
The former construction worker said he spends his afternoons tinkering with old machines in the cluster of unfinished offices that make up the arcade. The space, which is rented for a fee of $5,000 a month, also includes storage for the youth theater and a practice space for a local rock band. The Kettle Falls native's first job was in an arcade as a 13-year-old, and he took the volunteer position on the urging of longtime friend Marco Barbanti, who is also the registered agent for the corporation running the arcade.
"If you're not getting paid, you're just trying to bring the nostalgia back to life," Rosen said.
Barbanti, an attorney and landlord who has previously represented clients in cases involving billboards, adult bookstores and other property rights issues, said the arcade followed the model of other similar businesses in town, renting out rooms for private parties and avoiding quarter plugging to play.
"The lion's share of our business has been private parties," Barbanti said.
Barbanti denied that the arcade had been established specifically to prevent Smokane from moving locations. He did acknowledge filing a complaint on behalf of his clients with the Washington Liquor and Cannabis Board about the new store, saying the concern was a violation of signage rules because the outlet advertised the sale of marijuana before it had moved into its new address.
Smokane initially contacted City Hall in February 2016 seeking to move, according to a letter Fagan provided from Lisa Key, the city's planning director. Building permits were issued Aug. 16. The governing corporation for the arcade, Rome-Warsaw Holdings Inc., filed formation paperwork Nov. 11. The lease for the arcade was signed in December.
Barbanti said Smokane had plenty of time to open before the arcade came online. But Fagan said the marijuana move should have been grandfathered in when its initial paperwork was OK'd.
"It should have died then and there, and we wouldn't have had to do anything with an emergency ordinance," Fagan said.
City Council President Ben Stuckart said Thursday he intended to vote in favor of Fagan's proposal on marijuana.
"I have not personally been there, but it seems hokey to me," Stuckart said.
Stifling business?
The Smokane owners are appealing the Liquor and Cannabis Board's decision to deny the license.
Mikhail Carpenter, a spokesman for the Liquor and Cannabis Board, said the agency has seen at least one case where an arcade was proposed adjacent to the planned site for a marijuana store. In that case, the city of Seattle provided evidence that an arcade venture by the owner of the popular Uncle Ike's pot retailer, Ian Eisenberg, had not secured all the necessary permits and the board granted the license within the 1,000-foot zone. Eisenberg told the Seattle Times his arcade was meant to frustrate a competitor from opening near his lucrative business.
Several marijuana businesses operate near the proposed site of the new Smokane location.
Cip Paulsen, landlord of a marijuana retailer located a few blocks away, said he had no involvement in the arcade. Paulsen is a licensed grower and processor of marijuana, and said he had written permission from the Liquor and Cannabis Board to serve as landlord for the store, despite a state law that reads no producers or processors "shall have a direct or indirect financial interest in a licensed marijuana retailer."
Carpenter confirmed on Friday that Paulsen obtained written permission from the state to serve as landlord for the retailer, before the Liquor and Cannabis board changed their policy and prohibited growers and processors from serving in that role.
"We are no longer going to accept that," Carpenter said.
Barbanti declined to name clients involved in the Rome-Warsaw Holdings corporation running the arcade, citing attorney/client privilege.
"Whether I'm an owner or not, is not something I'm going to comment on," he said.
"There is no one that has any affiliation with Rome-Warsaw Holdings that has anything to do with pot," he added. "I don't know how much stronger I can put that."
'A moral dilemma'
Fagan stressed that his proposal would not lead to any new marijuana stores within the city, as Smokane would move to its new location and close its old shop about a half-mile away. The conservative councilman, who often breaks with his more progressive colleagues, said his concerns were about the investment the Smokane owners made and their ability to conduct business.
"It's a moral dilemma for me," Fagan said. "We're talking about property rights, and morals and ethics in business. That's one of the primary reasons I took this up as an issue."
Arcades are one of several types of properties that have an enforceable 1,000-foot buffer to a potential marijuana business under the city's code. The city is responsible for issuing permits for improvements to an existing building, but it is the Washington Liquor and Cannabis Board that bestows a license to begin selling the drug.
Smokane had received all its city permits, but it was denied the license when the Liquor and Cannabis Board reviewed satellite data and discovered the Old Fashioned Fun Arcade.
Chris Wright, an attorney specializing in litigation involving regulation of the state's marijuana market, is representing the Smokane owners. Though no lawsuit has been filed, Wright – who is also president of the Spokane Park Board and husband of Spokane City Councilwoman Karen Stratton – said his clients had questions about the arcade's appearance following a development meeting with the city to improve the site of their new store.
"The timing is certainly intriguing," Wright said.
Barbanti, the attorney for the arcade, said the council's quick consideration of the change was curious, given Wright's marriage to a city council member, and said Fagan should have spoken with him or visited the site before taking action.
"My suspicious side says getting Fagan to be the cheerleader on this was more by design than by accident," Barbanti said. "Because no one's going to suspect Fagan of being sympathetic to the pot industry."
Stratton said Thursday she would recuse herself from the vote on Fagan's proposal Monday night and that the owners of Smokane called all council members for assistance before Fagan took up the issue.
"I don't feel there's a conflict at all," she said.
Fagan agreed, saying the issue was addressed with city legal representatives. He pointed to City Councilman Breean Beggs recusing himself from certain votes and issues, due to his legal practice.
"I don't see anything wrong with that," Fagan said.
Editor's note: This story was updated on June 16 to include verification from the Liquor and Cannabis Board that Cip Paulsen is authorized to serve as a landlord for a licensed marijuana retailer.
Local journalism is essential.
Give directly to The Spokesman-Review's Northwest Passages community forums series -- which helps to offset the costs of several reporter and editor positions at the newspaper -- by using the easy options below. Gifts processed in this system are not tax deductible, but are predominately used to help meet the local financial requirements needed to receive national matching-grant funds.
Subscribe now to get breaking news alerts in your email inbox
Get breaking news delivered to your inbox as it happens.
---