Sports > Outdoors
Handy man on Mount Spokane: Can-do state park manager Steve Christensen retiring
Sun., June 18, 2017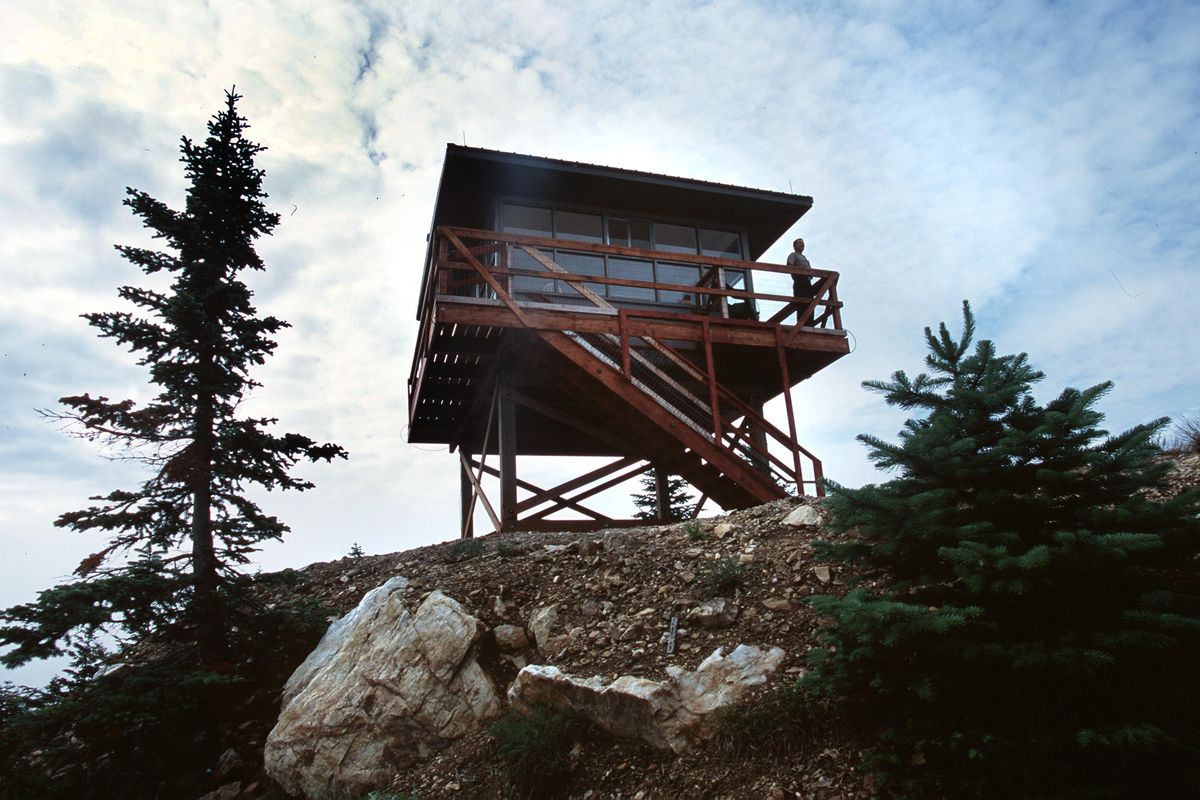 A fire lookout removed from the top of Mount Spokane in 2001 was restored and relocated on Quartz Mountain in Mount Spokane State Park where it debuted in 2005 as a popular rental for overnight use. Steve Christensen, Mount Spokane State Park manager, pictured here while installing the final touches on the lookout, had the vision to make it happen. (Rich Landers / The Spokesman-Review)
For 17 years, Mount Spokane State Park has been blessed with a manager who's handled conflicts as deftly as he's dealt with power outages, septic systems, search and rescues and hundreds, maybe thousands of blow-down trees.
"I had no idea I'd be doing so much chainsawing in this job," said Steve Christensen, who's retiring this month after a 32-year career with Washington State Parks.
"The neat part is how many people would rally to help out. I mean hundreds and hundreds of hours of volunteer time has been donated to clear out downed trees in the park."
Christensen, 63, began his career as an aid at Deception Pass State Park near Oak Harbor.
"I got a degree in marine biology, loved sailing and was big-time into shellfish and saltwater fishing or anything to do with water, so I was in heaven over there," he said.
In 2000, he was briefly a fish out of water as he transferred from West Side parks to Eastern Washington and the only state park that caters to all four seasons.
"When I got to Mount Spokane," he said, "I discovered winter."
That was just one of the attractions to the 13,919-acre park that's less than an hour's drive from Spokane. "I see it as a real park with hiking, biking, skiing, snowshoeing, horse riding and enough acreage so you can spend a whole day and not see it all."
Brad McQuarrie, general manager of Mt. Spokane Ski and Snowboard Park, a state park concession, worked with Christensen on various levels from policy to restoring power knocked out by a wind storm during Christmas break.
He applauded Christensen as "an excellent park manager" and "a pleasure to work with."
"Greatest of his many assets was his love of the park." McQuarrie said. "Before or after his work day, you could find him running, biking, snowshoeing, alpine and Nordic skiing. He truly enjoyed any and all activities Mount Spokane has to offer. This gave him a unique perspective, allowing him to make sound and timely decisions based on firsthand knowledge."
Christensen didn't just cope with winter; he embraced it. While he had alpine skied and snowmobiled, he'd never tried Nordic skiing until he found himself in charge of the state park system's crown jewel Nordic skiing venue.
He not only learned to stride and skate, he joined the Mount Spokane Ski Patrol.
"What struck me right away is that the people who come to Mount Spokane are very passionate about what they do," Christensen said. "People are passionate, more than any other place I've been, because they love the park."
Sometimes the enthusiasm in various clientele collides, as in issues hikers and equestrians have had with speeding downhill mountain bikers.
"Conflict in a park means it's a park that matters," Christensen said. "If you don't have passionate people, you don't have a park that matters.
"I love controversies especially if we can work things out."
Christensen has stayed on the sideline of the ongoing controversy over the proposed downhill ski area expansion. "My role isn't to take sides in overseeing the concession, but to follow the decisions made by the State Parks Commission," he said.
"Steve has worked way above and beyond what is traditionally expected of a park manager," said George Momany, who's served in several local Nordic skiing and statewide winter recreation roles in the past 20 years.
"He was well respected by all members of Washington's Winter Recreation Advisory Committee as a park manager who did an incredible job of balancing the needs of various user groups, creating multiple win-win situations."
Christensen said he gained as much as he gave. "People on the mountain are so recreation minded," he said. "They're athletic. They motivated me to stay in shape, learn skills and do stuff."
Trails at Mount Spokane have been vastly improved during Christensen's tenure. "There were a lot of pressing problems," he said. "The single tracks were all fall line trails, steep in places and poorly designed with bad erosion. Some ruts were 5 feet deep."
Christensen opened his arms to volunteer groups who have helped re-route trails, construct bridges, build mountain-biking routes and more.
The cross-country ski park has doubled in size to more than 50 kilometers of groomed trail in a partnership with Inland Empire Paper Co. and Spokane Nordic.
"The state park simply doesn't have the staff to regularly maintain trails," he said. "We rely on groups such as the Washington Trails Association, Spokane Mountaineers, Spokane Nordic and Evergreen East."
"He has been as strong promoter for the Nordic skiing community," Momany said, noting that Christensen spearheaded the expansion of the cross-country trails to include Outer Limits, a long-distance ski route involving IEP roads. "I still remember the child-like excitement and joy he showed when he brought up this idea to me."
"It took four years, but we got funding for a new $270,000 groomer," Christensen said. "Of course, that meant we had to widen a lot of trails to accommodate it. There's always a lot to do."
While groups hail his accomplishments at Mount Spokane, Christensen is nagged by his inability to complete a new trail he'd planned for years.
"The 180 Trail starts at Day Mountain entrance to the park," he said. "I wanted a parking lot there to give users an additional access to the park. The trail heads up Day-Mount Spokane Road onto Mount Kit Carson Loop and I wanted to put a trail on the ridgeline through old-growth timber and back out to the Day road entrance. It would be a great loop hike."
The chore and expense of getting the environmental review and all the permits – $3,000 for the required archeology permit alone – has kept the Trail 180 project a proposal.
"That and a hiker-only trail from the Mount Spokane campground to the summit are two projects I would have focused on if I were to stay another couple of years," he said.
Christensen's departure makes way for an evolving state parks management structure. Diana Dupuis at Riverside State Park will take charge as the area manager overseeing Mount Spokane as well.
Mount Spokane Ranger Jerry Johnson will become the head ranger on the mountain with support from Riverside staff and extra help in the winter season.
The new management structure is being applied across the state to trim park staffing and avoid closing parks if there's another recession, said Cris Currie, founder of Friends of Mount Spokane State Park.
"We're going to miss him, because among other things he's no slouch around a chain saw," said Currie, who joined the park manager on several marathon storm damage clean-outs to keep roads and trails open through winter seasons.
"Steve would do things like clean bathrooms and ski toilet paper out to the Nova Hut."
"I love being a ranger," Christensen said. "There's no set routine. Every day can deliver something new, and most of the work takes me out of the office and into the park."
Mount Spokane rangers also are in charge of the 49-acre Crawford State Park north of Metaline. Crawford includes Gardner Cave where tours can be scheduled into the dark, dank depths of the third-longest limestone cavern in Washington.
"Just yesterday I had to drive up to Crawford and unplug the urinal before a senior citizen tour showed up," he said.
Mount Spokane rangers over the years have had to do most of the handyman jobs. "Sometimes we have to hire specialists, but in most cases we make repairs ourselves," he said. "If a water main breaks, we have a mini-excavator to take care of it. When we need a part, we run to town."
Search and rescues occur almost every year including a serious snowmobile crash last season. "In most cases, I've enjoyed the search and rescue operations," he said, "because finding people who are lost puts you in touch with people who are really grateful."
During Christensen's tenure, the main park road was upgraded; some of the fiberglass "missile-silo" toilets were replaced by concrete vault toilets; a hut for snowshoers was built.
One of his many shining moments involved the installation of the Quartz Mountain fire lookout, which has become a wildly popular rental cabin even though visitors must hike or bike into it.
"I don't know if any of us at Mount Spokane knows what a normal park ranger does," Currie said. "Steve never says 'No' to looking into anything. He has vision."
In 2001, the Department of Natural Resources was going to tear down and scrap the fire lookout that had stood on top of Mount Spokane, but Christensen proposed dismantling, restoring and moving it to another prominent peak in the park.
"He said he'd need a lot of help and (the park Advisory Committee) said 'Heck yes,' " Currie recalled. "The lookout sat for three years at the ranger's residence until he figured out what to do with it."
The catwalks and windows had to be removed to truck it up the rough road. A crane contracted to install the vault toilet was just barely tall enough to hoist the lookout cabin onto the 11-foot tower.
An Eagle Scout project replaced the windows; volunteers painted and spruced it up, and in 2005 the lookout debuted as a park rental with views overlooking Hauser, Twin and Newman lakes, plus frequent visits by park critters including moose.
"If it's a good project, Steve was able to find a way to get it done," Currie said.
Future developments he's suggested include equestrian camping and a larger lodge at the cross-country ski area to accommodate ski and mountain bike events or even a mountain education and recreation center.
"The park has the potential to provide year-round environmental education for schools and visitors," he said.
Christensen leaves with few regrets other than that he couldn't be more places at the same time.
"With all the responsibilities, I can miss things I don't want to miss," he said. "The worst example was getting distracted and missing my own retirement party."
No trait serves a state park manager more than "being good with the public," he says.
"But you have to be careful when joking around," he said. "A few years ago, a park neighbor called wanting to know where he could go to get away from all the wildfire smoke that was smothering the entire region. I joked that he'd probably have to go to Hawaii. He was offended by that comment and reported me to Olympia."
Humble to the end, Christensen said, "Any success I've had here is directly related to all the people who come up to help. This mountain belongs to the people. It's their passion for it that makes my job easier or even possible."
Being a member of the Washington Trails Association and ski patrol, he expects to be on the mountain regularly in his retirement. "I'll be just another one of the guys up here pitching in and maybe complaining about something," he said.
Local journalism is essential.
Give directly to The Spokesman-Review's Northwest Passages community forums series -- which helps to offset the costs of several reporter and editor positions at the newspaper -- by using the easy options below. Gifts processed in this system are not tax deductible, but are predominately used to help meet the local financial requirements needed to receive national matching-grant funds.
Subscribe to the sports newsletter
Get the day's top sports headlines and breaking news delivered to your inbox by subscribing here.
---