News > Spokane
Former bar president accused of using law firms' credit cards for gym, political donations
June 20, 2017 Updated Tue., June 20, 2017 at 11:29 p.m.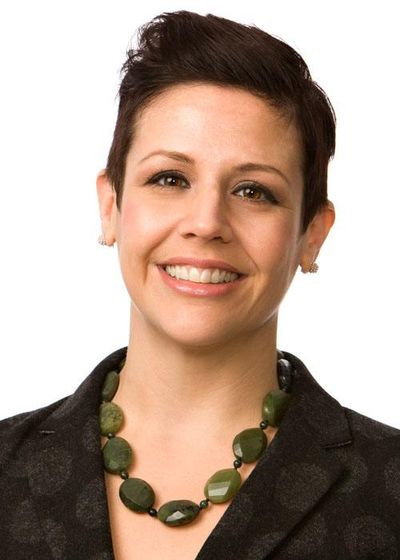 Court records seeking to charge a Spokane attorney, who resigned Sunday as the president of the Washington State Bar Association, indicate that two separate law firms believe that Robin Haynes improperly used company funds for everything from travel to a gym membership and even political donations.
A search warrant became public Monday that was filed by the Spokane County Sheriff's Office, which is investigating Haynes, 39, for three counts of second-degree theft based on her previous employment with the Spokane Valley law firm McNeice Wheeler and her earlier employment at Witherspoon Kelley in Spokane.
The investigation began when partners Becki Wheeler and Ryan McNeice filed a police report on Feb. 28 alleging that Haynes had stolen some $3,947 from the law firm through the improper use of a company credit card.
"In both grievances, Haynes used the firm's credit card to pay for expenses incurred … as WSBA leadership, political donations, and, while with Witherspoon Kelley, for personal expenses to include a gym membership," sheriff's Detective Ken Scott wrote.
The state bar association then reimbursed Haynes "for WSBA related expenses under the belief that she incurred the expenses herself," Scott wrote.
Haynes, who last year became the youngest lawyer to hold the bar association position, on Tuesday retained Spokane attorney Timothy Note to represent her in the criminal investigation. She left McNeice Wheeler on Jan. 31.
"While Ms. Haynes has done nothing wrong and looks forward to clearing her name in a fair tribunal, she was also aware that even the rumor of an investigation would cast a shadow over the important work that the State Bar Association does," Note wrote in an email. "As President of an organization that she cares deeply about, resigning was the only prudent option available to her and is the sole reason why she chose to resign on Sunday."
The investigation into Haynes' financial matters began earlier this year when the partners at McNeice Wheeler told the detective that employees were barred by written "and unwritten guidelines" from using the firm's credit card without prior approval.
According to the court records, Haynes never asked for permission to use the firm's credit card. Wheeler told the detective that she found the card had been scanned onto Haynes' computer while Wheeler was searching Haynes' computer for another document late last fall.
"Haynes kept her possession and use of the credit card secret until such point McNeice Wheeler confronted her in January 2017," the detective wrote.
Haynes admitted having downloaded the firm's credit card number to her computer. "However, upon her eventual termination, Wheeler attempted to recover the document but Haynes deleted it," Scott wrote.
When confronted about the $3,947 of purchases on the company credit card, Haynes said most of that amount was spent for personal use. She attributed most of the problem to a clerical error where Alaska Airlines had saved the company's credit card number and continually billed that account instead of her own, according to court records.
Haynes "also blamed the firm for poor bookkeeping practices," Scott wrote.
The detective then spoke to Tim Lawlor at Witherspoon Kelley, where Haynes worked from September 2013 to December 2015. Lawlor reported similar questionable use of the firm's credit card when Haynes worked there.
Haynes used that firm's credit card for "personal use, political donations, failing to report the personal use, failing to promptly reimburse the firm … and causing a bookkeeping quagmire by providing misdirection when confronted about said unauthorized charges," court records state.
She also conducted about $30,614 worth of WSBA business from which she only reimbursed the firm for $24,780, Scott wrote.
"Haynes allegedly absconded with $5,833.90 of Witherspoon Kelley funds," the detective wrote.
Responding to a request for comment, Michael Currin, of Witherspoon Kelley, confirmed that his firm filed a complaint against Haynes with the WSBA "based on our belief that Ms. Haynes violated our Code of Professional Responsibility," he wrote. "The facts are straight forward: In addition to her personal expenses, our firm credit card was used for certain bar association expenses."
Currin said the firm paid the credit card and the bar reimbursed Haynes for expenses. "In many instances, she did not reimburse the firm," he wrote. "This financial impropriety is our principal concern."
On Monday, Haynes' attorney, Roy Umlauf, said he and his client had "no knowledge of any criminal investigation" into Haynes.
But court records indicate the search warrant was executed on June 12 at the Seattle offices of the state bar association.
Note, the newly retained defense attorney, said nobody from the WSBA or law enforcement told Haynes about the June 12 search of bar association records. In fact, investigators have not yet spoken with Haynes about any aspect of the case, Note said.
"Rumors of a criminal investigation began to be leaked by Ms. Haynes' detractors late Friday afternoon," Note wrote. "Ms. Haynes had no confirmation that there was in fact a formal criminal investigation against her until she was contacted by reporters seeking comment."
In her April responses to bar association complaints, Haynes claimed that McNeice Wheeler did not have a formal policy regarding the use of the firm's credit, according to court records.
"Expenses (were) often missed firm-wide" and that Wheeler "sometimes missed payments to lawyers and failed to make payments to third party vendors," Scott wrote.
Wheeler did not immediately respond Tuesday to a message seeking comment.
As for Haynes' use of the credit card owned by Witherspoon Kelley, Haynes said her spending habits were similar to other lawyers at the firm.
"In short, she had perceived permission to use the card for personal charges," Scott wrote, "and poor bookkeeping prevented prompt reimbursement to the firm."
Local journalism is essential.
Give directly to The Spokesman-Review's Northwest Passages community forums series -- which helps to offset the costs of several reporter and editor positions at the newspaper -- by using the easy options below. Gifts processed in this system are not tax deductible, but are predominately used to help meet the local financial requirements needed to receive national matching-grant funds.
Subscribe now to get breaking news alerts in your email inbox
Get breaking news delivered to your inbox as it happens.
---