A&E > Music
Speaking of Nirvana: Both Grohl and Novoselic bringing their bands to Spokane
June 20, 2017 Updated Tue., June 20, 2017 at 4:21 p.m.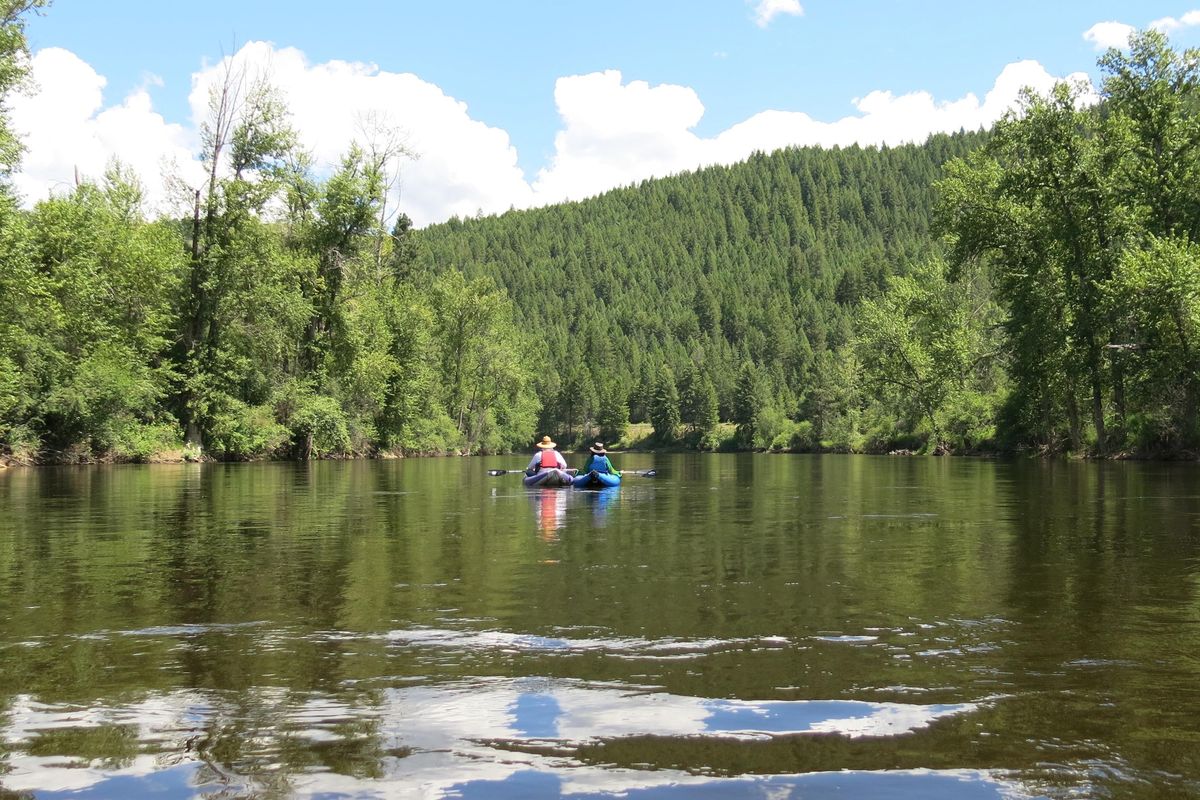 Last summer, Krist Novoselic and his wife, Darbury, paddled the Kettle River in Ferry County with Bobby Whittaker, who worked for SubPop Records back in the day. Whittaker said that trip helped bait the hook for Novoselic to return to Eastern Washington, this time with his new band, Giants in the Trees, in tow. (Bobby Whittaker)
With Tuesday's news that Foo Fighters, fronted by former Nirvana drummer Dave Grohl, will play in Spokane in December, it seems appropriate to check in with the other surviving member of the seminal Seattle grunge trio, bassist Krist Novoselic.
Novoselic hasn't been as high-profile as Grohl has in the two decades since Kurt Cobain's death ended Nirvana. But he's certainly stayed busy.
He's formed a few bands, including Sweet 75 and Eyes Adrift. He's reunited with Grohl on occasion, including that time they played with Paul McCartney at Safeco Field. He's become a gentleman farmer in southwestern Washington, and is active in his local Grange and in politics.
Now he has teamed up with fellow Wahkiakum County musicians Jillian Raye, Erik Friend and Ray Prestegard to form Giants in the Trees, a band that, at least according to its Facebook page, is "inspired by the environment and culture of the Lower Columbia River."
Novoselic and the rest of the Trees will perform at Spokane's Big Dipper on July 21. Tickets are on sale now for $12 through Brown Paper Tickets. The next night, they'll be in Ferry County for a performance at Republic Brewing. Tickets for that show are $14 in advance, $18 day of show. Get 'em through the brewery website, http://republicbrew.com.
The band reportedly has new music set for release this summer. In the meantime, there's not a lot out there to sample. There's a minute-long clip on YouTube, and a segment on the band's Facebook page. Raye's vocals have a Corin Tucker (Sleater-Kinney) vibe, and Novoselic plays bass and accordion.
So what to expect for now? As the Facebook page puts it, "The band is not offended by terms like schmaltz. On the other hand, there are heavy groove numbers, screaming slide guitar and accordion. There is even an anthem – so raise your arms with the phone flashlights."
Local journalism is essential.
Give directly to The Spokesman-Review's Northwest Passages community forums series -- which helps to offset the costs of several reporter and editor positions at the newspaper -- by using the easy options below. Gifts processed in this system are not tax deductible, but are predominately used to help meet the local financial requirements needed to receive national matching-grant funds.
Subscribe to the Spokane7 email newsletter
Get the day's top entertainment headlines delivered to your inbox every morning.
---