Songwriter at Idaho monastery struggling with dementia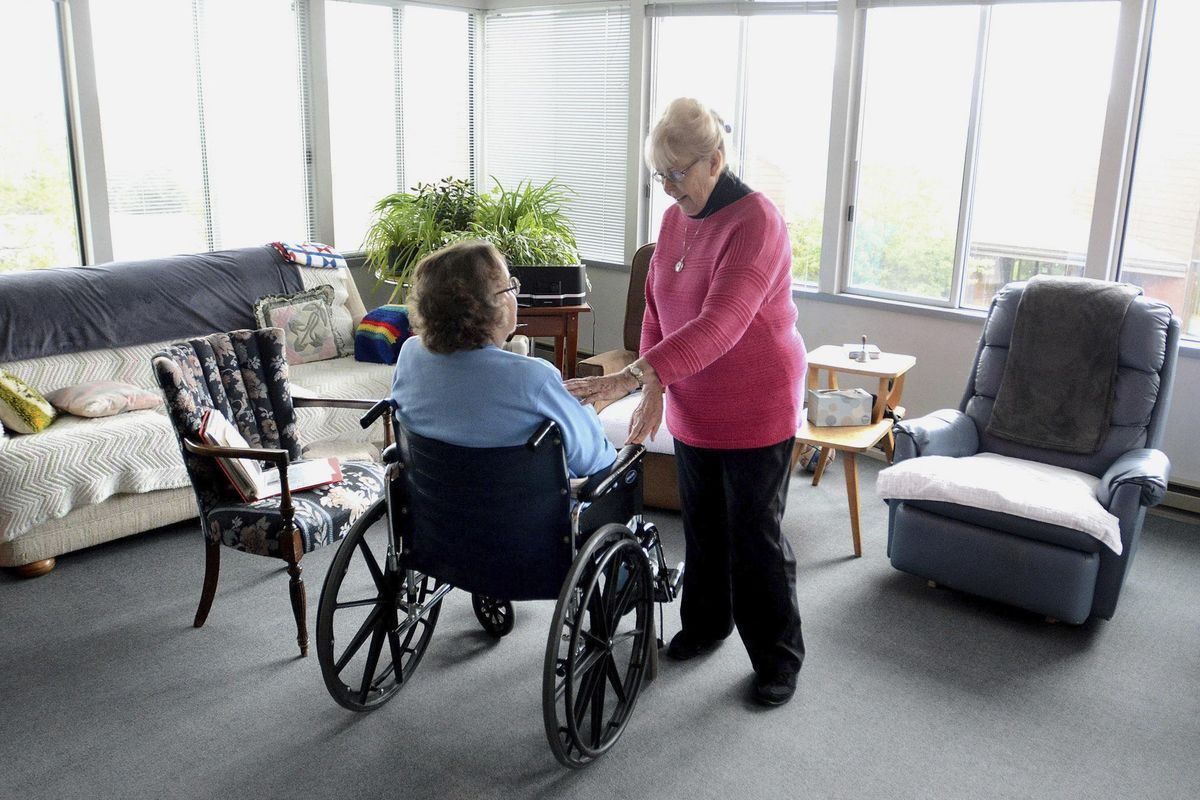 An AP member exchange. With AP Photos.
AP Photo IDLEW102, IDLEW101
Lewiston Tribune
COTTONWOOD, Idaho (AP) – As the Benedictine sisters of the Monastery of St. Gertrude gather three times each day for prayer and worship, Sister Cecile Marie Uhlorn is pushed silently into the chapel in a wheelchair.
Once a smiling, friendly nun who liked to greet family and friends before taking her place at the chapel's organ where she was a masterly musician, Uhlorn, 78, now stares blankly ahead, seemingly unaware of her surroundings and mostly unable to participate in the daily devotions, a victim of dementia.
Uhlorn's condition is not unique and has reportedly affected other members of her original family. Her older sister, Angela Uhlorn, also a nun, died from complications of dementia last year.
What's poignant about Uhlorn's situation is that, as the sisters pray the psalms and sing the antiphons in the daily worship book, the initials "CMU" are inscribed above many of the lines of music. Uhlorn, who these days can barely speak, composed many of these brief introductory songs and oversaw the compilation of the books of praise for the Benedictine community.
Sister Clarissa Goeckner, a lifelong friend of Uhlorn's and former prioress of the monastery, said Uhlorn grew up in a musical family of 10 children near Ferdinand. Her mother taught piano lessons to all the children.
"Their family was always involved in the church and Cecile, from the earliest days, played for benediction (the end of the worship service)," Goeckner said.
"She said she was married to the organ, even from that early age, because there was always something for her to play for in the parish."
Although Uhlorn had an active social life in high school – she, as well as Goeckner, were cheerleaders for their respective high schools and both attended dances and proms – she began to sense the stirring of a religious vocation before she graduated.
"She felt God was calling her," Goeckner said.
She entered the convent at age 17 in 1957, and attended St. Gertrude's Junior College. Later she went on to the University of Idaho, where she attained a master's degree in music education.
During those early years many of the sisters taught at various Catholic schools throughout the diocese.
Uhlorn was a teacher at Rupert, St. Maries, Nezperce, Cottonwood and Lewiston. After school she gave music lessons and helped support her community of sisters with the income she made.
In the meantime, Uhlorn also studied theology and liturgy, which is the order of the service and includes prayers, music and distribution of the sacraments. Shortly after Vatican II in the early 1960s, religious congregations began experimenting with different styles of liturgy.
Goeckner said that the previous prayer books were in Latin and some of the music was difficult to sing. The sisters searched for different material and for some time used a compilation of books and music from various other religious communities.
In the early 1980s Uhlorn, along with a couple of other sisters, took charge of the worship book update and that's when she wrote many of the antiphons the sisters use today. Some of the sisters remember hearing Uhlorn practice music for hours, composing melodies in her head and working them out on the organ.
"She was looking for those that were easy singing rather than the other books that were unsingable," such as Gregorian chant, Goeckner said.
The antiphons Uhlorn composed were aimed "to give the thought and the inspiration of the feast or the psalm, but to do it simply."
Uhlorn was also invited to assist liturgy groups in other communities and dioceses in the country and in 1998, she went to Sarnen, Switzerland, from which the founding sisters of St. Gertrude had moved in 1880. There Uhlorn worked with the Sarnen sisters on liturgy and Mass, but Goeckner said she struggled with the German language and "it was a steep learning curve."
By 2005, the early effects of Uhlorn's dementia were beginning to show, and she was asked to return to Cottonwood.
Goeckner said it was a difficult time.
"She knew she was losing it but she was denying it quite a bit at that point," Goeckner said. "I was trying to be helpful and one day I said, `You know, Cecile, my mother died of cancer; my dad died of a stroke. Something will take us home and for me it will probably be stroke or cancer. For you it will be Alzheimer's (because of the prevalence of the disease in Uhlorn's family). It's different ways that will bring us home."
The next day, Goeckner said, "She came by my office and she said, `It seems that I have it but (Alzheimer's and stroke or cancer) are entirely two different things. It's different to die of cancer or a stroke than Alzheimer's because with Alzheimer's you lose yourself. You lose all the people you've known and you lose yourself because you no longer know who you are.' "
Later that day at Mass, Goeckner said, she saw Uhlorn pray in thanksgiving for the gift of memory.
Uhlorn's dementia progressed, although for some time she continued to play organ for the worship services. As she began to lose her ability to read music Sister Carol Ann Wassmuth stood beside her during the services and pointed to every note.
Eventually even that didn't help. She forgot familiar faces and she would walk into the chapel and look around as if in unfamiliar surroundings.
Yet, there were times, even after she had lost the ability to play other music, Uhlorn would quietly slip into the chapel and play "Chariots of Fire" – her personal favorite.
"Not like she used to," Goeckner said, "but she could play it."
Every now and then a filament of memory would flicker and people would hear her softly singing during daily prayer – unaware she was the author of the music.
Recently, Goeckner said, Uhlorn's sister and brother-in-law visited her at the monastery.
"She couldn't talk; she couldn't say anything to them and she was getting so frustrated. And so they said, `Shall we sing something?' And she shook her head, `Yes,' and they just sang church songs" with Uhlorn joining in joyously.
Uhlorn cherished her friendship with Goeckner and wrote several cards and letters over the years testifying that the friendship had helped her through some dark times.
"I think she suffered a lot," Goeckner said. "I asked her if she regretted coming to the community, because she struggled. It was always a thin thread, and I'd never know if she'd be here when I got back or not," Goeckner said. "Yet she remained faithful."
In her correspondence, "She was talking how we are helping each other on the way to everlasting life. And so I keep those (cards) because it reminds me of her. We won't be able to talk about it again in this life."
–––
Information from: Lewiston Tribune, http://www.lmtribune.com
An AP member exchange. With AP Photos.
AP-WF-06-22-17 1528GMT
---