A&E > Food
Buttercream dream: Heavenly bake shop opens on Spokane's South Hill
March 2, 2017 Updated Thu., March 2, 2017 at 11:39 a.m.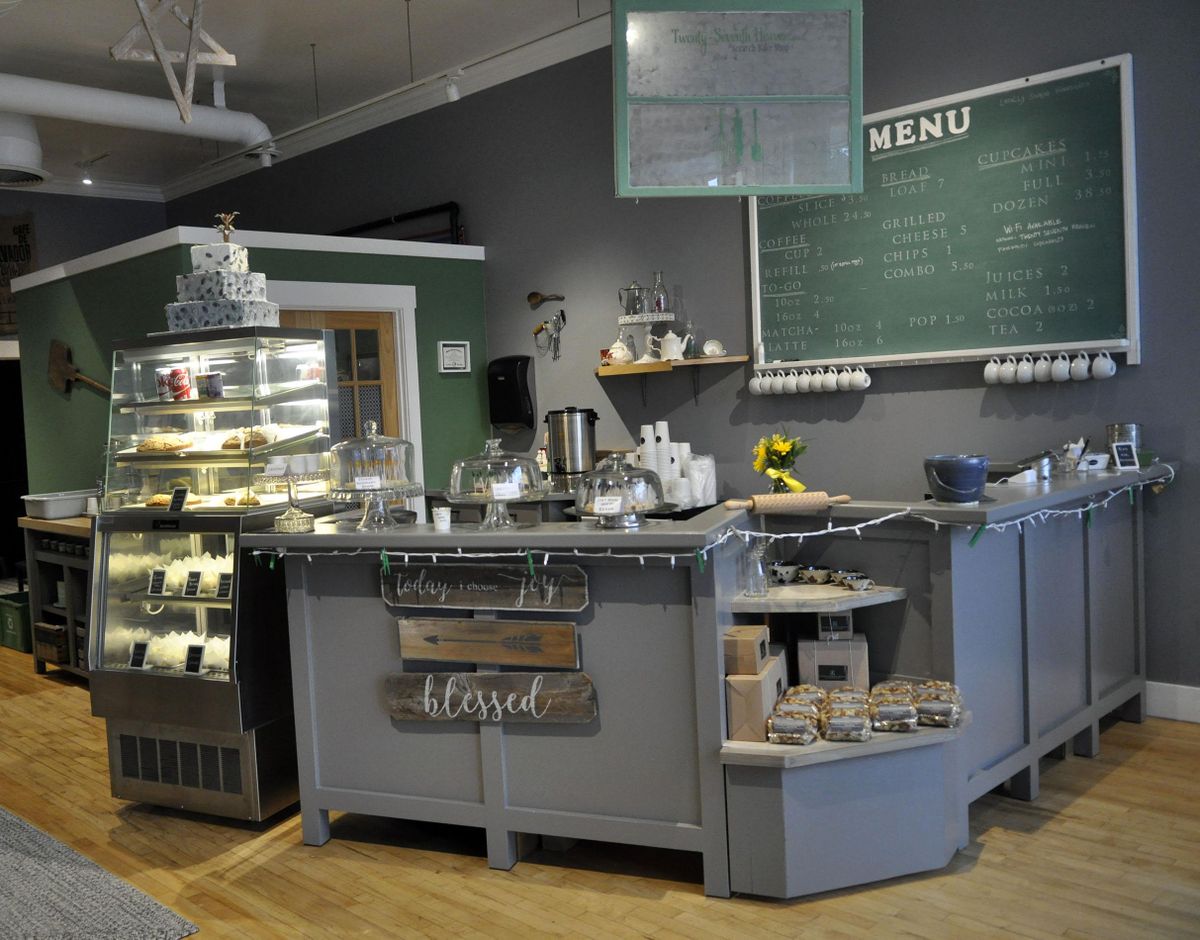 The Twenty-Seventh Heaven Scratch Bake Shop is located on South Grand Boulevard in Spokane. (Adriana Janovich / The Spokesman-Review)
It started with a simple vanilla cupcake.
Lydia Cowles found a recipe online and began "playing around" – with batter, buttercream and her dreams for her future. She would be getting out of the Navy soon and needed something to do that she loved.
She loved coffee cake and cupcakes. So, after vanilla came chocolate and more experimenting: raspberry-lemon, peanut butter, matcha green tea. Bread, too – potato-rosemary, garlic-pesto, oatmeal-honey, cinnamon swirl.
Today, these varieties are available at her new South Hill storefront, along with other offerings – including her signature coffee cake. Twenty-Seventh Heaven Scratch Bake Shop opened at the end of January, realizing Cowles' dream of owning and operating her own bakery.
The name is a play on the phrase "seventh heaven" and the number 27, her favorite number. Her birthday is Jan. 27, the same day of her grand opening.
Seventh heaven is state of extreme joy or happiness. It is, Cowles said, "kind of the best of everything."
For her, that includes grilled cheese.
"I love grilled cheese," she said. "I ate a lot of grilled cheese on the ship."
Her sandwiches are simple: Provolone and a choice of her bread. Eventually, she wants to add soups. Meantime, her menu features her loaves along with two sizes of cupcakes, hot chocolate, matcha green tea lattes and bags of croutons made from her bread.
Top-sellers include the garlic-pesto bread, peanut butter cupcakes and coffee cake.
"Coffee cake is one of my favorite things," said Cowles, who is – as far as she knows, she said – no relation to the Cowles family which owns this newspaper.
She's loved coffee cake "as long as I can remember. The cake itself doesn't have a lot of sugar in it. The crumble is my favorite part."
Cowles, 34, grew up in Minnesota and moved to Spokane in 2001 to attend Whitworth University. Minus four years of active duty, she's been here ever since.
She graduated in 2005 and worked retail jobs in Spokane before joining the U.S. Navy in 2010. She was sent to the Middle East with her Bremerton-based ship and married her Spokane sweetheart while she was still living in Port Orchard. When her active duty ended in 2014, she moved back to Spokane and went back to school.
"About a year before I got out of active duty I started playing around with what I wanted to do," she said. "I'm definitely a math-science kind of person, so baking made sense to me."
In spring 2015, she enrolled in Spokane Community College's baking program, followed by its integrated business and entrepreneurship program. She graduated with honors from both.
She signed the lease on her South Hill bake shop in early November, around the same time she finished her two-year stint with the Navy Reserve. The nearly $3,000 she raised through an Indiegogo campaign last summer helped, though she fell short of her $30,000 goal.
These days she arrives around 4:15 a.m. at the shop, done in gray, green and white. The feeling is fresh, calming and cozy. Dangling cookie cutters, antique window panes and an old schoolhouse chalkboard add to the ambiance.
The space – light, bright, airy and overlooking South Grand Boulevard – seats 26. It features high ceilings and a bunch of two-tops lining the south wall.
At the counter, cupcakes come in mini for $1.75 and regular for $3.50. If you buy them by the dozen, one comes out to be free. They're topped with buttercream, but it's a "fancy buttercream," Cowles said. "It's not the super-sweet buttercream kids are used to."
Coffee cake is $3.50 per slice or $24.50 for a whole. Again, if you buy an entire cake, one of the slices comes out to be free.
Bread is $7 per loaf. Matcha lattes are $4 for 10 ounces or $6 for 16 ounces. There is juice and milk, too.
Cowles does much of the baking herself, but employs a part-time assistant who helps with a lot of the prep work. Sometimes, her two step-daughters, 13 and 11, stop by and help, too.
They are, Cowles said, "fans of cupcakes in general."
Local journalism is essential.
Give directly to The Spokesman-Review's Northwest Passages community forums series -- which helps to offset the costs of several reporter and editor positions at the newspaper -- by using the easy options below. Gifts processed in this system are not tax deductible, but are predominately used to help meet the local financial requirements needed to receive national matching-grant funds.
Subscribe to the Spokane7 email newsletter
Get the day's top entertainment headlines delivered to your inbox every morning.
---