A&E > Food
Cosmic Cowboy Grill is coming to Coeur d'Alene
March 2, 2017 Updated Thu., March 2, 2017 at 1:18 p.m.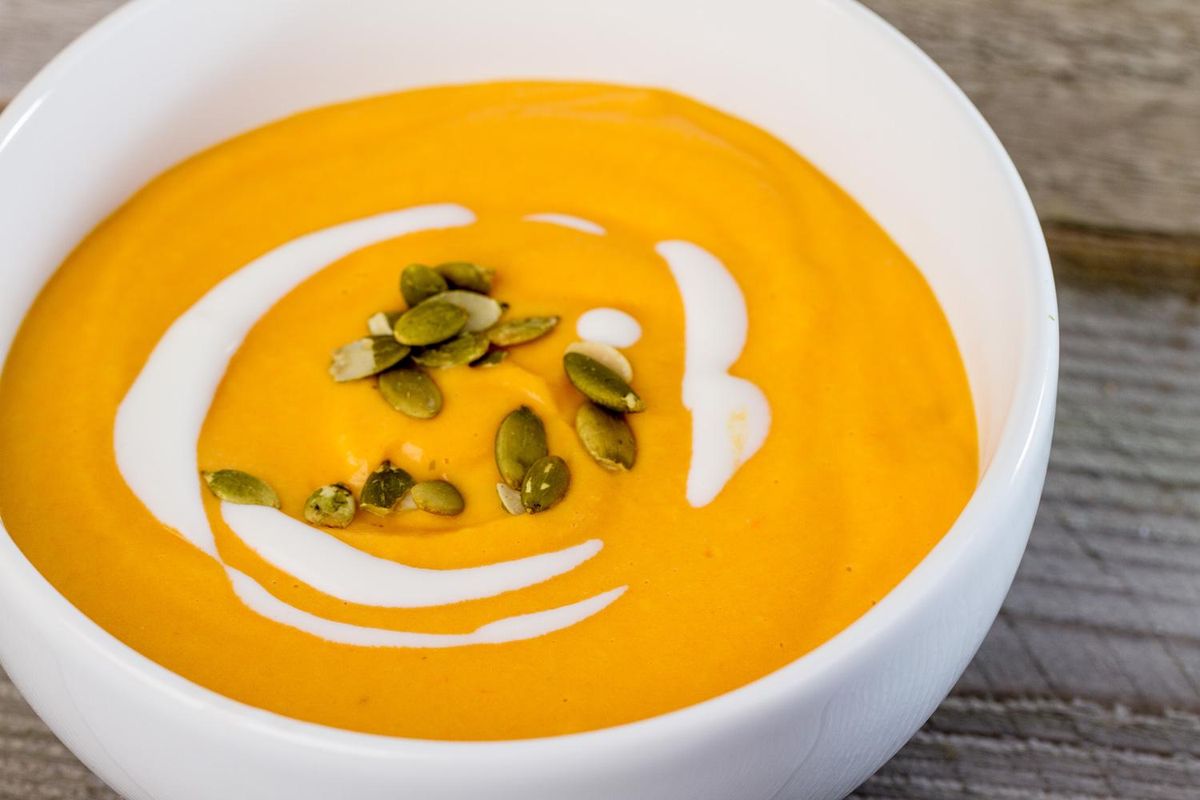 Roasted butternut squash soup is a staple of the all-vegetarian side dishes at the forthcoming Cosmic Cowboy Grill in Coeur d'Alene. (Courtesy of Cosmic Cowboy Grill)
Cosmic Cowboy Grill is coming to Coeur d'Alene.
Slated to open near the end of April, the casual new eatery will offer a menu of salads, sandwiches and wraps made with grilled-to-order meats and plenty of veggies. Expect grilled salmon and butternut squash and quinoa as well as roasted Brussels sprouts with blue cheese and pistachio.
The concept is "fresh-casual," according to the recently issued news release.
"This style of cuisine has become extremely popular in places like Seattle, Portland and Austin," owner and "chief wrangler" Steve Eller said in the release. "With a large fitness community and new people moving to the area, there seems to be a large pent-up demand for this type of food."
Eller is a recent transplant to the Inland Northwest who moved here from Austin, Texas.
General manager Chris White, a graduate of the Inland Northwest Culinary Academy at Spokane Community College, has lived in the Pacific Northwest all of his life.
They're hoping the new restaurant, designed by HDG Architecture, becomes "the go-to spot for those craving sophisticated food including gluten-free, Paleo, vegetarian, vegan and low-carb gourmet options."
They plan to change the menu seasonally to, White said in the release, "ensure that our customers eat foods at the peak of their ripeness while leaving as small a carbon footprint as possible."
The name is inspired by the "original Cosmic Cowboys" in the 1970s, including Willie Nelson and Janis Joplin, who melded rock, country, folk and blues to create a new kind of music.
"They embraced new ways of doing things (cosmic) while remembering the values that made us great (cowboy)," Eller said in the release.
He also added, "We hope to make the restaurant a centerpiece of the local fitness community and are even planning for special menus to support athletes prior to big events in the area, like Ironman and the CDA Marathon."
An opening date of April 29 is anticipated. Cosmic Cowboy Grill is at 412 W. Haycraft Ave. in Couer d'Alene. On the web: cosmiccowboygrill.com.
Local journalism is essential.
Give directly to The Spokesman-Review's Northwest Passages community forums series -- which helps to offset the costs of several reporter and editor positions at the newspaper -- by using the easy options below. Gifts processed in this system are not tax deductible, but are predominately used to help meet the local financial requirements needed to receive national matching-grant funds.
Subscribe to the Spokane7 email newsletter
Get the day's top entertainment headlines delivered to your inbox every morning.
---