Sports > High school sports
State 4A girls: Too many inconsistencies plague Central Valley in loss to Bellarmine Prep
UPDATED: Thu., March 2, 2017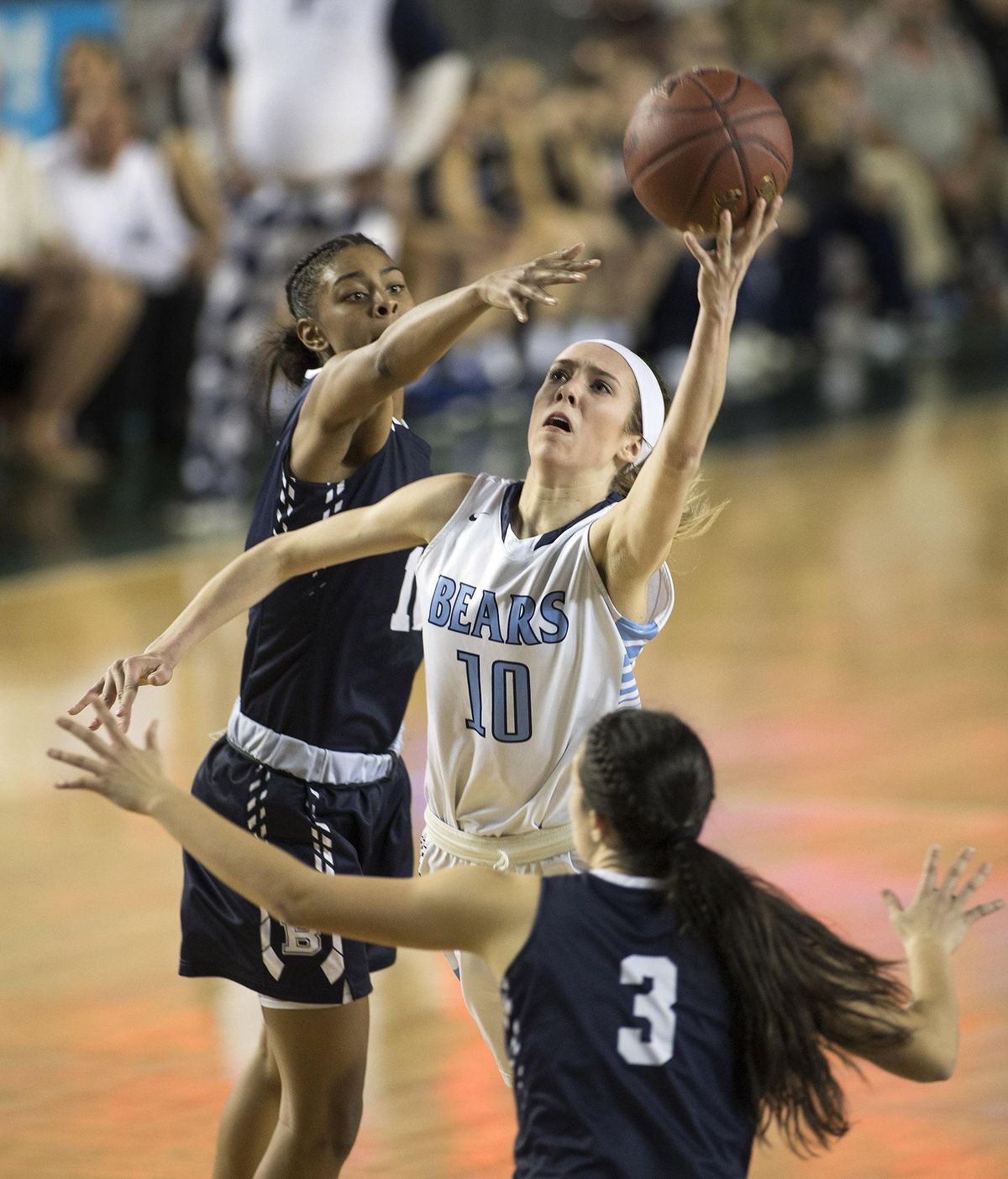 Central Valley's Lexie Hull, middle, attempts a shot between the defense of Bellarmine Prep's Shalyse Smith, left, and Madeline Garcia, right, Thursday, March 2, 2017, during the quarterfinals of the 4A Girls State Basketball Tournament in Tacoma. Central Valley lost the game 56-55. (Patrick Hagerty / For The Spokesman-Review)
TACOMA – The Central Valley girls basketball team picked an awful time to play one of its more inconsistent games of the season.
Too many turnovers, too many missed free throws and too many fouls added up to an upset victory by the Bellarmine Prep Lions, 56-55, in a State 4A tournament quarterfinal Thursday at the Tacoma Dome.
CV's streak comes to an end at 52. The Bears (24-1) will try to bounce back Friday in an elimination game when they face Kentlake (23-5). Tipoff is at 12:15.
The Bears beat Kentlake 53-29 earlier in the season.
Bellarmine Prep 56, Central Valley 55: As the Bears walked back to the locker room, CV coach Freddie Rehkow put an arm around Hailey Christopher, trying to comfort his junior who missed two free throws with five seconds remaining.
The loss will hurt for a while.
The Bears had every opportunity to win despite not firing on all cylinders.
But there was something off the whole game. Yes, the Bears had to summon some clutch ball to rally from a 48-42 deficit but they'll be kicking themselves about their shortcomings.
Shalyse Smith got a basket inside with 28 seconds left to provide the final margin for the Lions (25-2).
"We played our hearts out, that's how we did it," said Smith, a junior who has given an oral commitment to the University of Arizona. "We knew everyone in the stands thought that Central Valley was going to win this game and that we were going to get blown out of the water. We came into this game believing in ourselves."
It showed. The Lions didn't back away from what turned into a physical game.
Smith had to work for every basket, finishing with a game high 17 points and 15 rebounds.
"We did a great team job and were able to beat a great team," said Bellarmine coach Kevin Meines, who thought both teams were tight at times.
Mady Simmelink made two free throws with 56 seconds left to give CV its last lead at 55-54.
CV had to play through foul trouble to the Hull twins and Christopher. Lacie Hull, one of CV's better outside shooters, fouled out with 4:06 remaining.
"We could have folded but I thought my kids fought back," Rehkow said. "When you look at it, I thought the first half we didn't play our style of game. Way too many turnovers. We average 11 and I can probably tell you each one of them."
Lexie Hull said the Bears were out of synch often.
"It was an off game for us," she said. "We didn't play our game. We threw passes we normally wouldn't have thrown. It's upsetting but …."
Rehkow didn't flinch when summing up the loss.
"We didn't finish, bottom line," he said. "When you go 13 of 24 from the line it's hard to win those games. Like I told the kids in the locker room the game does not define us. I'm not just talking this game I'm talking basketball."
Lacie Hull led CV with 14 points, three steals and three assists. Lexie Hull added 13 points and 12 rebounds and Camryn Skaife made three 3-pointers for 11 points.
Local journalism is essential.
Give directly to The Spokesman-Review's Northwest Passages community forums series -- which helps to offset the costs of several reporter and editor positions at the newspaper -- by using the easy options below. Gifts processed in this system are not tax deductible, but are predominately used to help meet the local financial requirements needed to receive national matching-grant funds.
Subscribe to the sports newsletter
Get the day's top sports headlines and breaking news delivered to your inbox by subscribing here.
---