News > Spokane
Knezovich, Haskell and Fagan praise Trump at rally in Spokane Valley
March 4, 2017 Updated Sat., March 4, 2017 at 4:57 p.m.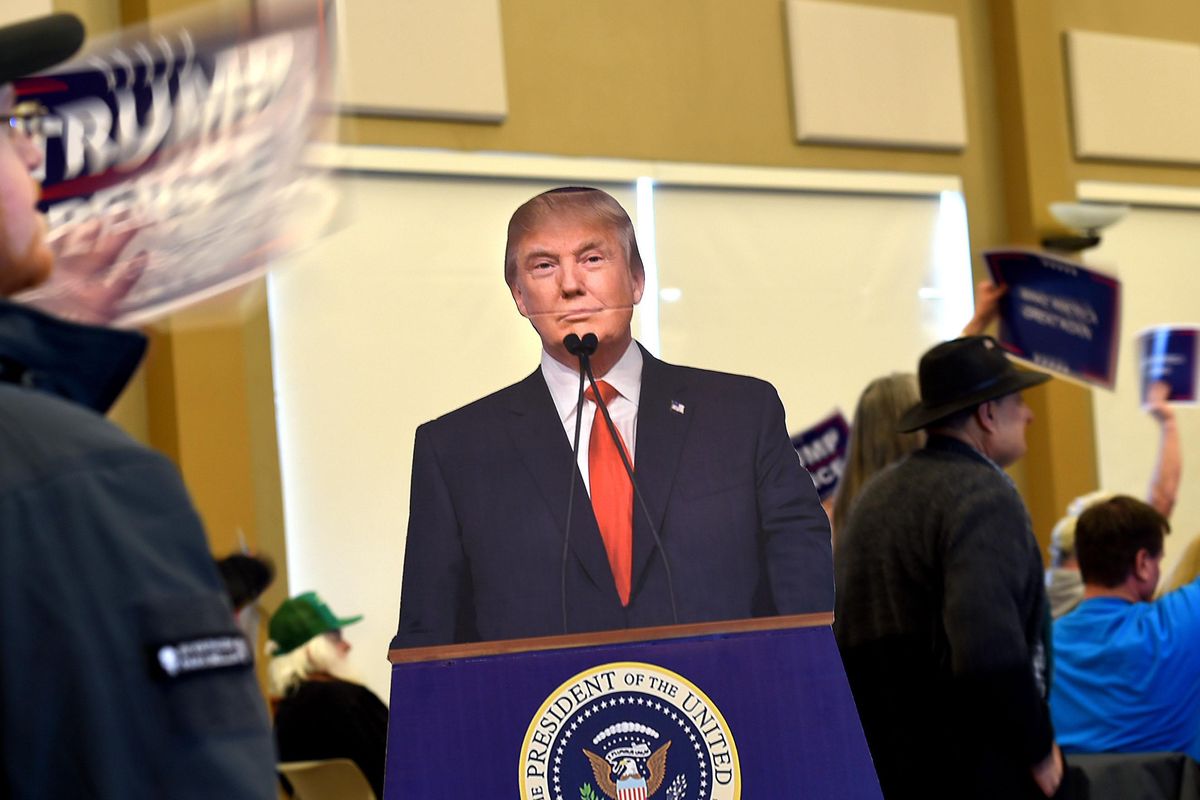 A life-size portrait of President Donald Trump stands in the entryway of CenterPlace in Spokane Valley during the Spirit of America Rally on Saturday, March 4, 2017. (Kathy Plonka / The Spokesman-Review)
Spokane County Sheriff Ozzie Knezovich told an impassioned crowd of Donald Trump supporters Saturday he was pleased the new president has been vocal in his backing of law enforcement.
"I've seen the time when no one wants to wear a badge," said Knezovich, who watched three of his deputies resign last year. "Never in my history have we been hunted and assassinated, and I blame Barack Obama."
A standing-room-only crowd in Spokane Valley on Saturday cheered and chanted "USA" in response to Knezovich and Spokane County Prosecutor Larry Haskell, who among others spoke in favor of Trump and his policies.
The "Spirit of America" rally filled the Great Room at CenterPlace, which pleased organizer Cecily Wright of Grassroots Northwest. Her group includes former Tea Party members who grew disillusioned when their organization endorsed Ted Cruz for president, she said.
The rally was one of at least 70 being held Saturday across the country, Wright said.
"We need to give these for these folks to express themselves," she said. "This is just a party."
The mood was festive, but Wright said that armed members of the Oath Keepers and the 63rd Lightfoot Militia were there to provide security. "We believe in the Second Amendment," she said. "Probably half the audience is packing."
In many ways the event felt like a political rally. Two candidates running for Spokane City Council seats, Tim Benn and Tony Kiepe, were given a chance to speak to the crowd.
Speaker after speaker voiced their approval of Trump's immigration policy, as well as his support of the military and police officers. They unanimously said the country is now moving in the right direction.
"We are proud of our president and we're proud of his administration," said Wright. "He is a president for the people."
"We were standing on the edge of the abyss," said Spokane City Councilman Mike Fagan. "With the election of Trump, we've taken a few steps back."
Fagan blamed Trump's political opponents for what he said has been an increase in "violent protests, riots and assaults."
"The Democrats are planning an all-out effort of mayhem and destruction," he said.
Multiple peaceful protests have been held in Spokane following Trump's election, targeting the downtown office of Rep. Cathy McMorris Rodgers and other locations. There have been no reports of violence or arrests.
Several speakers, including Fagan, asked people in the crowd to sign copies of Initiative 1515, which would mandate people use the bathroom of their gender at birth. "It's all about protecting our children and elderly ladies," Fagan said.
Knezovich prompted several standing ovations as he spoke about Trump. "We are a great nation," he said. "We don't accept the new normal. That's what President Trump tapped into."
Knezovich's support of Trump on Saturday marked a shift from his position early in the campaign. In March 2016, Knezovich said he had concerns about the endorsement of Trump by members of white nationalist groups.
The sheriff, who was not in uniform at the event, said it is his intention to support all laws and believes Gov. Jay Inslee violated his oath of office by signing an executive order that restricts state agencies from helping enforce federal immigration laws.
"I can tell you that 39 sheriffs are about to let Mr. Inslee know that we're going to do our jobs," he said.
Haskell told the crowd that he attended Trump's inauguration. "He reached out to every American," Haskell said. "He's doing everything that he said that he would."
Those promises include immigration enforcement, Haskell said.
"Our president will enforce our immigration laws," he said. "President Trump wants to make American citizenship valuable again."
He urged the crowd to "take our country back" and "resist the resisters."
Fredi Simpson, national committeewoman with the Washington State Republican Party, spoke in support of those Trump has picked for his cabinet. "President Trump has surrounded himself with only best people," she said.
Trump has had a "dynamite" first 30 days of his term and is trying to bring back pride in America, she said.
"It's time we, the silent majority, stay silent no more," Simpson said. "It's time to tell those who are protesting, we will not be bullied. We are not afraid of you because we are proud to be Americans."
Clint Didier, a former NFL tight end and political candidate, gave a fiery speech to close the event, arriving on stage carrying a sword that he plunged into a 5-gallon bucket.
"We defeated the ruling establishment on their own ground," he said. "America's hopes are high. The light of truth is shining on America again."
Trump is no politician, Didier said. "He's not a member of the ruling establishment. He's one of us."
Didier had harsh words for some of the Republicans in Congress, who hold a majority in both the House of Representatives and the Senate. Despite that majority, they have not repealed Obamacare as promised, he said.
"If they don't stand down, I call them cowards," he said. "They have prostituted their positions. We need term limits. We need to drain the swamp."
He closed his speech by urging the crowd to pray for Trump.
"He's in jeopardy," he said. "They will try to take him out. Pray for his safety. We need Donald Trump."
Local journalism is essential.
Give directly to The Spokesman-Review's Northwest Passages community forums series -- which helps to offset the costs of several reporter and editor positions at the newspaper -- by using the easy options below. Gifts processed in this system are not tax deductible, but are predominately used to help meet the local financial requirements needed to receive national matching-grant funds.
Subscribe now to get breaking news alerts in your email inbox
Get breaking news delivered to your inbox as it happens.
---