News > Idaho
Retired Idaho legislator Mike Mitchell dies
Sat., March 4, 2017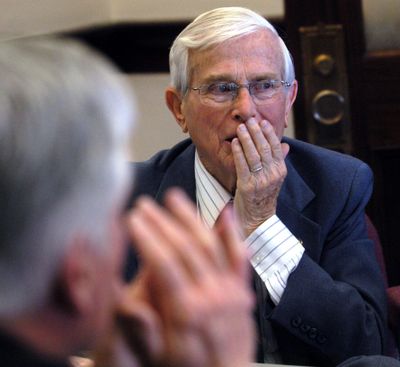 BOISE – Described by friends as a gentleman and go-to government expert, longtime Lewiston lawmaker Mike Mitchell died in Boise on Friday. He was 91.
Mitchell spent nearly 40 years in public service in Idaho, spanning the executive and legislative branches. His resume included three terms in the House, six terms in the Senate and four years as chief of staff for Gov. Cecil Andrus. He also served on the Idaho Transportation Board, State Board of Education and as interim director of the state Department of Correction.
"He probably has more nuts-and-bolts experience in the broad range of government than any other person I know," Andrus said in 1991, on the occasion of Mitchell's first "retirement" from public service. "The guy who does the nitty-gritty and the hard work is Mike Mitchell. Always has been."
Former House Speaker Bruce Newcomb, who served with Mitchell for four years before the Lewiston Democrat retired for good, agreed with that assessment.
"He was the kind of guy you could put on any committee and he'd be a real contributor," Newcomb recalled. "He was smart and worked hard. I never saw him as a specialist."
Mitchell got his start in politics in 1968, when he was elected to the Idaho House. He owned a beer distributorship at the time, and always felt that gave him a leg up in any election contest.
After one term in the House, he moved to the Senate in 1971, serving six terms and running unopposed five times. Following an unsuccessful bid for the lieutenant governor's office in 1982, he served as legislative liaison for Gov. John Evans, then became Andrus' chief of staff from 1987 to '91.
Andrus could not immediately be reached for comment Friday. In 2010, when Mitchell received the Statesmanship Award from the Nez Perce County Democrats in recognition of his lifetime of service, Andrus noted that "every time he was asked, Mike stepped forward. He's given himself to all of us."
Mitchell's 1991 retirement only lasted about a year. Andrus appointed him to the Idaho Transportation Board in 1992. He later served three years as interim director of the Idaho Department of Correction before also serving on the State Board of Education.
In a 2010 story, former Lewiston Tribune editorial writer Bill Hall said, "the significant thing about Mike is that he's one of those go-to guys in government. When a governor is having trouble with an agency, he'll call in an old, reliable head. Mike was definitely one of those. He was a rescue guy when something was going wrong."
Mitchell jumped back into the political arena in 2002, when Carla HighEagle withdrew from her election contest against four-term incumbent Rep. Frank Bruneel.
Although he only entered the race in August, Mitchell pulled off the upset victory. He was re-elected to his final term in office in 2004.
"Bruneel was going to run against me for speaker until Mike beat him in the general," recalled Newcomb, who served 10 terms in the House, including five as speaker. "Mike always used to remind me that I owed him one."
During his final two terms, Mitchell served two years on the House Health and Welfare Committee as well as the joint budget committee, followed by two years on the Education, Resources and Conservation and Transportation and Defense committees.
"He was always a fireball, and a really effective legislator," Newcomb said. "He wasn't partisan so much as issue-oriented. In those days we all were. Your desk on the House floor was your office, so we all spent time together. He'd come in (to the speaker's office) and ask for things, and they were always reasonable. I always considered him a really good friend."
Arrangements are being handled by Vassar-Rawls Funeral Home.
Local journalism is essential.
Give directly to The Spokesman-Review's Northwest Passages community forums series -- which helps to offset the costs of several reporter and editor positions at the newspaper -- by using the easy options below. Gifts processed in this system are not tax deductible, but are predominately used to help meet the local financial requirements needed to receive national matching-grant funds.
Subscribe to the Coronavirus newsletter
Get the day's latest Coronavirus news delivered to your inbox by subscribing to our newsletter.
---
Subscribe and log in to the Spokesman-Review to read and comment on this story