Sports > Gonzaga women
Coach Lisa Fortier guides Gonzaga women back to top of WCC Tournament
March 7, 2017 Updated Tue., March 7, 2017 at 10:04 p.m. LAS VEGAS – WCC commissioner Lynn Holzman handed out the championship hardware and asked Gonzaga women's basketball coach Lisa Fortier to address the crowd.
"Let me take this picture first," said third-year coach Fortier, staying true to her team-first approach. She hopped into a snapshot with her team clad in WCC championship T-shirts and hats on a portable stage at Orleans Arena.
Fortier has taken three teams to the WCC tournament and the first two, one a regular-season champion, came up short. This team came up big – big offense, big scoring runs, big when the title game against Saint Mary's went from a rout to a battle in the second half.
Top-seeded Gonzaga defeated the Gaels 86-75 on Tuesday, giving Fortier her first WCC tournament championship and her first trip up the ladder to cut down the net.
"It's something I've never done before," Fortier said. "Obviously, I'm pretty new at this head coaching thing. It's good to do firsts. This is one of those firsts I like. Pretty exciting."
And pretty important to a program that has made a habit of collecting championship trophies and making NCAA Tournament trips.
"Look around this building," said athletic director Mike Roth, motioning toward the thousands of Gonzaga fans watching the awards ceremony. "Everybody else down here has maybe 50 fans, so the expectations both here and at home are tremendous, and the pressure that goes along with that. She's handled that tremendously."
That was probably never more evident than when the Bulldogs stumbled out of the gate to start conference play, dropping their first two games.
"We haven't been here in a while, so we're really excited," fifth-year senior forward Kiara Kudron said. "She just looked at me and started crying, so I started bawling my eyes out.
"Coming off those first two losses at the beginning of the WCC season, she told us not to stress out and just come together as a team."
Taking over a high-profile program can be stressful, too. Or it can be embraced. Fortier chose the latter.
"We know what the pressures are and the expectations," said Fortier, who guided the Zags to the Sweet 16 in her first season. "We just try to do our best every day. Our players are trying to do their best to play as a team.
"We're so well supported. It is a place where there is expectation, but the people care. We care, too. It's nice that everybody is pulling for the same thing."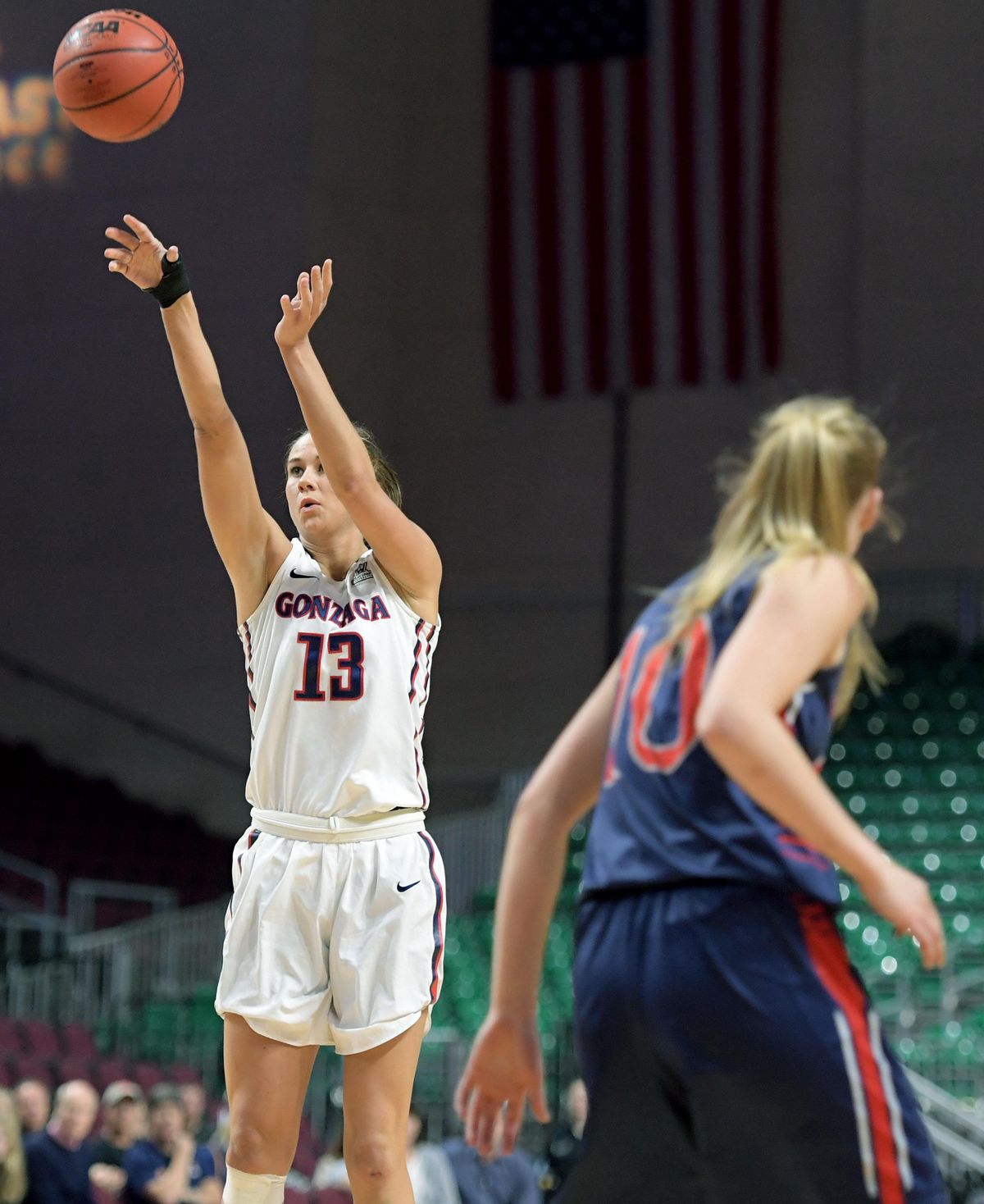 Gonzaga forward Jill Barta (13) shot a WCC Championship record 37-points against Saint Mary's, Tues., March 7, 2017, at Orleans Arena in Las Vegas. (Colin Mulvany / The Spokesman-Review)
Local journalism is essential.
Give directly to The Spokesman-Review's Northwest Passages community forums series -- which helps to offset the costs of several reporter and editor positions at the newspaper -- by using the easy options below. Gifts processed in this system are not tax deductible, but are predominately used to help meet the local financial requirements needed to receive national matching-grant funds.
Subscribe to the sports newsletter
Get the day's top sports headlines and breaking news delivered to your inbox by subscribing here.
---