News > Spokane
Spokane Valley grandmother pushes for tougher Washington laws against using phones while driving
March 7, 2017 Updated Tue., March 7, 2017 at 10:32 p.m.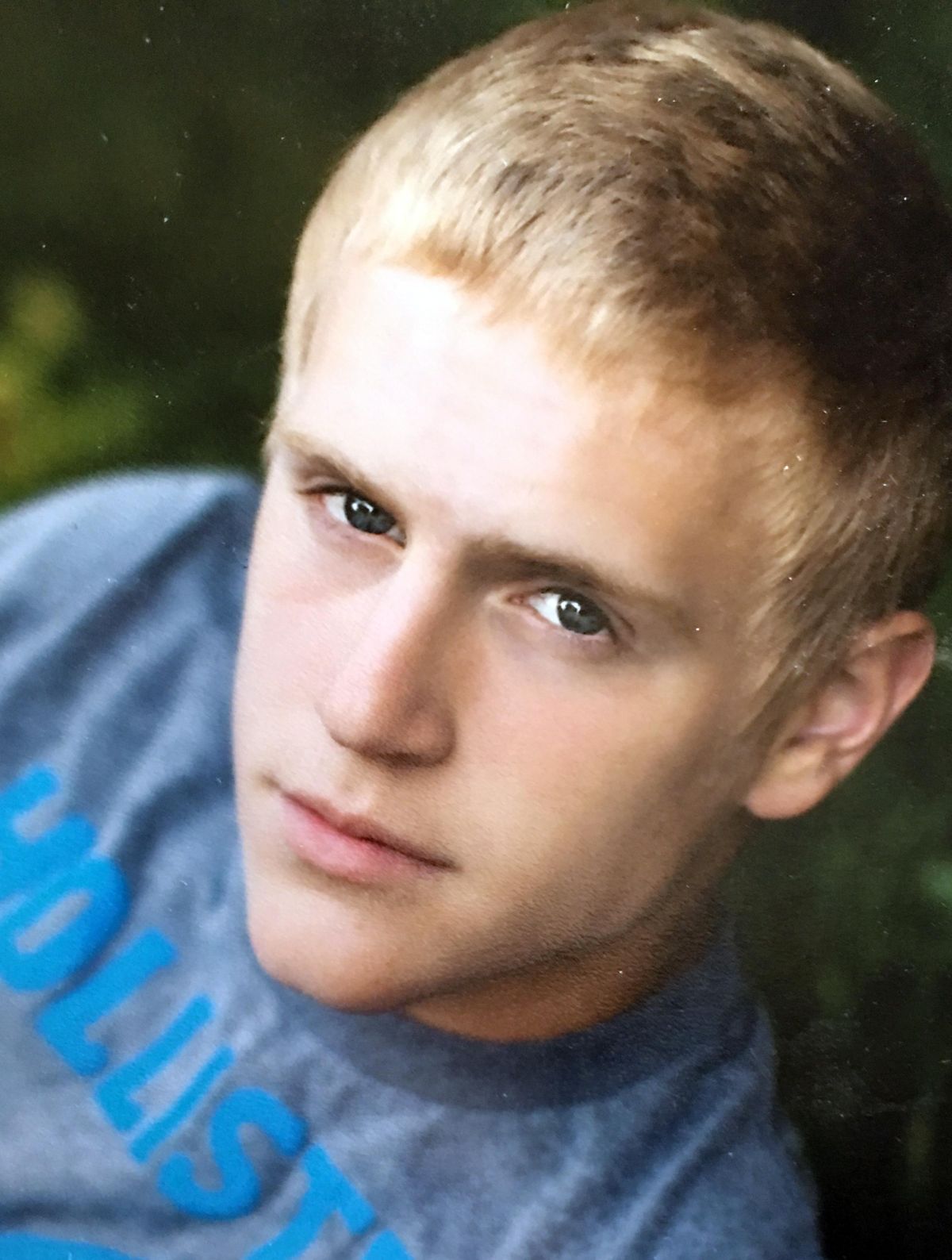 Sam Thompson, seen in this family photo, was killed when his car drifted across the highway near Colfax and slammed into a truck in 2015. He was killed instantly. It is suspected that he was texting and driving. (Family photo)
OLYMPIA – If Washington cracks down on using a cellphone while driving, it may be due in large part to the relatives of a Colfax man who were determined to see something good come out of a tragedy.
Sam Thompson was just a few days shy of his 21st birthday on Sept. 12, 2014, when he was driving south on U.S. 195 from his home in Colfax to school in Lewiston. As he neared the point where the highway curves near the Albion cutoff, he did something his grandmother, Lavera Wade of Spokane Valley, says he knew he shouldn't. He looked down at his cellphone and wrote a text to a good friend.
He drifted across the center line coming around the curve, collided head-on with a semi and was killed instantly.
"He knew better than to do it, but he had the same attitude as most of his friends … everybody did it," Wade said. "At that age, you just feel you're invincible."
Sam's death hit the town of Colfax, population 1,800, hard. He was a co-captain of the high school football team. Of the two emergency medical technicians first to the scene of the accident, one was Sam's godfather. The other was another good friend of his parents, Jim and Lisa Thompson.
"He knew everybody and everybody knew him," Wade said.
After the accident, Sam's parents began talking to driver's ed classes about the dangers of using a cellphone while driving. The Washington Transportation Safety Commission made a video called "Sam's Story" that is on YouTube.
But the family knew that education is only part of the solution to the rising number of accidents connected to the use of cellphones by drivers. Washington state law had not kept up with the additional distractions those devices pose. It requires a hands-free device for phone conversations and bans texting, but it doesn't ban other things now possible by drivers with a smartphone, like posting on Facebook or other social media apps, checking email or surfing the internet.
Drivers stopped with a phone in their hand could say "I wasn't texting" to avoid a ticket, Wade said.
After an attempt to update a law stalled last year, Wade made it her mission to lobby for a pair of distracted driving bills. She spent a week in Olympia earlier this year when the bills were coming up for committee hearings so she could tell Sam's story, and talked to or emailed every legislator in both chambers.
"I have resigned myself that passing this bill is not going to bring Sam back," Wade said. "To some degree, he'll live on in the accidents that don't happen."
The family's efforts were mentioned Monday on the Senate floor before one version of a distracted driving bill passed 36-13.
The state is going backward on reducing traffic fatalities, and distracted driving is one of the main causes, said Sen. Marko Liias, D-Lynnwood. "It's time for us to get serious."
Sam's name was mentioned Tuesday on the floor of the House, where the sponsor of a similar bill, Jessyn Farrell, D-Seattle, called distracted driving an "epidemic" on state roads. "We need to pay particular attention to smartphones," she said.
Some opponents argued the bill was too narrow because distracted driving involves many things besides cellphones, from eating to applying makeup to talking to passengers, and people should only be cited for unsafe actions like crossing the center line or weaving. Rep. Dave Hayes, R-Camano Island, said the state should "promote personal responsibility" instead.
In the end, the House passed an amended version of the distracted driving bill that covers most uses of electronic devices with exemptions for some emergency situations, and allows a citation for some other kinds of distractions.
Because the two bills have differences, sponsors will have to reach a compromise to pass them before the end of the session.
"If they don't get their act together and pass something, I'm coming back," Wade said. "They will be hearing from me all year long."
Local journalism is essential.
Give directly to The Spokesman-Review's Northwest Passages community forums series -- which helps to offset the costs of several reporter and editor positions at the newspaper -- by using the easy options below. Gifts processed in this system are not tax deductible, but are predominately used to help meet the local financial requirements needed to receive national matching-grant funds.
Subscribe now to get breaking news alerts in your email inbox
Get breaking news delivered to your inbox as it happens.
---