News > Spokane
Former bank executive threatened wife hours before dying in north Spokane standoff
March 10, 2017 Updated Fri., March 10, 2017 at 11:05 p.m.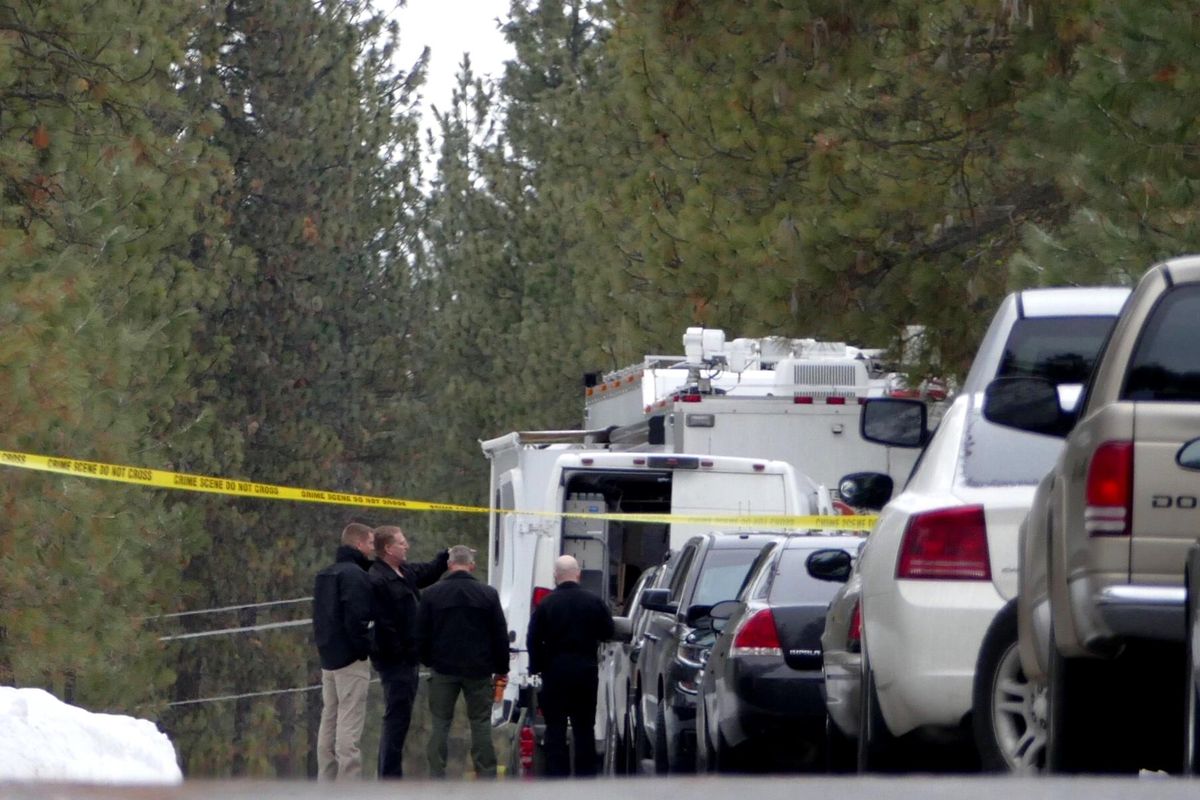 Investigators stand outside a rural home on N. Leslie Lane Tuesday, Mar. 7, 2017, and confer about the domestic situation that led to the exchange of gunfire Monday night after law enforcement was called to the scene. A sheriff's deputy was shot and the shooter was shot and killed. Jesse Tinsley/THE SPOKESMAN-REVIEW (Jesse Tinsley / The Spokesman-Review)Buy a print of this photo
Hours before a former bank executive died during a standoff with sheriff's deputies at his Colbert home, he threatened and chased his estranged wife in a fit of violence that underscored his unraveling life and erratic behavior.
Dean Bellamy and his wife, Emily Bellamy, had been separated for the past year and a half as she escaped his violent outbursts. On Monday, she told police she was trying to return a car she had borrowed to his home at 18718 N. Leslie Lane. She was staying with her mother.
Earlier in the day, Bellamy had sent her threatening text messages, including one that read: "I'm going to take a Uber to your house and gut you like a fish."
Just days earlier, Bellamy grabbed his wife's daughter, threw her to the ground and choked her, according to court documents.
Because of those threats, Bellamy's wife tried to return the car secretly. As she pulled into his driveway, she turned off the vehicle's headlights.
Emily Bellamy's mother and other daughter had followed her to his home in a second car and, as soon as she'd returned his car, she hustled to her mother's car.
What happened next, court documents reveal, was a terrifying confrontation.
Bellamy saw her and gave chase, first on foot and when he didn't catch her, he pursued her in his car and rammed their vehicle.
He then got out of his car and jumped onto the hood of his mother-in-law's car, hitting it with his hands while yelling at the three terrified women inside.
He tried to get into the passenger side door but they had locked the door.
Emily Bellamy called police and Bellamy returned to his car and sped away.
Shortly afterward, a Spokane County Sheriff's deputy arrived at Bellamy's home.
He came out of his house and yelled several times: "Do you have a search warrant?"
He then went back inside. The deputy called for backup.
During the next four hours, a SWAT team and crisis negotiators tried to coax Bellamy from the house.
According to sheriff's officials, he eventually came outside his home yelling at officers. A SWAT team member fired a "less-lethal" round at him. He went back inside, came out with a gun and opened fire. One of the bullets struck Sgt. Harold Whapeles, a leader of the SWAT team, in the shoulder. He was released from the hospital Wednesday.
Bellamy later was found dead inside his home from a gunshot wound to his head. Investigators have not said if he killed himself or if he was shot by a member of the SWAT team.
Bellamy had never been convicted of a violent crime, but two previous domestic violence cases against him were dismissed and he was no stranger to the SWAT team. Monday's standoff was the third time the team was called in to deal with a domestic violence complaint at his home.
Local journalism is essential.
Give directly to The Spokesman-Review's Northwest Passages community forums series -- which helps to offset the costs of several reporter and editor positions at the newspaper -- by using the easy options below. Gifts processed in this system are not tax deductible, but are predominately used to help meet the local financial requirements needed to receive national matching-grant funds.
Subscribe now to get breaking news alerts in your email inbox
Get breaking news delivered to your inbox as it happens.
---