A&E > Music
Piano Men: Churchill's is one of the last spots in Spokane to employ a pianist every night of the week
Sun., March 12, 2017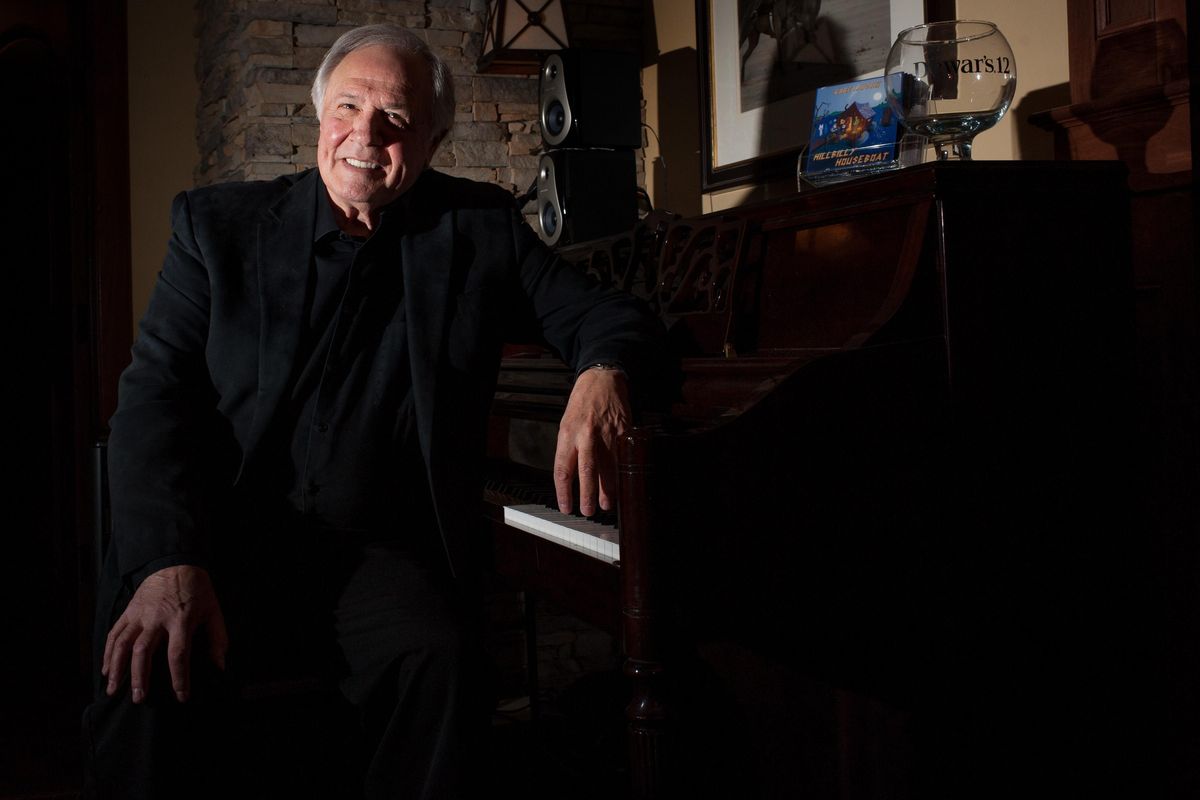 Pianist Gave Lapano poses for a photo on Thursday, at Churchill's Steakhouse in Spokane. (Tyler Tjomsland / The Spokesman-Review)
The Piano Man aims to please. So, he'll play it for you if you ask him – although, admittedly, it isn't his favorite.
He gets it. He once played "American Pie" 11 times on the same night because it was requested – over and over again – during a company party. The tips were tremendous; the people, happy. And, said professional pianist Brian McCarthy, "That is what I think music is all about: making people happy."
So, if that's what it takes – playing Billy Joel's "Piano Man" a time or two to make people happy – he'll do it. He'll even sing.
Sing us a song, you're the piano man
Sing us a song tonight
Well, two of the three performers at Churchill's Steakhouse in downtown Spokane are singers as well as pianists. And all three have been playing piano since their ages were in single digits. Combined, they have more than 150 years of music experience. And all lament the fact they no longer have as many venues at which to perform.
Churchill's, the upscale steakhouse in downtown Spokane, is one of the last restaurants in the region to employ a piano player every night of the week – from 6 to 10 most nights and 5 to 9 p.m. on Sundays. But, the classic piano bar, much like the piano itself, is becoming a relic of a bygone era.
"It used to be so common," McCarthy said. Now, this job at Churchill's "is the only gig in town, basically," not including any dueling piano bars.
Basement bar
Piano bars possibly reached their peak around the time Billy Joel immortalized them in his first major hit, "Piano Man," released Nov. 2, 1973. They're still popular in many places – New York City, New Orleans, Las Vegas. Portland and Seattle have several, too. But the tradition, which dates to at least the 1890s and early 1900s, has dwindled in the last three or four decades.
Pianos themselves have not only lost their spots in elegant, dimly lighted lounges but also as in the heart of middle-class American homes. Sales of pianos are down around the country. Some 32,000 acoustic pianos were sold in the U.S. in 2013, according to the Music Trades magazine. That's less than 12 percent of the nearly 365,000 sold at the peak in 1910, according to the National Piano Manufacturers Association.
The piano at Churchill's isn't front and center. Rather, it's tucked into a corner of the basement bar. But, once it starts, the music is difficult to miss. It lingers somewhere between the background and foreground, depending on the crowd and night of the week.
"I adapt to who's there," McCarthy said. "I'm constantly reading the audience."
So are the other two players, who each have their own regular nights as well as their own personal touches. Doug Scott, the one who doesn't sing, tickles the ivories Sunday, Monday and Tuesday. Singer-songwriter Gabe Lapano, who toured with the 1960s pop group the Cascades, performs Thursday, Friday and Saturday.
Wednesday, one of the busiest, is McCarthy's night. He's worked that particular four-hour shift since last summer, livening up the mood with his own arrangements of the themes from "Star Wars," "Mission Impossible" and "Peanuts," or even "Dr. Feelgood" by Motley Crue.
"My job is to make people go, 'This guy's alright. He's playing a song I know,' " said McCarthy, adding that, when he's working, he wants to play "the music the people like and want to hear" – including "Piano Man," if requested, because:
Well, we're all in the mood for a melody
And you've got us feelin' alright
Tuesday
It's a pretty good crowd for a Tuesday. Still, Scott doesn't expect the place to be packed. "I'm on the slow nights," he said.
Since the mood is usually more subdued when he works, he keeps the music that way, too. He doesn't do vocals. "What I'm trying to do is make an interesting background for the people in the lounge," he said. "I can play nice background music."
He can play "a lot of different styles – ballads, blues, Latin rhythms, ragtime. I like all the styles pretty well. I like playing my own music, too."
Scott, 66, started playing piano when he was 5. By high school, when he took up the banjo, he was playing gigs at local pizza parlors. He continued to play music throughout college at Washington State University, returning home to Spokane some weekends for gigs as well as performing in the Moscow-Pullman area. These days, when he isn't playing piano, he's running his deejay business, You-Do-DJ.
In the past, he's worked in real estate, performed in local bands as well as solo gigs, and – for four days a week for 16 years – played piano at Patsy Clark's, the former fine dining restaurant in a mansion in Browne's Addition. He's also performed at the Historic Davenport Hotel in downtown Spokane, the Glover Mansion and local country clubs, among other venues. But these days, Churchill's is his only regular gig. He's played piano there for two years.
"It was easier years ago to get gigs," he said, noting there were simply more places to play. They're not the only hard thing to find now, he said. "It's not easy to find players, either."
Wednesday
The servers and bartenders give everyone a smile – 'cause it's Wimpy Wednesday and that means the burgers, normally $13, are just $7 in the bar.
McCarthy is playing "Saturday in the Park" by Chicago. His inventory includes some 300 songs, learned from nearly a lifetime of playing piano. "I have a really good memory," he said. "I've memorized all of my music. I don't bring any sheet music to gigs."
There are a few songs McCarthy specifically tries to avoid, even though they are lots of people's old favorites – "Sweet Caroline" and "Brown-Eyed Girl" among them. Still, he said, if he gets a request, he'll probably play them anyway.
"I'll do 'Unforgettable' if I need to," he said. "I'll do 'Summertime' and 'Love is Here to Stay.' "
That's because he's well aware people come here not only to sip $11 Old-fashioneds and cut into $49 ribeye steaks, but:
To forget about life for a while
And the piano, it sounds like a carnival
And the microphone smells like a beer
And they sit at the bar and put bread in my jar
And say, "Man, what are you doin' here?"
McCarthy, 52, is from here. Rather, he was born in Wisconsin, but grew up in Spokane and started playing "very, very young." His grandfather was a jazz piano player. His mother, Michelina Tyrie, made her living on her Steinway & Sons grand piano – teaching, performing, composing.
Like Scott, she had a regular gig at Patsy Clark's, and that's how her son ended up with a regular piano-playing gig there. He was in his late 20s in the early 1990s when he filled in one night for his mom – and left with a job that lasted four years.
Before that, he had been pursuing another passion: playing guitar, inspired after seeing Van Halen in concert when he was 13.
Patsy Clark's, like so many other establishments that payed piano players, closed in the early 2000s after two decades in business. By then, McCarthy was already pursuing gigs around the world. He worked as a music analyst for Pandora – "That was my favorite job" – in San Francisco and performed in restaurants throughout the Bay Area. He also worked aboard cruise ships, playing six nights a week in the piano bar, and performed in hotel and casino lounges in Las Vegas as well as throughout Europe and Asia.
At 7 o'clock on a recent Wednesday, groups were waiting for tables at Churchill's, and there wasn't an empty seat at the bar. A 20-something was talking about updating his résumé and the baby on the way. Everyone seemed to be avoiding politics. Several folks ordered a menu item bearing the rather unfortunate name of "Chocolate Sack," Churchill's $16 signature dessert, which looks large enough to split three or four ways. The ambiance was lively; the noise level, loud.
"When it's loud, I play more aggressive," McCarthy said. "It's like a concert for me. I really have to work. And," he said, more often than not, the customers, "they want energy. They want 'Lady Madonna' and Bob Marley and stuff that's got a groove to it."
He plays melodies from Bach, Bartok and Rachmaninoff to ragtime, jazz and show tunes as well as the theme song to "The Pink Panther," or "Tom Sawyer" by Rush. On this Wednesday, he offers "Riders on the Storm" by the Doors, "Dancing in the Dark" by Bruce Springsteen and "I Guess That's Why They Call It the Blues" as well as "Tiny Dancer" by Elton John.
McCarthy's repertoire is "much more modern" than the other two piano players at Churchill's. "Those guys are both really, really good, too," he said. "They're smooth."
But guests won't likely hear them playing songs from Stone Temple Pilots, Soundgarden, Nirvana, Led Zeppelin, Journey, Peter Gabriel, Tears for Fears, Coldplay, Maroon 5, and maybe even Billy Joel.
Thursday
The regular crowd shuffles in shortly after 6. Spokane family physician Richard Bale, 74, a self-described "regular since it opened" who likens Churchill's to the bar on the old TV series "Cheers," takes his favorite spot at the corner at the end of the counter, closest to the piano.
"There's no other piano bar like this in town," he said. "There's no comparison. The bar is classic. After a hard day's work, this is a good retreat."
He might stop by any given night for the steak – "It's superb," he said – a drink and, of course, the piano men. "They're all exceptional, but Gabe's a real pro. He caters to customers, but he's serious on the piano. I can't describe how good he is. You have to come here to hear it."
He says, "Son, can you play me a memory
I'm not really sure how it goes
But it's sad and it's sweet and I knew it complete
When I wore a younger man's clothes"
Bale puts in a couple of requests – "I always do," he said – for "Desperado" by the Eagles and "Always on My Mind" by Willie Nelson. Lapano, 72, plays them both. He's been performing here for six years and has what he calls "the prime nights" – Thursday, Friday and Saturday. He used to do Wednesday, too, but he cut back about a year ago.
Lapano's a career musician and Spokane native who now lives in Elk. He moved back to the area in 1981 after spending his late teens, entire 20s and half of his 30s in Southern California, where he went to pursue music.
In the 1960s, he was in the San Diego-based band Sandi and the Accents, which opened for the Rolling Stones, Turtles, Byrds and Righteous Brothers as well as Herman's Hermits, among others, and frequently sold out their own shows throughout Southern California.
Later, he was in the Cascades, best known for "Rhythm of the Rain," released in 1962. Lapano joined the group about four years later as a keyboardist and vocalist, taking over as lead singer in 1967. He usually plays the hit single at least once during his set at Churchill's. "That's what I'm known for," he said. "Everyone here thinks I wrote it."
He didn't. But he did write a song that Cher recorded. "It Gets Me Where I Wanna Go," co-written with Lance Wakely, appeared on her 1969 album "3614 Jackson Highway," the address of Muscle Shoals Sound Studios.
Lapano has his own recording studio at his house, where he recently finished a CD titled "Hillbilly Houseboat." He names Dave Brubeck as one of his largest influences and inspirations. "I've always loved Ray Charles, Stevie Wonder, the usual. I do a lot of Frank Sinatra, a lot of standards, depends on the night."
On a recent Thursday, he sets a few copies of his latest CD out for sale atop the piano alongside the tip jar, then plays for some 45 minutes before taking a short break and repeating the process.
"Welcome to Churchill's, everybody. Great to see you all tonight," he said just before launching into his first song, an original number about Spokane.
I know I'm home
Walking on the streets of Spokane
It's a wonderful town
Where memories are made
I'll see you
Walking on the streets of Spokane
Sometimes, he'll play the theme song from "Cheers" as well as a few more original numbers before calling it quits. He has a signature send-off. Lapano likes to end his nights at the piano with "Good Night My Love."
Churchill's is, he said, "by far the classiest place I've ever performed in. I love ambiance of the place. I love the people. It's almost like a family."
Local journalism is essential.
Give directly to The Spokesman-Review's Northwest Passages community forums series -- which helps to offset the costs of several reporter and editor positions at the newspaper -- by using the easy options below. Gifts processed in this system are not tax deductible, but are predominately used to help meet the local financial requirements needed to receive national matching-grant funds.
Subscribe to the Spokane7 email newsletter
Get the day's top entertainment headlines delivered to your inbox every morning.
---