This column reflects the opinion of the writer. Learn about the differences between a news story and an opinion column.
Opinion > Column
Shawn Vestal: Pasco couple built strong business, close family, despite immigration status
Sun., March 12, 2017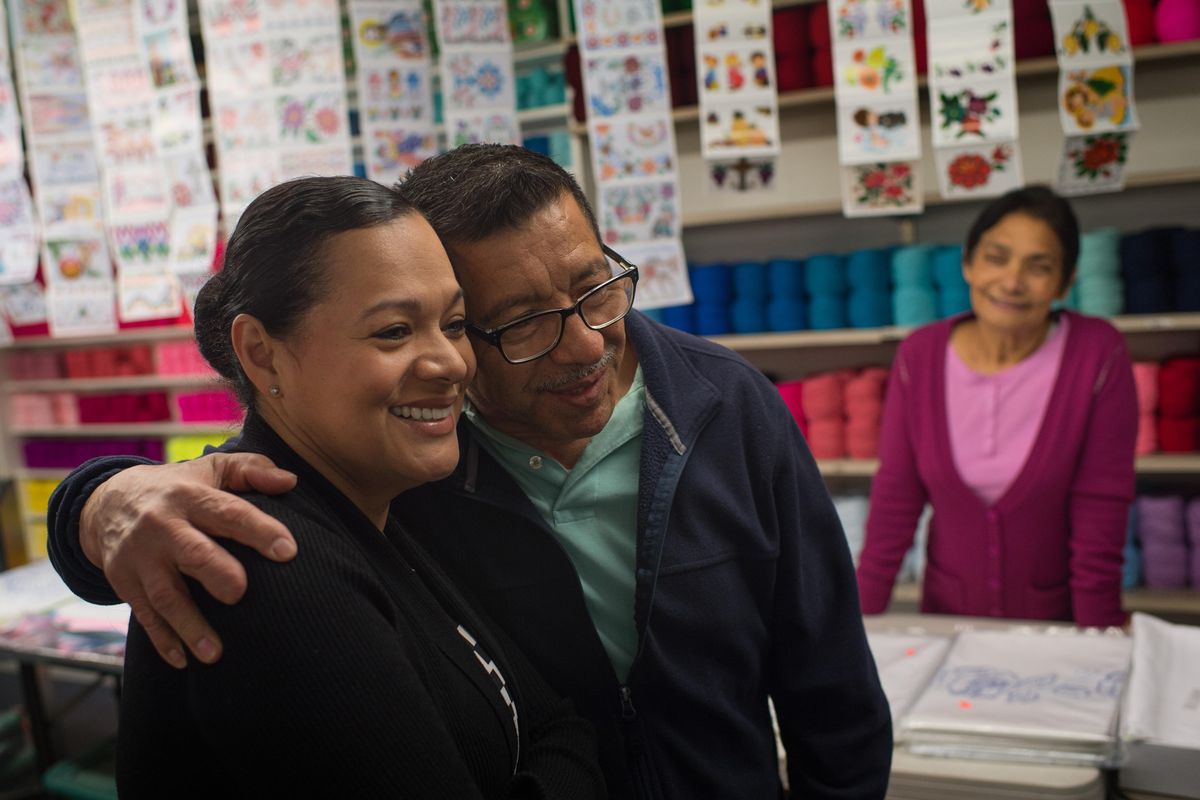 Gloria Ochoa-Bruck is embraced by her father, Simon Ochoa, 66, as they stand in the store he started with his wife, Anita, 60, at right, Monday in Pasco. (Tyler Tjomsland / The Spokesman-Review)
PASCO – In the late 1960s, Simon Ochoa could earn 12 pesos a day – roughly 61 American cents – as a laborer in Mexico.
Across the border in California, he could earn $1.10 an hour.
So Ochoa left his native Mexico to work in the fields of Southern California as part of a U.S. initiative that provided temporary immigrant workers for farmers. Ochoa was given a valid Social Security number, but no way to gain permanent residency, let alone citizenship.
He came to work, and he overstayed his visa. He was deported, and he returned. He was deported again, and he returned again. He then came to America with his wife, Anita, and her 4-month-old daughter, Gloria. Each time, he continued finding work and using his Social Security card to so. They bought a home and had more children, who were born American citizens. They picked tomatoes and other crops in Southern California; they were swept up in an immigration raid once when their young children were home with a babysitter.
And they returned.
"They just wanted to work," said Gloria Ochoa-Bruck, their oldest daughter.
In 1980, Simon Ochoa, his wife, Anita, and their children left California and settled in Pasco. Simon, Anita and Gloria were undocumented; Gloria's five brothers and sisters were citizens. For years, they followed the seasons for work: cherries, asparagus, apricots, apples …
But the Ochoas also wanted to start their own business. They wanted to get themselves and their children out of the fields. They saw that among the many Mexican immigrants in Central Washington, there was a desire for products from home, and so they began to sell Mexican goods from a van, door-to-door, putting money back into more merchandise with each sale.
Eventually, they could afford to rent a storefront in Pasco, and their La Chiquita store became the first Mexican-owned store in the city's downtown. Then they bought their own building, a former JC Penney store. Then they bought more. These days, downtown Pasco is full of businesses owned by and catering to Hispanics, and the Ochoas own four buildings on North 4th Street and four on Clark Street.
Simon and Anita are now permanent residents. Five of their children live in Pasco, and some run businesses of their own. They have 17 American grandchildren.
Gloria, who is now 44, became a temporary and then permanent resident with her parents. She became a U.S. citizen in 1999 during her first year of law school at the University of Idaho.
And then an attorney and then a prosecutor and then a tribal court judge and then – now – the director of multicultural affairs for the city of Spokane. The mother of four, Ochoa-Bruck serves on boards and in other capacities for several community organizations, runs marathons and is working on a doctorate in criminology.
When she hears about deportation forces and separating families, the issues are not political but personal. She hears with the ears of a child who once lay awake listening to her parents worry into the night about being torn from their home.
She hears with the ears of one who understands that immigrant communities are built upon a matrix of varying immigration standings – temporary residents and permanent residents and undocumented immigrants and naturalized citizens, intertwined through families – and who knows that deportation sweeps punish hard-working families as well as "bad hombres."
"My stomach has been in knots, my heart has been aching to the point of breaking, and I have been in tears the past few weeks with what has been unfolding with the new federal administration's plans for addressing our immigrant and refugee families," she wrote recently on Facebook. "I lived that life and I know the fear and terror it strikes in every father, mother and child."
'People are scared'
North 4th Street in Pasco is a downtown district filled with evidence of the changes brought by immigration. In the days since the Ochoas opened the first Mexican store, the Hispanic population in town has boomed, driven by immigrants coming to work in the orchards and fields.
Franklin County became the first majority-Hispanic county in the Northwest about a decade ago, and Latinos now make up 55 percent of all Pasco residents. The change has affected everything from the housing market to schools to the local business climate. Latino-owned stores selling Mexican goods and services line the street. There has been economic and population growth here, but the town is also marked by a higher-than-average poverty rate approaching 20 percent.
The Ochoas' first store – La Chiquita – now sits among many, in the middle of a block on North 4th. It is full of colorful special-occasion dresses for young girls and Mexican blankets and yarn and patterns and baby strollers and coats and hats. Simon, 66, and Anita, 60, work there every day.
Sharing the store's space is their daughter Ofelia's business, which specializes in the formal dresses and tuxedos for Quinceanera celebrations – marking the 15th birthdays of girls – and other parties. Another door down is the business of another daughter, Ana, who sells baptism dresses and suits – a blinding inventory of white garments. At the corner is the store owned by their son, Pedro, which sells prepaid phone cards and wire transfers. Across the street, Pedro's wife runs a hair salon.
"It's like Ochoa-ville," Gloria Ochoa-Bruck said this week as she walked the streets of her hometown.
Ochoa-ville was quiet this week. Merchants said business has plummeted since the election of Donald Trump ushered in a more aggressive approach to deportations. Supporters of the deportations say they are focused on criminals, but agents have repeatedly swept up undocumented people without criminal records who are hard-working and longstanding members of communities.
And so a lot of Latinos in Pasco are staying out of the stores and other public places.
"This year has been horrible," Ana Ochoa said. "Customers aren't coming in. They're scared."
Next door, her brother agreed.
"We can tell people are very scared," said Pedro Ochoa. "Everyone is uncertain what's really going to happen. Business is down. The streets are empty."
Ana Ochoa is a U.S. citizen, married to a permanent resident who has family ties to undocumented immigrants. That kind of variation regarding immigration status is common throughout the community.
"Within a family, you have all these fractures that could easily happen," Ochoa-Bruck said.
Ochoa-Bruck is proud of her family's success. But she does not want to portray them as "good immigrants" in contrast to "bad" ones. The Trump presidency and its approach toward immigration has given her a sense of urgency about communicating the reality of immigrants' experience – to call on people to consider a "humane and Christian approach" to reforming the immigration system, and to stop "othering" immigrants in ways that are destructive.
Gloria and her parents had no way to apply for residency until 1986, when the so-called "Reagan amnesty" made it possible to apply for temporary, and then permanent, residence.
"I often hear people say my family and our story are different than those of the undocumented families here today," she wrote in an email message. "That is absolutely not true. My family and I are no different than the families we are trying to deport. We were just fortunate to have been here when an opportunity to apply was made available."
To families like hers, the American immigration system has long spoken with two voices – one that demonizes immigrants and one that depends on them. Her family came here to work and work hard, she said. Her parents had little education but great determination, and they emphasized to their children that they needed to be independent. They suffered setbacks – losing an apartment building over an undisclosed balloon loan payment on a mortgage in the 1980s, for example – but soldiered on.
When they were traveling around the Northwest in the 1980s, working in the fields, Anita would take tacos and cold drinks to sell to other workers. She made and sold queso fresco. They moved on to selling the fancy formal dresses for young girls that are a big part of celebrations in Mexican culture, selling their first 13 dresses so quickly that Simon knew he could sell more. He began making regular trips to California, where he would pick up more goods.
"I would go there and bring it back … and you know – more, more, more, more," he said.
To this day, the brightly colored, poofy little dresses that started it all hang from the walls at La Chiquita. Ochoa-ville is a testament to hard work and resilience, to thrift and saving, to perseverance and family. That was just as true when Simon and Anita and Gloria were undocumented – "illegal" in the ugly vernacular – as it was the moment their status changed.
Isn't that the American dream? Aren't those American values?
"Oh si!" said Simon Ochoa. "Oh si!"
'Look what we produced'
Growing up, Gloria was always aware of her undocumented status. But she also always felt American – after all, she was 4 months old when her parents came here. This country is the only home she's ever known.
It was, sometimes, a home full of fear. During the 1980s, a similar immigration debate played out in America. She recalls hearing her parents worry, late at night, about being taken.
"I vividly recall lying in bed and fervently praying with all my little heart that God would hear me and somehow, some way a miracle would happen and we could stay in the only place I had known as home," she wrote in a Facebook post recently.
This was not a theoretical fear for Ochoa-Bruck. She was a young child when her parents were taken by border agents from a field in Southern California. The family came back – undocumented, determined to make a life in America. Her brother, Pedro, remembers the border crossing back to America, which the children made with strangers.
"That was very scary," he said this week.
He told Gloria, "We clung to you. You always made things right."
As the eldest, Gloria often took on an almost parental role in the family, she said. She always worked, in the fields and later in the family store and at McDonald's. "I was the drive-thru girl at Window 1," she said.
She graduated from Pasco High School in 1991. She worked full time and attended Columbia Basin College to earn an associate's degree and went on to Washington State University's Tri-Cities campus, where she earned a bachelor's. She married young and had a son, then found herself attending law school as a single mother with a 3-year-old at the University of Idaho.
It was a lot of work. But she was used to a lot of work.
After law school, she worked in the Benton County prosecutor's office, then private practice. She moved to Spokane in 2009 and became chief judge of the Spokane Tribal Court. She served on the state's Commission on Hispanic Affairs and many other boards and commissions. In 2013, Mayor David Condon named her to be the city's head of multicultural affairs – a Cabinet job in his administration.
She and her husband, Nick, live in Colbert, raising four kids.
Last week, as she walked around Ochoa-ville, visiting with her family, picking up tortillas from her sister, stopping for tacos at her favorite spot, it was clear how much pride she had in her family's story.
"We gave families like mine an opportunity," she said. "And look what we produced."
---
---