Spokane's Kailer and Keanu Yamamoto forge lasting bond through hockey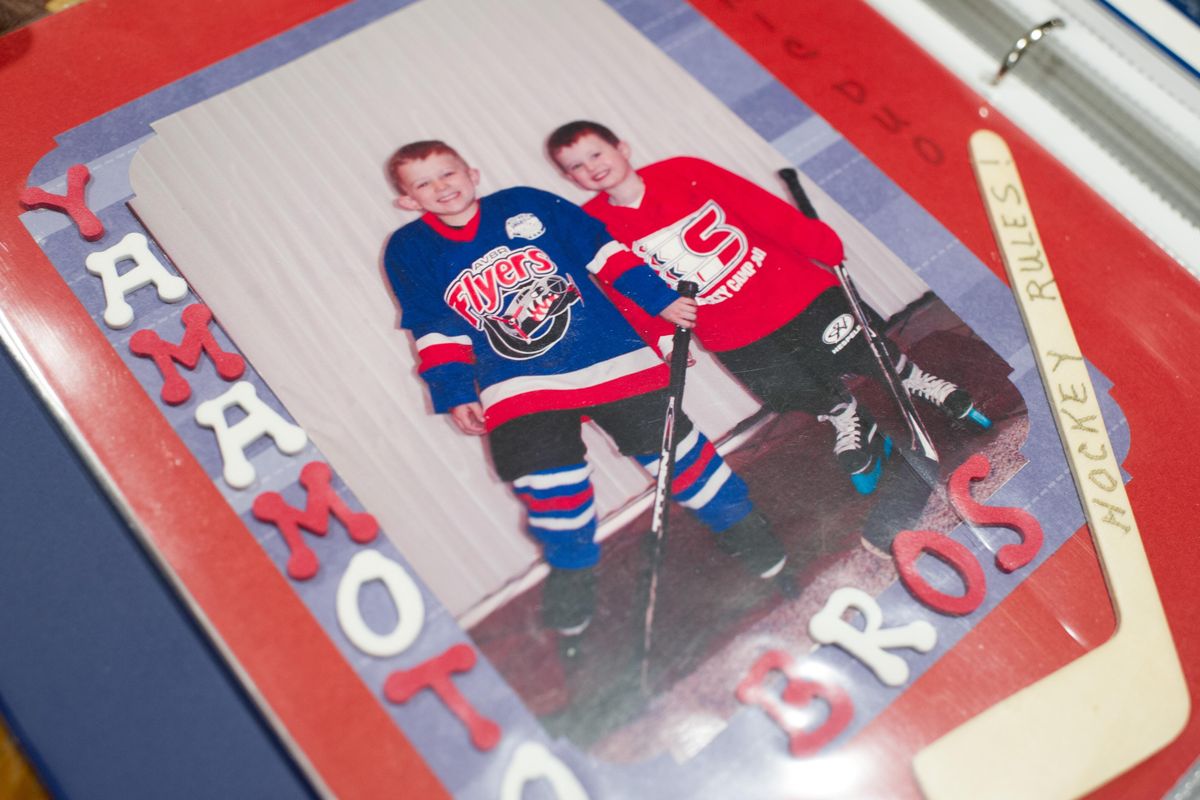 As Kailer and Keanu Yamamoto grew up, it wasn't uncommon for their parents, LeAnn and Russ Yamamoto, to hear the clatter of hockey sticks against the concrete basement floor from their cozy upstairs.
In the downstairs of the Yamamoto's childhood home near Whitworth University was the preeminent setup for any young hockey player: a regulation-sized, metal hockey goal and a sheet of metal in front of the wall so it wouldn't be damaged by flying pucks.
The damaged goal has been moved to the backyard and the posts and crossbars are now contorted and dented. The netting is teemed with holes and the piping surrounding the base is cracked and fragmented.
Russ tugs on the inoperative goal to dislodge it from the ice and snow on top of it. He stands it up and reflects on what it used to be.
"That's millions of shots right there," Russ says.
The Yamamotos haven't jettisoned this run-down hunk of metal because it's a significant symbol of that basement. It was where the Yamamoto brothers not only improved their skills, but learned to love the game and formed a bond through a mutual affinity for the sport.
Kailer and Keanu are in their final year playing together on the Spokane Chiefs. Keanu, one of the Chiefs' three 'overage' players, will have exhausted his WHL eligibility at the end of the season.
It's a rarity for two players from Spokane, nonetheless brothers, to compete for the Chiefs at the same time. The Chiefs have only had seven local players in the past 20 years.
It's the end of a unique era for the organization, where two brothers played for their hometown team. Together.
Early start
When Kailer and Keanu were learning to walk, LeAnn and Russ put ice skates on their feet with the blade guards duct taped on.
"They played in them all day long," Russ said. "My thought was to strengthen the ankles. That's for good support."
Kailer and Keanu's grandfather, Don Russell, retired around the time Kailer and Keanu were learning to skate – they both started at about 20 months old – and he began driving the two kids to preschool-skate at Eagles Ice-A-Rena twice a week. Early on, Kailer and Keanu's attention spans wavered. Keanu often enjoyed sitting down on the net and both kids got pleasure out of lying on the ice.
Russell developed a system for convincing the kids to skate. He rewarded the boys with M&Ms if they reached a certain distance.
"Keanu got so mad at me one time because I didn't give him candy," Don said.
The training with Grandpa Don was rudimentary, but it helped introduce the sport to Kailer and Keanu. As the two kids developed, skating at the rink was all they wanted to do.
"He's the one that got them hooked on hockey," Russ said.
Russ and LeAnn wanted to push Kailer and Keanu early on. But it was up to them to decide if they wanted to play the sport long-term.
Both kids were encouraged to try different sports growing up. They joined youth soccer and baseball teams and skied at Schweitzer regularly. Kailer played on a club baseball team when he was older and Keanu was on Mead's wrestling team as a freshman.
"We tried other sports, but it wouldn't last," Keanu said. "We'd always have to quit because of hockey."
And that was always okay for the Yamamotos. Hockey was their first and primary sport.
But loving the sport can only take you so far. From an early age, the Yamamoto brothers relentlessly developed their craft.
Debbie Johnson, the mother of Tampa Bay Lightning forward and former Spokane Chiefs player Tyler Johnson, first taught the kids in a preschool skate class when each boy was about 3 years old. In many drills, Debbie gave them a stick and a puck to teach them stick handling.
When they reached kindergarten age, training started with Berkeley Villard, the Chiefs' power skating coach from 1998-2012 and 1987 U.S. figure skating silver medalist.
Both of Kailer and Keanu's early coaches said the kids were always enthusiastic and passionate about hockey, even from a young age.
"Those kids wanted to be there," Debbie said. "I'm sure they're exactly like my son where they counted the days until they got to go back to the rink."
"(Russ and LeAnn) would literally have to yank them off the ice and make them go to school," Villard added. "I'm pretty sure they would have skated all day long if the two parents would have let them."
Keanu joined his first mite team when he was 5 and Kailer when he was 4. Ever since, road trips to out-of-town hockey tournaments and schlepping kids to and from practice was a family norm.
The demands of playing high-level youth hockey are high, and many sacrifices were made. But the Yamamotos, especially Kailer and Keanu, don't hold any regrets.
"This kind of makes it worth it all," Sharon Russell, Kailer and Keanu's grandmother, said as she looks out on the ice at the Spokane Arena.
College or Chiefs?
The Yamamotos always had their sights on playing college hockey. But the two kids started to look closer at the junior hockey route after Kailer was selected by Spokane in the fifth round of the 2013 bantam draft.
Keanu had just spent his second season playing with the Jr. Los Angeles Kings in southern California – Kailer had just played his first season down there, too – and his future was unclear. Colleges were beginning to reach out. Keanu and his parents were also exploring junior hockey options, one of which was a nonguaranteed camp invite with the Spokane Chiefs, a team that had hardly pursued him because of insistence for pursuing college hockey.
"I didn't really have any expectations at all when I went to the camp," Keanu said. "I didn't really plan on coming to the team at all, they just said they had a spot (in camp).
"I thought: Extra ice, might as well come."
Despite the nonchalant attitude toward the invite, the experience itself turned into much more. As camp progressed, Keanu turned heads and his confidence grew. He realized he could hold his own with WHL-caliber players.
One day, Keanu emerged from the basement to grab a snack from the kitchen. In the living room was Kailer and former Chiefs general manager Tim Speltz. Speltz seized the opportunity to tell Keanu he made the team.
He signed the next day and joined the organization for the 2013 season. Kailer joined as a 15-year-old the next season.
"It was that fast," Russ said.
Although the decision at the time was shrouded with uncertainty, Kailer and Keanu are confident they made the right decision to join the Chiefs.
"It was definitely special being drafted by them and playing in front of my friends and my family," Kailer said. "It almost seems surreal."
Chiefs fans and the Spokane hockey contingent are glad they stayed, too.
Having one of their own on the roster makes watching the Chiefs that much more special for fans and a small, but tight-knit hockey community.
"It's always a neat experience that Spokane has some local kids playing," Debbie Johnson said. "I think it gives the kids something to shoot for."
It's easy for the fans to embrace the two brothers now. But being as small as they are – both kids are listed at 5-foot-9; Keanu is 165 pounds and Kailer is 160 – and being from Spokane, a lot of people scoffed at their hockey futures.
"They were told from a young age they were never going to make it. All the way from the beginning. Their parents were told their kids were never going to make it," Villard said. "And you know what? None of them ever listened."
Rivalry and friendship
Competition isn't hard to find in the Yamamoto household.
"We sometimes play racquetball. (Keanu) sometimes goes, but he sucks," Kailer says with a smirk. "It's not really fun to play him."
Keanu looks over at him in disbelief.
"I'm better than you," he responds.
"No, you're not," Kailer fires back. "I whoop him. Every time."
Kailer, two years younger than Keanu, was always emulous of his older brother; he strived to one day be as good as him. Keanu's mindset? "He's not going to beat me."
"That carried on the ice and it carried off the ice," LeAnn said. "Even when it came to other sports."
In most cases, the brotherly rivalry was all in good fun. But, as brothers often do, the competition escalated at times.
Kailer's two false front teeth are an example of that. When Kailer beat Keanu for the first time while playing roller hockey down in the basement, Keanu pushed him into the goal and Kailer slid face first into it, causing his teeth to tumble to the ground.
"It was pretty funny at the time, until he got up and his teeth were missing," Keanu said. "I thought mom was going to kill me."
Nowadays, there are far less quarrels in the basement. But the two kids still compete – especially when it comes to hockey.
"Even in the training room, they compete like brothers," said Tyler Johnson, who trains with the Yamamotos during the offseason in Spokane, along NHL player Derek Ryan and several other local hockey products. "They won't let one guy do anything more than the other. They always have to outdo each other."
At the core of the intense competition is a solid friendship, something that was formed in their toddler years.
"When they were little, they'd always go downstairs, play shinny hockey. Just play all the time together," LeAnn said. "They just developed that relationship of being each other's friends and just going down and having fun."
Outside of hockey
During the season, it's hard for the Yamamoto brothers to pursue their hobbies and interests.
Long bus rides and long nights in hotel rooms usually means a lot of Netflix binge-watching and video games with teammates.
But in the summer, that's a different story.
Kailer and Keanu enjoy being outdoors, whether it's floating the Little Spokane River, fishing on Long Lake, playing baseball, throwing the football around, hiking and playing racquetball. When they aren't exploring the outdoors, friends are usually over and hanging out with the two kids.
It's a much-needed relaxation period for the Yamamoto brothers, who typically juggle a eight-month WHL season and academics at the same time.
Kailer is a senior at Mead High School and is set to graduate with a college preparatory course load on his transcript. Keanu graduated from Mead two years ago and is taking his second online college course.
The two boys' high school counselors – Dave Vaughn advised Keanu and Colleen Thornton is guiding Kailer – were impressed with their work ethic and how they went above and beyond the regular high school curriculum.
"I think it's uncommon to be able to manage all of that with that type of course load and actually graduate on time," Thornton said. "With Kailer, there's this personal ownership over his academics. … He probably could very well sit back and watch other people navigate it for him, and kids do. But he doesn't. He definitely shows he's invested in it."
Vaughn says that describes Keanu, as well.
"(For) both these kids, humble and unassuming just fits," Vaughn added. "Never was (Keanu) asking me to cut him a deal. … I just admire that."
An exciting future
The future for the Yamamoto brothers is uncertain.
Keanu hopes to play hockey at a university in Western Canada. Kailer will likely return to the Chiefs next season, but is eligible for the NHL draft this June and is projected to be a first- or second-round pick.
Their final season playing together with the Chiefs won't have the glamor they hoped for. Spokane was eliminated from the playoff race after a loss to Everett on Wednesday.
But their legacy as two brothers and Spokane natives playing for the Chiefs will live on.
"In a lot of aspects, they earned the right to play for the Spokane Chiefs," Chiefs coach Don Nachbaur said. "That wasn't given. And they've taken that to the next level."
Keanu is 20th in franchise history with 267 games played and has totaled 68 goals and 102 assists in his four-year career. Kailer has collected 79 goals and 134 assists – the 19th most in Chiefs history – in his three-year career. He's also 21st all-time in career points with 213 and 13th in points per game with 1.15.
As their time playing together with the Chiefs winds down, Kailer and Keanu are aiming to enjoy it while it lasts.
"It's been the most fun moments of my life playing with him," Kailer said. "I'm just trying to take in every moment and enjoy it while it lasts."
And occasionally, Russ and LeAnn will hear the soothing sound of one of the boys stickhandling down in the basement. It's a reminder of Kailer and Keanu's passion for the game. A passion that created a bond on and off the ice.
---