Idaho state rep, on live open mic, says some of state's teachers are 'clearly overpaid'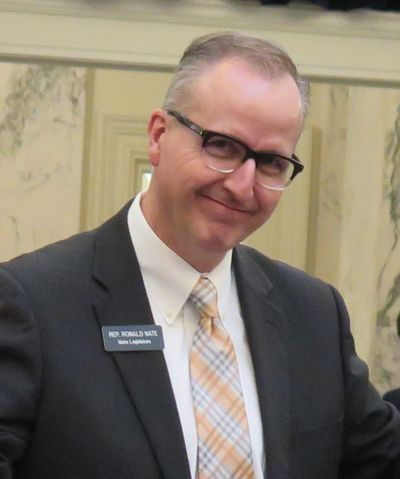 BOISE – When the Idaho House briefly went at ease on Tuesday, Rep. Ron Nate, R-Rexburg, was heard on an open mic saying, "We all know our districts. We know that there are some teachers that are clearly overpaid."
The comment appeared to contradict arguments he made to the House not long before when he suggested that teachers need more pay. Nate, however, said if he made the comment, it was being taken out of context.
Nate has been objecting to various spending bills in the House by making the argument that each amount could have been spent on teachers instead, to add more teachers or pay them more. On the previous bill that was considered by the House, which added $2 million for college and career counseling in Idaho's public schools next year, Nate had told the House, "I stand to debate against the bill. It's not just a redistribution, it's adding $2 million to that spending item, which is a 40 percent increase. And while it's going to schools for college and career advising, we still have the teacher problem, that if we were able to pay our teachers more, especially in the areas of science and math, we'd be able to attract and retain the good teachers that we have in Idaho."
Nate told the House that by his calculations, Idaho could have added 53 new teachers instead of increasing college and career counseling.
Asked by the Associated Press about his comments about teachers being overpaid, Nate said he didn't remember making the comment.
Later, he told The Spokesman-Review, "I think you're crossing the line into dishonest reporting," because "the whole tenor of the conversation was we need to pay teachers more."
Nate's comment was clearly audible on the House live stream; the full conversation, in which he was speaking animatedly with Rep. GayAnn DeMordaunt, R-Eagle, about school funding and Idaho's "career ladder" teacher pay plan, wasn't.
"If I did say it, I either misspoke or I was leading to another point," Nate said. "My perception of the teachers in my district is they're all stellar. I've had good experiences with my teachers in my district."
Idaho is entering the third year of a five-year plan to improve teacher pay, which ranks among the lowest in the nation. According to the 2015 Ranking of the States research report from the National Education Association, Idaho ranked 49th among the 50 states and the District of Columbia for its average teacher salary at $45,281, with only Mississippi and South Dakota ranking lower, at $42,564 and $40,034 respectively.
---