News > Spokane
Dr. Richard Stacey, the Spokane doctor who shut down the city after Mount St. Helens erupted, dies
UPDATED: Fri., March 17, 2017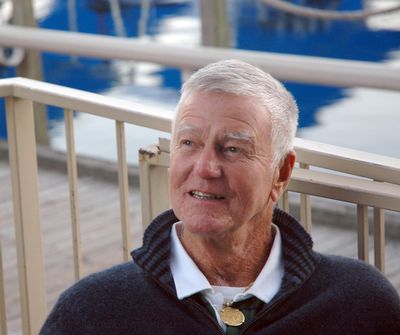 When volcanic ash blanketed Spokane after Mount St. Helens' 1980 eruption, Dr. Richard Stacey worried about the long-term effect on people's lungs.
Stacey was president of the Spokane County Medical Society at the time. Working with others, he helped devise emergency plans that closed schools and distributed tens of thousands of facial masks to the region's residents.
"He was largely responsible for shutting down the city," his son, John Stacey, recalled this week.
Stacey, a longtime Rockwood Clinic physician and civic volunteer, died Sunday at his home. He was 80.
Friends and family remembered Stacey as a doctor who connected with patients and helped spur innovations in treating rheumatoid arthritis. He was an avid traveler who spent two years as a Peace Corps doctor in Turkey early in his career. Through his volunteer work, he also helped the Spokane Symphony and other nonprofits achieve greater financial stability.
"He was a larger than life kind of guy – a doctor and a world traveler," said Mark Hurtubise, president and CEO of the Inland Northwest Community Foundation, where Stacey was a board member and board chairman. "And he was kind and encouraging."
Stacey, known as Dick to family and friends, was born March 14, 1936. He grew up in Westfield, New Jersey, outside of New York City. He graduated from Dartmouth College and Tufts Medical School in Boston.
Stacey came to Spokane in 1961 while scouting out medical internships. His sister, the late Allison Cowles, had married The Spokesman-Review publisher William Cowles III, and was living in Spokane. Stacey ended up doing his internship in Philadelphia, but he met Connie Moore, the woman who would become his wife, in Spokane on a blind date. They married the next year.
After the couple's stint in the Peace Corps, they moved to Minnesota, where Stacey spent 4 1/2 years at the Mayo Clinic. He eventually joined Rockwood Clinic in Spokane, where he practiced rheumatology for 27 years.
"He picked rheumatology because it was a young specialty, and he thought we needed to find breakthroughs in treatment," said Dr. Rex Hoffmeister, a longtime colleague. "He was interested in serving people."
In the late 1960s, Stacey was involved in pioneering the use of a new drug – methotrexate – in treating rheumatoid arthritis. It's still in widespread use today, Hoffmeister said.
Stacey retired from Rockwood Clinic in 1991. He was honored by the Spokane County Medical Society in 1997 as the "outstanding physician-citizen of the year."
Stacey's retirement years were busy with volunteer work.
"He felt that when you are part of a community, you need to give back," said his wife, Connie. "It was both a duty and a joy to him."
Stacey was on the boards of Blue Cross Washington & Alaska/Premera, Whitworth University, the Spokane chamber of commerce, Rockwood Clinic Foundation, WSU Spokane and the Spokane Symphony.
He was board chairman of the Inland Northwest Community Foundation from 1997 to 2000, and was proud the endowment increased from $5 million to $35 million during that time.
"We are the region's savings account when it comes to philanthropy," said Hurtubise, the foundation president and CEO. The endowment has $100 million now, a result of the "strategic dreaming" by leaders such as Stacey, he said.
Stacey also was involved in a $30 million fundraising effort to renovate the Fox Theater, the home of the Spokane Symphony.
"It was quite an endorsement to have his name on the campaign," said Jennifer Hicks, the symphony's director of development.
Besides his commitments to his family, his medical practice and his volunteer work, Stacey had what his family called "an obscure passion" for the historic events depicted in the novel "Mutiny on the Bounty" and later films.
After he retired, Stacey and three friends visited Pitcarin Island near Tahiti in the South Pacific, which was settled by British sailors who took part in a 1789 mutiny. Stacey gave his collection of books about the event to the Cowles Rare Book Library at Gonzaga University.
Stacey also wrote an unpublished spy novel in retirement. The plot featured stolen nuclear engineering plans and took place in Turkey (where Stacey and his wife often returned to visit), Europe and Idaho.
Stacey is survived by his wife, Connie; three children and their spouses, Eve and John VanNewkirk in Seattle; John Stacey and Monica Morse in San Francisco; Chris and Sam Stebbins in Washington, D.C.; and eight grandchildren and step-grandchildren.
Local journalism is essential.
Give directly to The Spokesman-Review's Northwest Passages community forums series -- which helps to offset the costs of several reporter and editor positions at the newspaper -- by using the easy options below. Gifts processed in this system are not tax deductible, but are predominately used to help meet the local financial requirements needed to receive national matching-grant funds.
Subscribe to the Coronavirus newsletter
Get the day's latest Coronavirus news delivered to your inbox by subscribing to our newsletter.
---
Subscribe and log in to the Spokesman-Review to read and comment on this story