Gonzaga shuts down Jackrabbits, advances to second round of NCAA Tournament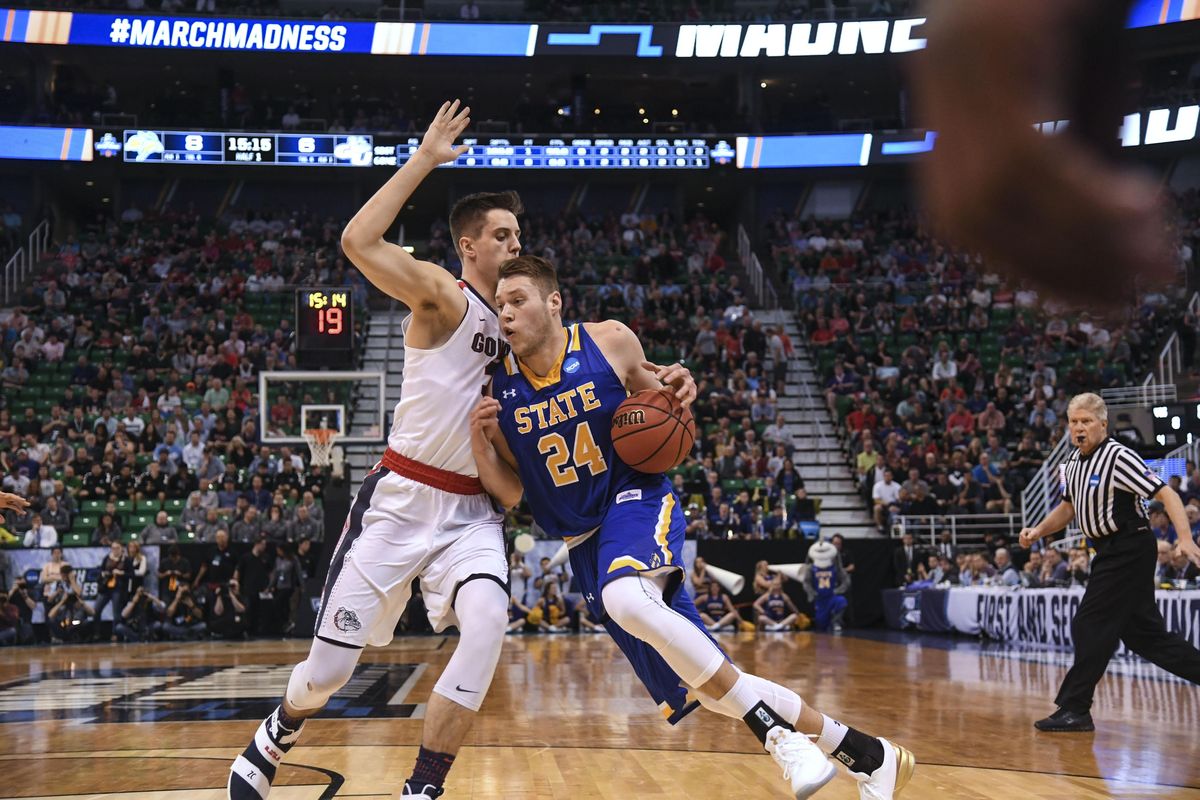 SALT LAKE CITY – Gonzaga in the mid-to-late 2000s was known as Guard U, after producing a string of outstanding backcourt players.
During its near two-decade run of NCAA Tournament appearances, the Zags have typically relied on their offense and skilled point-producers both inside and outside.
Meet the current Zags. The defensive-minded Zags.
Second-ranked Gonzaga endured one of its roughest offensive performances of the season behind a defense that again did the heavy lifting in a 66-46 on Thursday at Vivint Smart Home Arena.
The top-seeded Zags (33-1) will face No. 8 Northwestern, which edged No. 9 Vanderbilt 68-66, in Saturday's round of 32.
"Our defense carried us this entire game, which it has a lot this year," coach Mark Few said. "I think more than people realize."
The Zags held the 16th-seeded Jackrabbits (18-17) to a whopping 31 points below their per-game average. Gonzaga limited Mike Daum, the nation's second leading scorer at 25.3 per game, to 17 points.
Daum scored six points in a 2:15 span late with the Zags comfortably in front.
The Zags kept Daum in check and the Jackrabbits didn't have an option B or C. Johnathan Williams defended Daum, which at times put 7-foot-1 center Przemek Karnowski on 6-7 wing Reed Tellinghuisen, a capable 3-point shooter.
Karnowski did an admirable job as Tellinghuisen, SDSU's second leading scorer at 11.9 points, was just 1 of 10 on 3s and finished with six points.
"It was tough, but that's what he does (shoots 3s)," Karnowski said. "We were preparing that plan the entire week since Selection Sunday."
South Dakota had a defensive game plan, too. On the first play, they essentially double-teamed Karnowski even with the ball on the opposite side of the court. The Jackrabbits clogged the paint, typically with four defenders, and dared the Zags to make perimeter jumpers. The Zags misfired time after time.
The result was both teams engaging in a rim-bruising contest in the first 20 minutes. They clanked jumpers left, right, short, long and mixed in a few airballs.
The Jackrabbits went dry from just about everywhere in the final 7:40. Daum's catch-and-shoot 3 accounted for SDSU's lone points before the halftime buzzer at the Zags took a 26-22 lead.
"It was something we hadn't seen before," said GU guard Jordan Mathews, who scored a team-high 16 points. "It was a matter of making shots. It took us a couple of minutes to figure out but once we did it was basketball again."
Gonzaga gradually pulled away in the second half, using a 12-2 run to build a 52-35 lead. Five different Zags – Mathews, Williams, Karnowski, Silas Melson and Zach Collins – scored in the spurt.
Collins scored nine of his 10 points in the first half when Gonzaga's offense was sputtering. The freshman looked comfortable in his first NCAA Tournament experience.
"In my head the whole time, it was, 'it's just another game, it's just another game,'" Collins said. "Obviously it's tough when you know if you don't play well you're going home and there's March Madness billboards everywhere."
The Zags were 8 of 30 beyond the arc and shot just 39.7 percent. They made only 8 of 18 free throws.
South Dakota State shot 31 percent overall, 25 percent on 3-pointers.
"It happened to be a game where we didn't shot well," Zags guard Nigel Williams-Goss said. "The defense carried us."
---