'Holding On ~ Letting Go' explores end of life challenges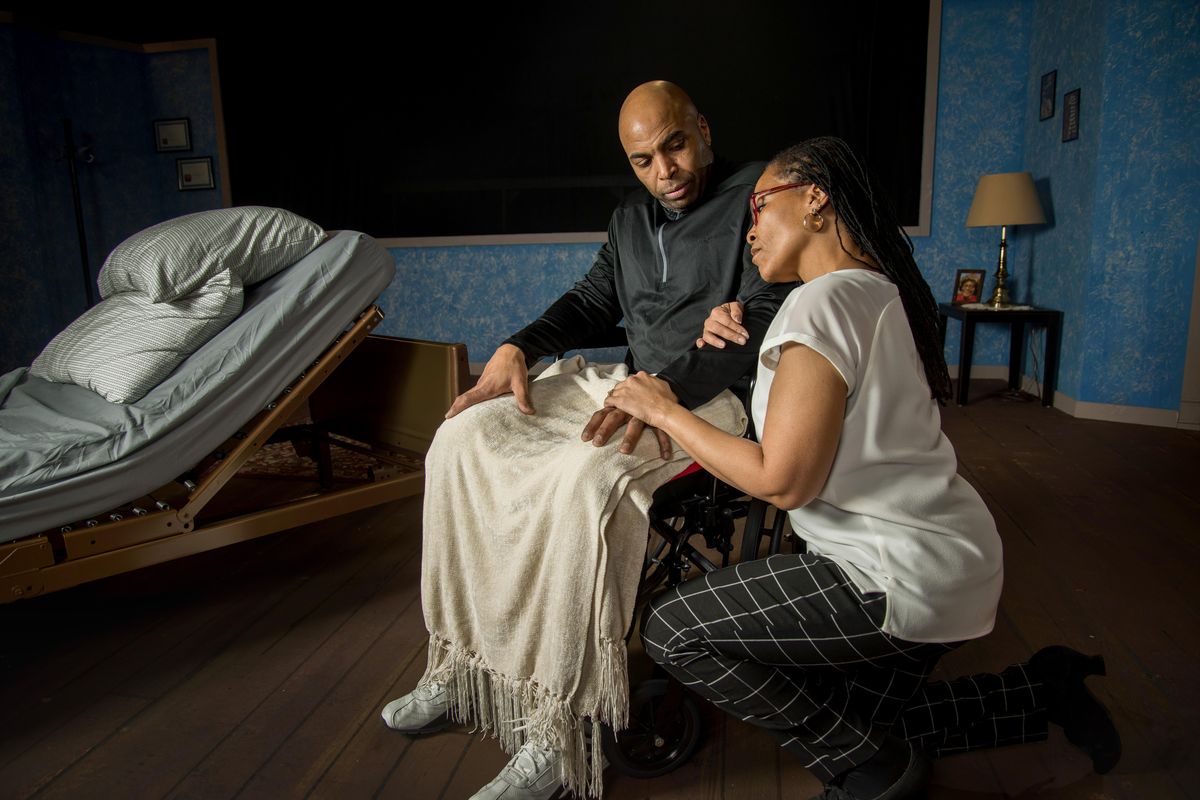 Spokane Civic Theatre's production of Bryan Harnetiaux's "Holding On ~ Letting Go" isn't a family affair, but it might as well be; Harnetiaux and director Jack Delahanty first worked together 40 years ago when the latter acted in the former's first play.
Delahanty has also worked on Harnetiaux's "National Pastime," a play about Jackie Robinson and Wesley Branch Rickey, the white president and general manager of the Brooklyn Dodgers, and "York," a show about William Clark's slave, the only black member of the Lewis and Clark Expedition.
The pair also worked together with the Onyx Theatre Troupe, Spokane's African-American theater company, before its closing.
"I've worked with Bryan so often that I know what he's looking for and how he thinks," Delahanty said. "We're pretty much in sync."
Likewise, all but one person in the cast has worked with Harnetiaux before, and all six actors and actresses have previously worked with Delahanty.
Following the familial backstage feel is the plot of "Holding On ~ Letting Go," which opens Friday in Spokane Civic Theatre's Firth J. Chew Studio Theatre.
The play follows long-married couple Bobby (David Casteal) and Lee (Adelle Whitehead). Lee is a driven NCAA women's basketball coach, and Bobby, a former basketball coach, is now an insurance salesman. As Bobby's health begins to decline, the couple must decide whether to fight his illness or prepare for a graceful departure.
"Holding On ~ Letting Go" is the third and final play in Harnetiaux's series of plays on end of life. The others, "Vesta" and "Dusk," have also premiered in the studio theater.
To help them tackle such a heavy topic, Delahanty enlisted the help of Hospice of Spokane, which is sponsoring this production.
"Our approach was to work closely with them on questions we would have concerning hospice care and how the nurses who go to the homes for home care, how they approach things," he said. "We wanted to make sure it was all very authentic and talk to them about their experiences with death and dying and end of life."
Despite the serious subject matter, Delahanty said he tried not to make "Holding On ~ Letting Go" too dark, nor was it Harnetiaux's intention that the show be dark.
"There's quite a bit of light humor to it and some lighter moments," Delahanty said. "I think it's very truthful and honest. That's what we tried to do but not make it dark because it doesn't have to be dark."
After the performances on Sunday and March 26, April 2 and April 6, the theater and Hospice of Spokane will host talkbacks, or guided discussions on the theatrical aspects of the play and the end of life-related topics discussed during the show.
Each talkback is expected to last between 15 and 20 minutes.
Susan Hardie, who directed a staged reading of "Holding On ~ Letting Go" last year, plays Virginia, a hospice nurse. Also in the cast are Chris Jensen as Gabe, a social worker; Liz McAlpinas May, Bobby's mother; and Peter Hardieas Roger, the hospice chaplain.
Working with a small cast was a pleasure for Delahanty, who enjoyed spending more one-on-one time with each cast member and helping with their character development.
It also strengthened the familial nature of the production.
"You develop much more of a sense of community, a sense of family working together," he said.
---