Sports > Gonzaga basketball
John Blanchette: Zags didn't exactly shine as guardians of the No. 1 seed
March 16, 2017 Updated Thu., March 16, 2017 at 9:10 p.m.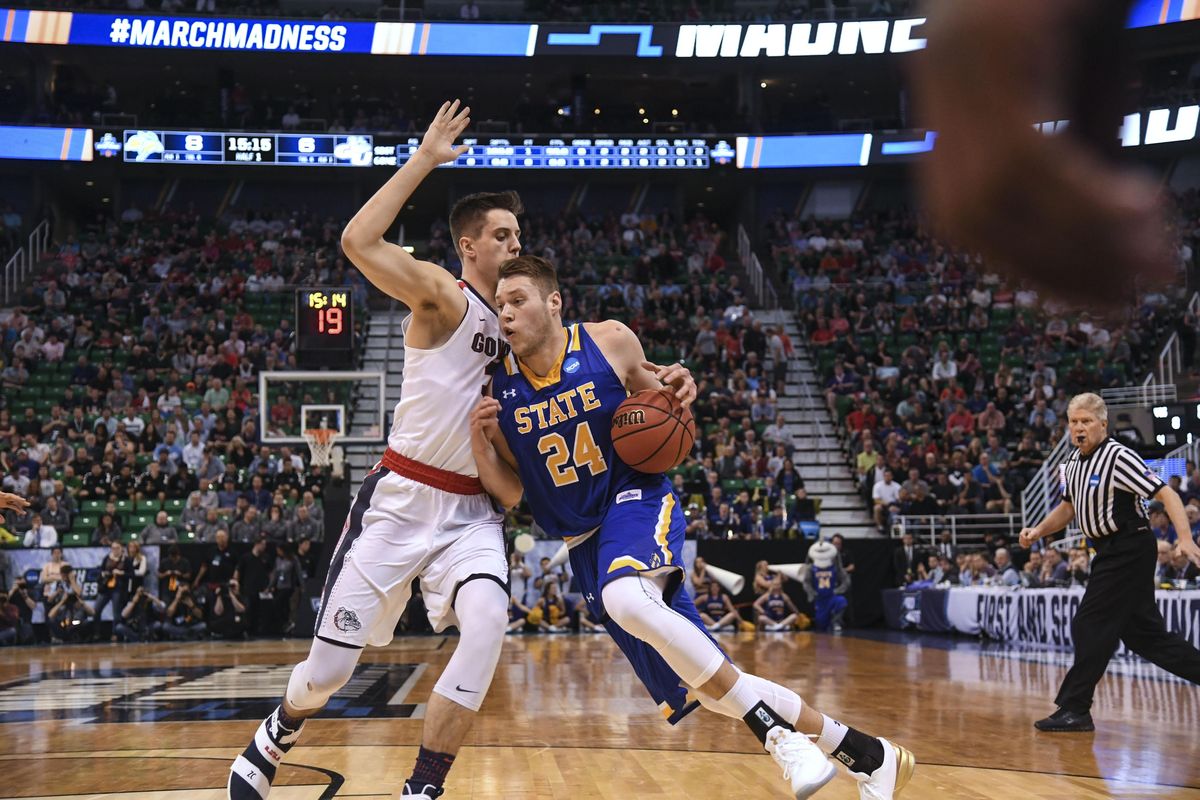 Gonzaga forward Zach Collins defends on South Dakota State forward Mike Daum (24) during the first half of a first round NCAA men's college basketball tournament game, Thurs., March 16, 2017, at the VivInt Smart Home Arena in Salt Lake City. (Dan Pelle / The Spokesman-Review)
SALT LAKE CITY – The Guardian issued a cheery mea culpa Thursday for the withering dismissal of Spokane penned some 48 hours earlier by its young house sociologist between sips at the Hemingway Bar in Paris.
The city's dignity thus salvaged and the citizenry's mirror neurons recalibrated, everybody settled in to continue rehabbing their hope with another first-round Gonzaga romp in the NCAA Tournament.
And then … yikes.
About the time the Bulldogs clanked a trio of 3-point shots in the space of maybe 20 seconds in pursuit of pesky South Dakota State, the notion occurred that maybe the Guardian had the dynamic right after all, only with the roles reversed. Maybe it was Spokane and its warm embrace back home that would have to give the Zags hope for another day, since there was danger that coach Mark Few and the fellows wouldn't be experiencing another one in the tournament.
Defense, rebounding and a few baskets would eventually restore order and produce a 66-46 Gonzaga victory. In the end, Gonzaga was spared having to apologize to the Guardian.
Still, talk about dystopian Spokane.
Missing 12 of the first 14 tries from 3? Bricking 10 of 18 free throws? Scoring just 66 points against a team that surrendered 96 to, well, Idaho? The team that trailed for just 82 minutes all season not taking its first lead until 100 seconds before halftime?
Looks like all that pregame angst over the possibility of being history's first top seed to be toppled in the opening round wasn't misplaced.
"That 1-16 game, someone can have that from here on out," Few sighed. "I've served my time. I'll go ahead and land somewhere else. I'll explain that to the committee next year."
And he says he doesn't care about seeding.
But you can understand his resignation. Recall that the Zags survived that don't-be-the-first weight – barely – as a No. 1 four years ago against stubborn Southern. And that the hangover lasted for two days, at which point the Bulldogs ran into Waterloo State.
Er, Wichita. Wichita State.
Don't think those flashbacks of doom weren't the soup of the day among the faithful, to be reheated Saturday. Up next for the Zags: America's new darling, Northwestern, a first-timer in the NCAA's 79-year history. The Zags stepping over the Wildcats to the tournament's second weekend is not the country's idea of a good story.
Besides, the country already has its narrative.
And Thursday's halting victory over South Dakota State is just another reason why Nobody Trusts the Zags in March. And the players know it.
"You can't block everything out – you hear the doubts and criticism," Nigel Williams-Goss said. "Everyone has an opinion, and I'm not asking anyone why they think this way or that. But they're definitely out there."
And they'll ignore some salient points.
They'll ignore, especially, another smothering defensive effort by all, but mostly by Johnathan Williams III, who locked up SDSU's Mike Daum – turning the Dauminator into the Goneinator. The Jackrabbits' 46 points were a season low; Daum's 17 were eight less than his second-in-the-country average. Williams chased him off the 3-point line, didn't bite on his arsenal of shot-fakes and fouled him just once, limiting the nation's most prolific foul shooter to just two – and snared 14 rebounds, to boot.
"I told J3 I didn't care if he scored," assistant coach Brian Michaelson said. "If he rebounded and stopped Daum, that was the biggest contribution he could make."
Ignored, too, was the Jacks' rabbit-out-of-the-hat strategy to pack in their defense to the extreme and dare the Zags to shoot from distance. Critics wailed that the Bulldogs "settled" for too many jumpers – hence their ugly percentages – when they really had little choice.
"We've seen it packed in, we've seen double teams," Michaelson said. "But the first five or six possessions they were doubling Przemek (Karnowski) before he even got the ball. A guy behind and a guy denying is not something you ever see. But, hey, a 1-16 game, strange arena, new balls –that's a great plan."
But, as Few noted, "if you step up and make a couple of shots, that would alleviate it."
Yet it seemed like more than that, and Jordan Mathews, for one, agreed.
"We were playing like, 'Let's feel them out first,'" he said. "You don't have the luxury in this tournament of playing around and hoping things go your way. You've got to make them go your way.
"We were treating it like a jigsaw puzzle."
Well, the whole Zags in March thing is a puzzle – from the Cinderella past to the ho-hum-they're-back years to the snarky present. They've played beyond their seed as often as they've failed to, but the constancy of them just being here and not becoming Duke has become a damning scar. But not to them.
"You can carve it any way you want, but we won," said Mathews. "I'm good to go."
No apologies.
Local journalism is essential.
Give directly to The Spokesman-Review's Northwest Passages community forums series -- which helps to offset the costs of several reporter and editor positions at the newspaper -- by using the easy options below. Gifts processed in this system are not tax deductible, but are predominately used to help meet the local financial requirements needed to receive national matching-grant funds.
Follow along with the Zags
Subscribe to our Gonzaga Basketball newsletter to stay up with the latest news.
---