News > Spokane
John Blanchette: He who wore the purple just has to root for 'Cats
UPDATED: Fri., March 17, 2017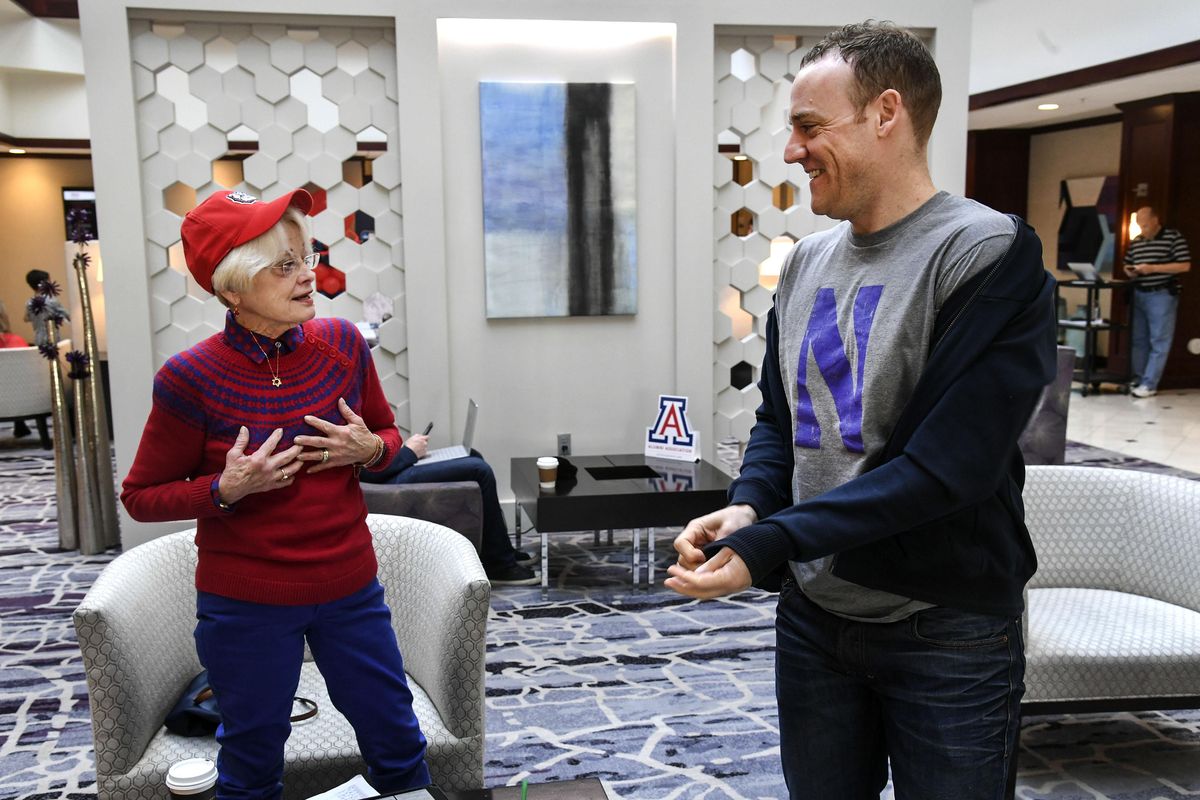 Kyle Henneberry, right, of Woodinville, Washington, is a 1993 Ferris High School grad and a former walk-on basketball player at Northwestern University. He shows his Northwestern Wildcats tee shirt to Gonzaga fan Phyllis Carney, of Seattle, during a chance meeting at the Salt Lake Marriott Downtown at City Creek, March 17, 2017. Dan Pelle/THE SPOKESMAN-REVIEW (Dan Pelle / The Spokesman-Review)
SALT LAKE CITY – He went to Gonzaga basketball camps as a kid.
He sat in the stands at the old Kennel in the prehistoric days, admiring Jim McPhee's jump shots and Doug Spradley's grit.
He met his wife watching a Gonzaga game on the big screen at the Park Inn. Let's repeat that: The Zags, for all purposes, abetted in the set-up that paired him with his future bride, now the mother of his three children.
So what is Kyle Henneberry doing outfitted in a Northwestern T-shirt this weekend?
Keeping the faith – the same way his tribe has kept it for 79 years, waiting for this single payoff.
When the Zags and NCAA Tournament first-timer Northwestern collide today, the Woodinville, Washington, teleradiologist will be a partisan voice in what figures to be a very vocal majority at Vivint Smart Home Arena pulling for the ultimate Cinderella – a distinction Gonzaga relinquished long ago.
"For one day – for a couple hours – my loyalties can't be split," he said. "It's not even a question. Gonzaga goes to the tournament every single year. They win plenty of games. I'm not worried me not cheering for them for two hours will change their trajectory at all."
But the players in purple, well, they're walking in his shoes.
Henneberry isn't just Northwestern, Class of 1997, but a basketball letterman, too. Four years after helping Ferris High School to a runner-up finish at the State 4A Tournament, he scratched one last basketball itch by joining a walk-on tryout for the Wildcats' team as a senior and making the cut.
"And it ended up being an amazing experience, one of the best times of my life," he said.
The Wildcats' record that year: 7-22.
But that's part of this whole tale, right? A legacy of basketball misery – just 17 winning seasons in the first 78 years the NCAA staged a tournament – birthed this March of ecstasy. You can't have the hysteria without the hurt.
But for Henneberry, hurt may be overstating it.
"It was a lot of fun," he insisted. "We lost a lot of games, but players and coaches were invested and no one really got discouraged. It was easy to keep it in perspective. We were at a great school. Everyone has gone on to be successful in life. And you're trying to compete in the Big Ten as the only private school. There's a reason it took 79 years to break through."
Odd thing, though – football was just as downtrodden. But Gary Barnett worked the miracle that took the Wildcats to the Rose Bowl Henneberry's junior year – he and his father, Mike, himself a Northwestern grad, accompanied the "Purple to Pasadena."
"It's funny how often that's been referenced among us the last two days," Henneberry said. "It feels like the Rose Bowl."
Except the Wildcats lost that Rose Bowl. On Thursday, Northwestern won a 68-66 thriller over Vanderbilt for the right to play Gonzaga.
Henneberry's college basketball thrills were modest. He played scant minutes in just seven games. But he remembers Indiana's volcanic coach Bobby Knight getting tossed the night the Wildcats were in Bloomington ("That was just perfect") and an encounter with three-time All-American Mateen Cleaves when Michigan State visited Evanston.
"He picked me up full court like, 'Who is this chump?' " Henneberry recalled. "I mean, I know how to dribble – it's not like I don't know how to play. So I just shook him on a move and went past him and the crowd goes, 'Whooooaaa.' "
After collecting his degree in biomedical engineering, Henneberry went to med school at Case Western Reserve and did his residency at the University of Colorado, then spent three years starting his career in Switzerland.
When he and his wife, Katie, returned to the states, a funny thing had happened.
Zagmania.
"That was interesting," he said. "For the first several years when they got good, I kind of had to promote them to friends – 'We've got this really good team from Spokane.' Now everyone knows and it's just the opposite. I try to temper expectations – 'You know, it's really hard to make it to the Final Four.' They're almost too famous."
And as a No. 1 seed, they'll be infamous if Northwestern takes them down. Henneberry almost doesn't let himself imagine it.
"People ask the former players if we're sad it wasn't us who broke through," he said. "Well, sure. But we couldn't be happier for this group – you know how hard it's been to stay committed and have faith and no fear. It's inspirational."
And so inspired – or just antsy – Henneberry and some other former Wildcat players gathered Friday to work off their nerves the best way they knew how: with a pickup game at a local gym.
You can be sure he wore his Northwestern shirt.
Local journalism is essential.
Give directly to The Spokesman-Review's Northwest Passages community forums series -- which helps to offset the costs of several reporter and editor positions at the newspaper -- by using the easy options below. Gifts processed in this system are not tax deductible, but are predominately used to help meet the local financial requirements needed to receive national matching-grant funds.
Subscribe now to get breaking news alerts in your email inbox
Get breaking news delivered to your inbox as it happens.
---