News > Spokane
Track inspectors on front lines of safe shipment of crude oil, state says
Sat., March 18, 2017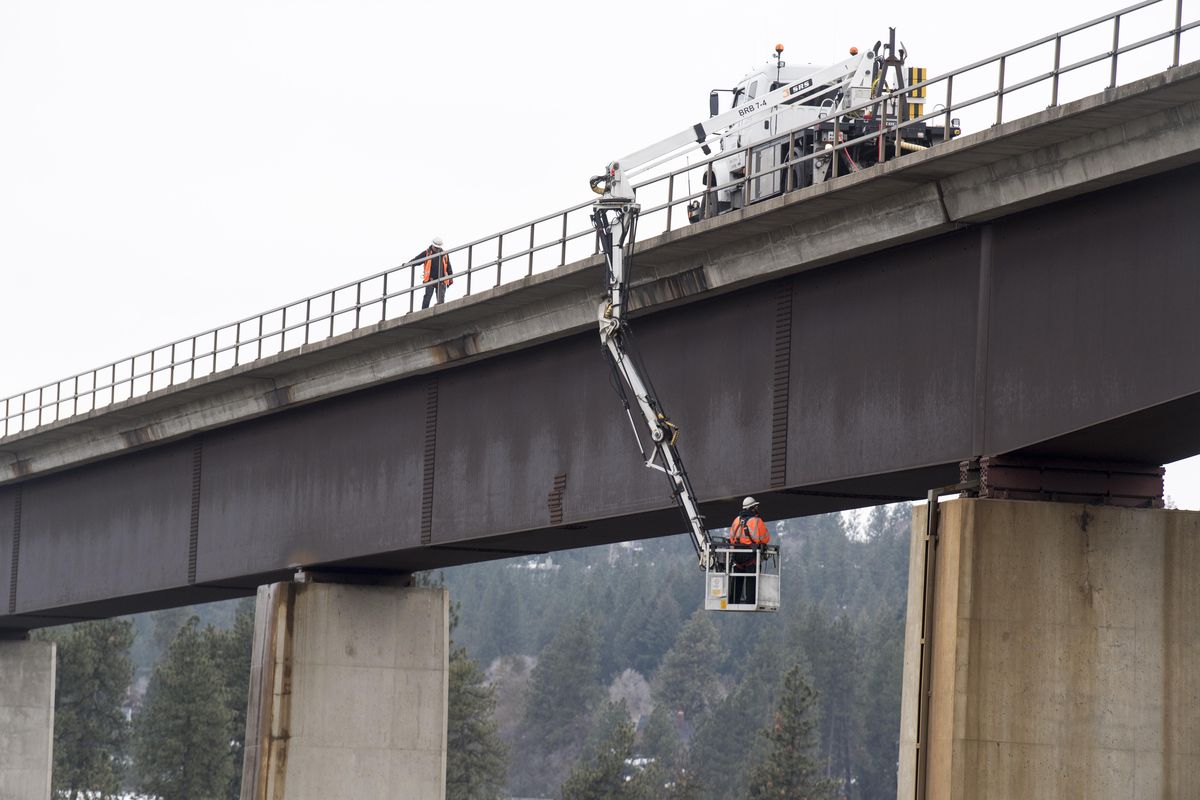 BJ Carter, a BNSF employee, rides in the bucket of a specialized vehicle last Thursday to inspect the sides and bottom of the Latah rail bridge in west Spokane for signs of stress or decay. (Jesse Tinsley / The Spokesman-Review)
BJ Carter spent four hours suspended over the side of the Latah Creek rail bridge last week, his safety vest visible as an orange speck to passing motorists on Interstate 90.
For the BNSF Railway inspector, riding in a bucket 200 feet above the ground is all part of a day's work.
As a Hi-Rail truck moved slowly along the rail bridge west of downtown Spokane, Carter – harnessed into a bucket at the end of an articulated boom – checked the sides and bottom of the 45-year-old span for signs of stress or decay.
"He's got a pocket full of tools – camera, tape measure and tools for sounding and scraping metal," said Ron Berry, general director of structures for the Fort Worth, Texas-based railroad, as he watched the inspection. "He'll measure and document cracks in the cement and any corrosion in the steel."
Checking the tracks on the rail bridge also was part of the inspection.
About 70 trains rumble through Spokane each day. Since those trains began hauling flammable crude oil from North Dakota's Bakken region to Western Washington ports and refineries in 2012, state and local attention to rail infrastructure has increased.
The fiery derailment of a Union Pacific oil train last summer in the Columbia River Gorge was caused by one or more broken bolts on a curved section of track. No one was injured, but the town of Mosier, Oregon, was evacuated while the oil in four tank cars burned for about 14 hours.
Federal regulators later cited lax inspections by Union Pacific Railroad, which agreed to more frequent and rigorous track inspections.
"Track defects have been the cause of most of the derailments that we've seen over the last few years," said Jason Lewis, transportation policy adviser for the Washington Utilities and Transportation Commission. "Integrity of the track is essential. … Track inspectors are on the front lines."
In most cases, those inspectors are railroad employees.
Most inspections done by railroad employees
State and federal governments employ just a handful of track inspectors to monitor Washington's 2,500 miles of railroad tracks.
Washington recently hired its second track inspector. The Federal Railroad Administration has four inspectors based in the state – two in Vancouver, one in Seattle and one in Spokane.
"The railroads are required to be on the track more than state and federal inspectors can be, simply because of resources," Lewis said.
BNSF is Washington's largest rail shipper of crude oil. The company has about 16 track inspectors working in Eastern Washington and North Idaho.
Track inspection is a requirement the railroad takes very seriously, said Wesley Pruitt, BNSF's division engineer.
Each inspector is responsible for about 50 miles of track. They follow federal protocols for inspections, and they get to know the territory so well, it's almost like looking for defects in your own home, Pruitt said.
Becoming a track inspector requires two weeks of classroom training, plus written and field tests. They're union jobs, and BNSF employees work their way up from other positions, Pruitt said.
The median wage for a railroad inspector is $73,000, according to the U.S. Bureau of Labor Statistics.
Railroads use manned and unmanned vehicles to inspect track, said Courtney Wallace, a BNSF spokeswoman. Lasers collect measurements about track levelness, alignment and other track metrics. BNSF has started using drones to evaluate infrastructure, too.
But the BNSF inspectors also get out and walk the tracks regularly. Visual inspections are often one of the best ways to interpret the data gathered through mechanical means, said Berry, BNSF's director of structures.
After derailment, calls for more inspections
After the Mosier derailment, Washington Gov. Jay Inslee asked the Federal Railroad Administration for an emergency order increasing mandatory physical track inspections by railroads hauling crude oil.
The UP derailment occurred on track that recently had a vehicle inspection. Twice-weekly inspections, which could be done by vehicles, weren't enough to protect communities from the risks of derailments, Inslee said.
"You can have defects that are overlooked by a vehicle inspection," said Lewis with the Utilities and Transportation Commission. "We wanted a physical inspection, where the inspectors were actually getting out and looking at the spikes to make sure no damage had occurred."
The tracks on curves and rail bridges were some of the high-risk areas of concern, he said.
State officials looked to BNSF for input, since the railroad was voluntarily inspecting its tracks more frequently, Lewis said.
Most of BNSF's crude oil routes are inspected up to four times per week, more than twice the frequency required by the federal government, Wallace said.
Critical areas, such as the elevated tracks through downtown Spokane and BNSF's route through the Columbia River Gorge, can be inspected daily, she said.
After the Mosier derailment, the Federal Railroad Administration raised the bar on UP track inspections for routes hauling oil, hazardous liquids, passengers and poisonous gas, the Associated Press reported in December. The new requirements include more frequent inventories of curves and physical inspections where the type of bolts that failed in Mosier are used.
Washington officials also continue to look for ways to increase safety on oil train routes, Lewis said.
The state's rail inspectors are funded through fees paid by the railroads. Those fees were raised in 2015, and state officials are evaluating whether the fees are generating enough money to hire additional inspectors.
Each week, 12 to 15 trains haul crude oil through the state, Lewis said. Most of those trains pass through Spokane, though a few enter the state from Western Oregon or British Columbia.
Oil train traffic through Washington peaked a few years ago at about 20 trains per week, Lewis said. Despite a slowdown in crude oil production in the Northern Plains, he expects oil train traffic to remain fairly steady.
"Washington has some of the cheaper ports to ship out of," Lewis said.
As long as the price of North American crude oil remains competitive with foreign crude, oil trains will be part of Washington's landscape, he predicted.
Local journalism is essential.
Give directly to The Spokesman-Review's Northwest Passages community forums series -- which helps to offset the costs of several reporter and editor positions at the newspaper -- by using the easy options below. Gifts processed in this system are not tax deductible, but are predominately used to help meet the local financial requirements needed to receive national matching-grant funds.
Subscribe now to get breaking news alerts in your email inbox
Get breaking news delivered to your inbox as it happens.
---