Sports > Gonzaga women
Gonzaga women ready to get back at it despite NCAA loss
UPDATED: Sun., March 19, 2017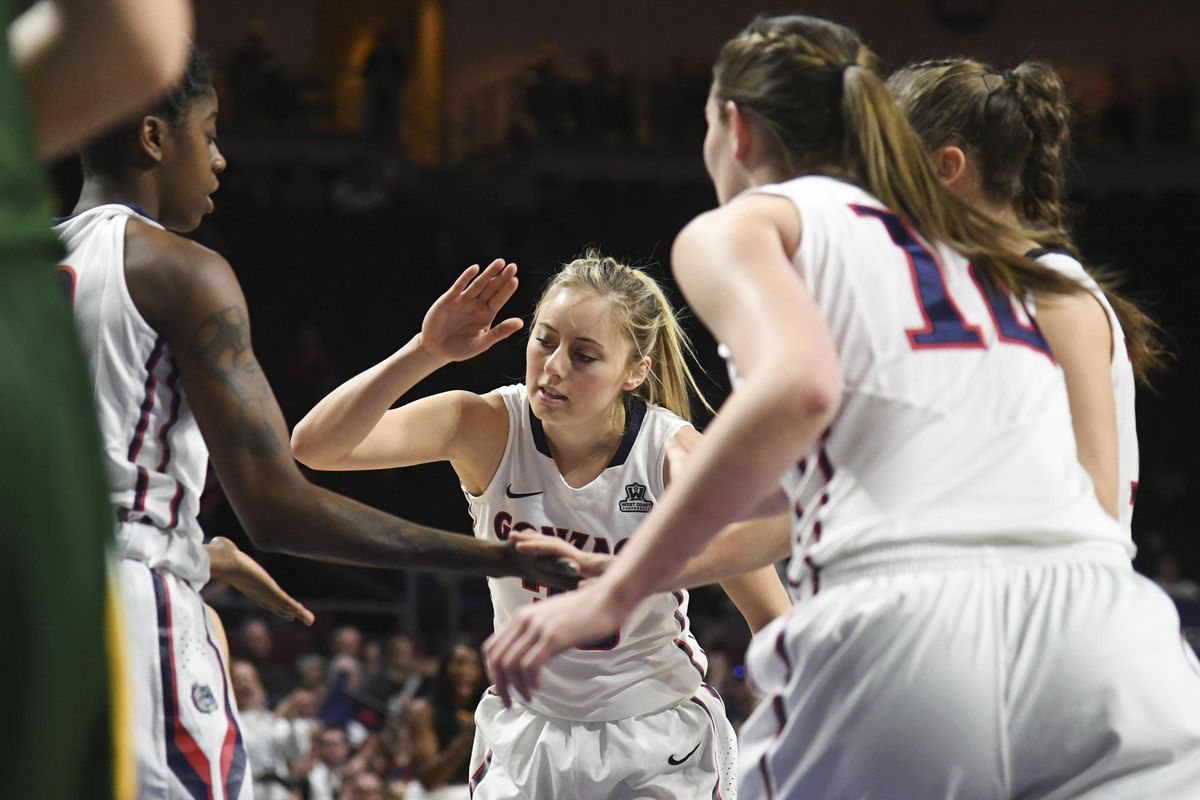 Gonzaga's Chandler Smith (center) is ready to get back at it. (Dan Pelle / The Spokesman-Review)
SEATTLE – Her season had just ended with a tough loss and a sore nose, but Chandler Smith was ready to get back on the court.
Or at least the weight room, because offseason workouts are just around the corner.
"We just got a little taste, and now we're hungry for more," Smith said Saturday, after Gonzaga fell to Oklahoma 75-62 in a first-round NCAA Tournament game at Alaska Airlines Arena.
The Zags had just absorbed a tough loss, while Smith, a sophomore from Brewster, Washington, took an elbow to the nose late in the third quarter.
"I'm OK, but it hurts a little bit," Smith said of the foul by OU guard Chelsea Dungee.
What hurt more was GU's inability to take advantage of the situation.
Down by 10, Smith made just one of two free throws; on the ensuing possession, fellow sophomore Jill Barta missed two shots and GU entered the fourth quarter still down by nine.
There would be more rallies. Twice, the Zags (26-7) got within five as a pro-GU crowd roared its approval, but the Zags couldn't finish the deal.
"It was an exciting game," said Barta, who managed 13 points against a rugged Sooner frontcourt. "We hung around, but we need to execute a little better."
"It's a tough loss, but it's something that we made it here, now we just have to take this back and work harder," Barta said.
Graduating seniors Elle Tinkle, Kiara Kudron and Makenlee Williams will be watching from afar.
"Now we've got people who know what it's like," Tinkle said after the game. "I just told them in the locker room, next time it happens, which it will, I have no doubt that this team is going to be back here, and I'll be cheering from the stands."
Tinkle will be rooting for a team that returns 10 letter winners and three starters in Barta and guards Laura Stockton and Emma Stach.
Smith is the heir apparent to Tinkle on the wing, and freshman point guard Jessie Loera had a solid year.
The biggest challenge in the frontcourt will be replacing Kudron, who saved her best for her final season, averaging 10 points and almost eight rebounds.
"I wish I had one more year, because these guys are going to be good next year," Kudron said.
Local journalism is essential.
Give directly to The Spokesman-Review's Northwest Passages community forums series -- which helps to offset the costs of several reporter and editor positions at the newspaper -- by using the easy options below. Gifts processed in this system are not tax deductible, but are predominately used to help meet the local financial requirements needed to receive national matching-grant funds.
Subscribe to the sports newsletter
Get the day's top sports headlines and breaking news delivered to your inbox by subscribing here.
---