New flights boosting travel options at Spokane airport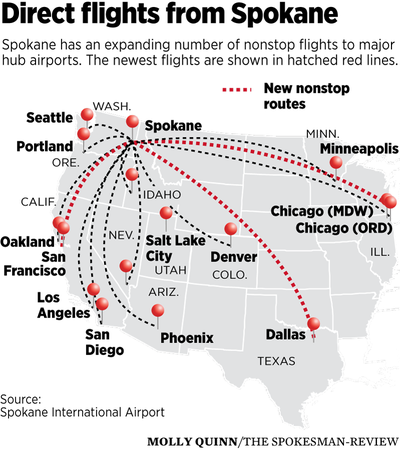 Flying out of Spokane is getting a whole lot easier.
Five major airlines are now providing Spokane with direct, nonstop links to numerous airport hubs as far east as Chicago, Minneapolis and Dallas.
Seasoned travelers have long known that longer journeys require access to those hubs, and Spokane is now linked with some of the largest in the country's midsection.
Earlier this month, American Airlines announced a direct nonstop daily flight to and from Dallas-Fort Worth Airport starting in July.
Why Dallas-Fort Worth?
"There is sufficient demand being generated by our market," said Larry Krauter, CEO at Spokane International Airport.
Getting service into and out of Dallas took 18 years of work by airport officials.
Dallas is the hub for American Airlines, which has flights from there to 71 connecting destinations, many of which are in Florida, the Southeast and the East Coast.
The possibilities expand when other airline routes are put into the mix.
On top of the Dallas route, Spokane recently won two new daily flights to San Francisco and one new flight to Chicago's O'Hare International Airport aboard United Airlines. The flights start in June.
United has 71 connecting destinations aboard its planes from its operation at O'Hare.
Offering more nonstop flights to hub airports has a two-way advantage.
Not only does improved service get residents of the region to their chosen destinations more easily, it also brings people into Spokane, especially convention and business travelers.
Krauter said the key concept is making Spokane part of the global community.
Matt Jensen, corporate director of sales and marketing for Davenport Hotel properties, said his staff is now working on generating more convention and business travel to Spokane from the new hub airport locations.
"This is great news," he said of the recent announcements. "Anytime we can add a new direct flight, that opens up opportunities." The convenience of direct flights "is so important," he said.
Rob Enriquez, vice president of sales and marketing for Visit Spokane, said the addition of direct flights from major cities helps his staff encourage organizations and business groups to come to Spokane, and that event planners can feel comfortable that their members will be able to book flights into Spokane.
He said the convenience of the Spokane Airport and its proximity to downtown and local hotels is another selling point, part of what he called the "door-to-door experience."
"Quite frankly, it's a perception issue," he said.
He said the business community in Spokane now has to do its job to make sure the new flights are competitive and successful in order to retain them.
Todd Mielke, chief executive officer at Greater Spokane Incorporated, said Spokane now has 38 flights each day to destinations serving major international routes.
Businesses want to feel connected to other markets, which makes good air service a critical element in the local economy. It is also a selling point in attracting new businesses, he said.
The new air routes are "something we've needed for a long time," Mielke said, crediting the work of the airport staff in securing those new flights.
In 2013, Delta Airlines opened service to Los Angeles International Airport. That flight drew praise from the business community because it opened a door to business opportunities both domestically and abroad, especially in Asia, Krauter said.
The other hub airports accessible from Spokane are Seattle, Minneapolis, Chicago's Midway Airport, Oakland, Denver, Boise, San Diego, Las Vegas, Salt Lake City, Portland and Phoenix.
The demand for travel from Spokane has been increasing since 2009, especially to New England, the East Coast, the Great Lakes and the Southeast , including Texas.
For example, travel is up 12 percent to Texas, Oklahoma, Arkansas and Louisiana, according to Spokane Airport marketing statistics.
Those four states are in a group known as "oil" in industry lingo.
Since 2009, travel to "oil" is up 12 percent.
Travel to the Northeast is up 20 percent and travel to the Southeast is up 13 percent.
As a result, Spokane's airport can effectively compete with other communities in wooing airlines to start new routes here.
The growth is partly due to stable fuel prices and an expanding economy, Krauter said.
In addition, airlines have come up with sophisticated ways of matching passenger loads to their various types of aircraft, with capacities ranging from 69 to 181 seats.
Those factors are a foundation for what Krauter called "years and years of work and having good data" to woo airlines into Spokane.
Spokane Airport has an aggressive marketing effort to draw air service to the Lilac City.
Airport officials participate in meet-and-greet sessions with airline representatives who are considering expanded service.
In the case of the flight to Dallas-Fort Worth, Spokane won out over nearly 400 other communities vying for more service from American Airlines, Krauter said.
Spokane is attractive in part because travelers here are likely to fill planes to capacity. That allows airports to maximize revenue against the cost of operating an aircraft.
That also benefits travelers because it keeps the cost of tickets relatively low as airlines compete for bookings.
The number of people flying through Spokane International has increased every year since 2013, when the impacts of the global recession were the greatest.
Spokane's airport expects to have 19,292 flights this year, an increase of 5 percent over 2016.
As for passengers, the increase is likely to be close to 7 percent in 2017 over 2016, to 2.1 million.
According to Mielke, people in the air service industry call that "lift."
---