News > Spokane
Political infighting between Spokane police, prosecutors, medical examiner leaves death investigations unsolved
March 21, 2017 Updated Wed., March 22, 2017 at 8:53 a.m.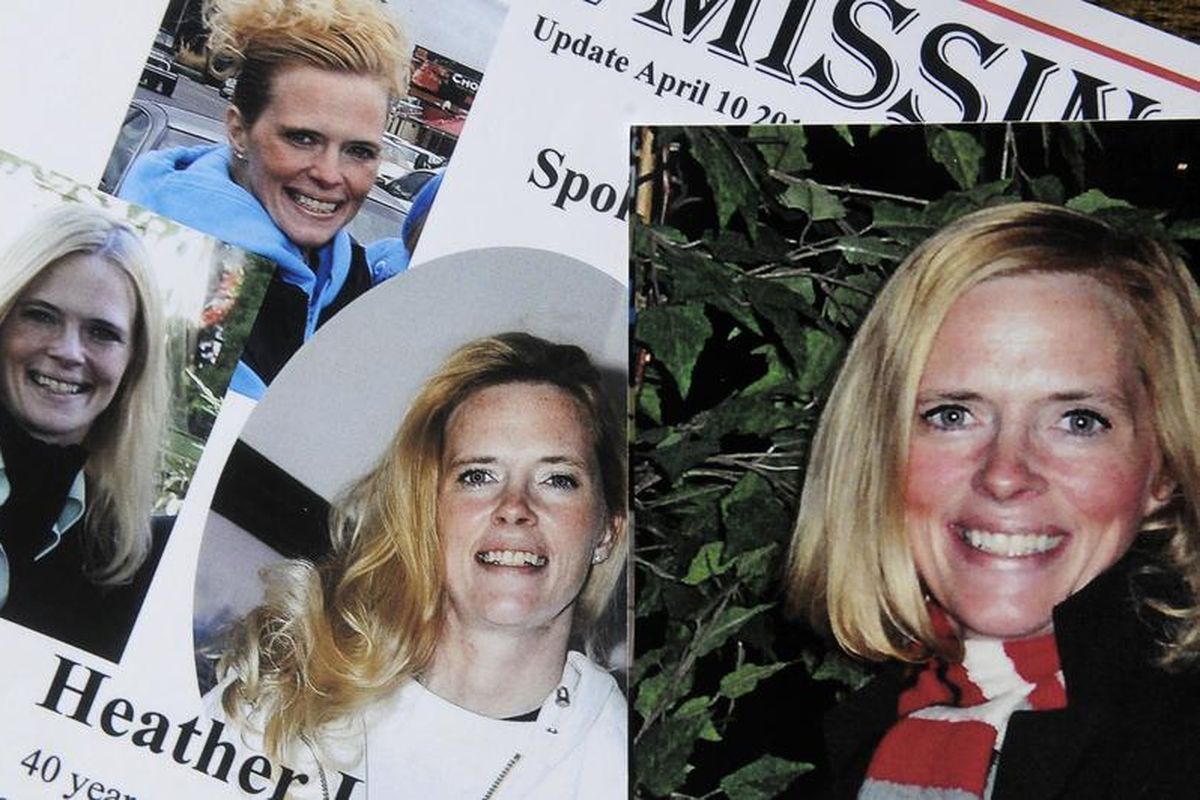 Heather Higgins went missing in 2010. Her body has never been found. Robert G. Davis told his mother he helped dispose of Higgins' body, according to police reports. (The Spokesman-Review)
A dispute between investigators, prosecutors and the Spokane County Medical Examiner's Office regarding the findings of a 2012 autopsy has allowed a man linked to two Spokane killings to remain uncharged.
The complicated story began on Mother's Day weekend in 2012, when the remains of 20-year-old Kala Williams were found in an undeveloped forested area near West 14th Avenue and South Lindeke Street in Spokane. Her body had been cut in two and stuffed into garbage bags that were concealed with debris.
"It's been very hard," said Williams' mother, Martine Maggio. "It's torn my family apart."
Spokane police learned a couple of months later that DNA evidence from the scene came back as a match to Robert G. Davis, a 47-year-old convicted felon who admitted knowing Williams but denied involvement in the killing. Davis' possible connection to Williams' death was first reported by KHQ.
A short time later, then-Detective Chet Gilmore interviewed Davis' mother, Sherri "Raynell" Cook, who said her son previously admitted to disposing of the body of another woman, 39-year-old Heather Higgins, who was last seen on Sept. 20, 2010.
But the Williams investigation stalled as Dr. John Howard, the Spokane medical examiner who performed the autopsy, wrote that he could not prove that Williams died in 2012 as a result of homicide, despite evidence of defensive cuts on her hands and the obvious halving of her body, which he determined occurred after death.
That report started a series of police requests for Howard to consider changing his autopsy findings. His refusal led police investigators to pay for a second autopsy.
Prosecutors disagreed with police. They weren't willing to cross Howard because they feared implications for other cases the pathologist worked on, according to records.
As the dispute stretched into years, Davis, a transient, remained free. Then, on June 21, 2014, Davis broke into the trailer of a Coeur d'Alene woman and twice choked her into unconsciousness. She later was able to escape.
Kootenai County Prosecutor Jed Whitaker prosecuted Davis and convicted him of burglary and assault with sexual motivation. Although he was sentenced to 15 years in prison, Davis will be eligible for parole in June 2018.
"He's a bad guy," Whitaker said. "The case I handled was a scary situation – really, really bad. To this day I had never seen a more scared (victim) in my life."
And as Davis serves his time in the Idaho State Correctional Center outside of Boise, Spokane authorities are working to extend his stay in prison.
Spokane police Chief Craig Meidl said his office on Feb. 10 turned over its yearslong investigation into the Williams killing to prosecutors for possible charges.
"It's a rather large case," Meidl said. "We are just trying to determine if we need to do more follow-up."
Spokane County Prosecutor Larry Haskell said it's his understanding that investigators have not yet shown enough evidence to warrant charges.
"What I will tell you is that when we reach the point of where the statutory requirements are met," he said, "we will move forward with the appropriate charges."
Dispute over death
The issue began soon after Howard issued his "undetermined" autopsy results. Williams, a known user of methamphetamines, was found with a towel tied around her neck. Electrical tape strands also partly encircled the neck, Howard wrote. Her bra and panties were cut open but left on the body.
Gilmore was promoted to patrol and the case was then transferred in early 2013 to Spokane police Detective Mark Burbridge. He reviewed the autopsy and "noticed what he suspected to be numerous injuries which were not detailed or included in the autopsy report," according to police records. "These injuries included sharp instrument injuries, abrasions, pattern injuries, and possible hematomas not described by Dr. Howard."
Burbridge also noted what appeared to be a "ghost mark" on Williams' wrist "consistent with a restraint having been tightly tied on the wrist."
The detective then tried to contact Dr. Howard several times, without a reply, Burbridge wrote. After several months of no responses to calls or emails, Howard finally met with Burbridge and other police officials. "Dr. Howard told them I had been rude to one of his staff and was no longer allowed (in the) Medical Examiner's Office."
Burbridge also said he met with Deputy Spokane County Prosecutor Jack Driscoll.
"Driscoll told me he had met with Dr. Howard on at least three occasions to discuss the Williams homicide and Dr. Howard refused to even consider changing his rulings," Burbridge wrote. "Driscoll told me under no circumstances was he going to damage Dr. Howard and affect any of the other cases in which he testified."
Driscoll also said that Dr. Sally Aiken, who alternates the title of medical examiner with Howard, told Driscoll "in confidence she would have ruled the Williams case a homicide," Burbridge wrote.
Neither Howard nor Driscoll immediately responded Tuesday to calls seeking comment.
Burbridge then paid Dr. Carl Wigren of Seattle to review the autopsy results. In his review, dated Dec. 31, 2013, Wigren found more than 60 injuries on Williams that Dr. Howard did not list.
"The number of contusions and sharp force defects … to the lower arms and legs are consistent with defensive measures employed by the victim to fend off her attacker during the assault," Wigren wrote. "Based on my review of the autopsy report … the cause of death is consistent with homicidal violence."
Charging documents never filed
Armed with the new medical review, Burbridge met with Deputy Prosecutor Kelly Fitzgerald. She also met with Howard and showed him the undocumented injuries.
"Dr. Howard refused to reconsider his ruling and always returned to the toxicology report, saying he couldn't rule out a methamphetamine overdose," Burbridge wrote.
In early 2014, Spokane police Lt. Mark Griffiths instructed Burbridge to write a draft of charging documents, listing the criminal allegations against Davis.
They included a 2007 report by a woman who claimed Davis had choked her unconscious and raped her. The victim "reported the attack to law enforcement the next day. (She) is mentally ill and a sometimes substance abuser. (She) declined to pursue charges."
The document also detailed an interview on Aug. 1, 2012, between Gilmore and Cook, Davis' mother. She requested a meeting to describe what her son had told her about the disappearance of Heather Higgins.
"Davis said he had 'done something really bad,' " the records state. "Davis told his mother he didn't kill Higgins, someone else did. Davis said he disposed of Higgins' body by putting her in a sleeping bag."
Davis said he drove north and pushed Higgins' body "off the side of the road into a very steep valley."
The Eastern Washington University student, who had bipolar disorder, has never been found.
Several months after Burbridge wrote up the charging documents that were never executed, Davis broke into the home of the Coeur d'Alene woman during the June 2014 attack that sent him to prison.
After yet another meeting with prosecutors and police officials, Deputy Prosecutor Mark Cipolla instructed Burbridge to find a third medical opinion about the Williams autopsy.
"The next day Cipolla called Sergeant Zac Storment and had me cancel working with another outside medical examiner with no explanation," Burbridge wrote. "I have been ordered not to discuss the Kayla (sic) Williams case with Cipolla or Haskell."
Meidl confirmed that Burbridge was reassigned in 2015 from major crimes to the Special Investigations Unit, which mostly investigates drug crimes.
Asked why, Meidl said he wasn't privy to the decision made by former police Chief Frank Straub.
"I did ask about that," Meidl said, referring to Burbridge. "I just got speculation that it was likely based on personnel issues but it wasn't related to the (Williams) case."
Detective Paul Lebsock now has the Williams investigation and it was he who forwarded the file back to the prosecutors for their review. Meidl said the investigation does not include allegations related to the Higgins disappearance.
"In the end, the prosecutors have to be the ones who try it," Meidl said.
Haskell said he can't comment about efforts by deputy prosecutors to get Howard to amend his autopsy finding.
"I don't know what was said," Haskell said. "A lot of that occurred before I was even elected. But in my view, the investigation is ongoing."
While Howard did not return a phone call Tuesday from The Spokesman-Review, he did return a call from Maggio, the victim's 59-year-old mother.
"He was very, very kind," Maggio said of Howard. "He was very respectful. He said the case is still active and he was very involved. He said he would have changed it to a homicide but he needed more physical evidence."
Local journalism is essential.
Give directly to The Spokesman-Review's Northwest Passages community forums series -- which helps to offset the costs of several reporter and editor positions at the newspaper -- by using the easy options below. Gifts processed in this system are not tax deductible, but are predominately used to help meet the local financial requirements needed to receive national matching-grant funds.
Subscribe now to get breaking news alerts in your email inbox
Get breaking news delivered to your inbox as it happens.
---