News > WA Government
Bill could make it easier to find sites for new schools in rural Washington
March 23, 2017 Updated Thu., March 23, 2017 at 10:50 p.m.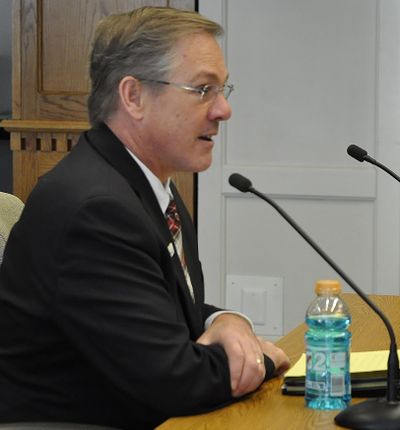 OLYMPIA – Growing school districts that need new buildings would have an easier time building in nearby rural areas under a bill moving through the Legislature.
"We're kind of at the breaking point where we have to do something," Rep. Bob McCaslin, R-Spokane Valley, told the Senate Early Learning and K-12 Education Committee Thursday.
But critics told the committee the bill would allow districts to expand into rural areas that aren't equipped to handle the growth in traffic or services, and population growth would follow the schools.
"It's just going to turn into urban sprawl out in the county," said Marilyn Sanders of Graham, a member of a group that has gone to court to block a school expansion in rural Pierce County.
The bill passed the House on an 82-15 vote, and while prime sponsor McCaslin said it doesn't make everyone completely happy, it does try to address the concerns of school officials and land-use groups.
"This clearly is an emergency in some areas," he told the committee. "Schools are expanding and they can't build in their areas."
Along with some districts' need to expand because of population growth, schools must offer all-day kindergarten and reduce the number of children in classrooms for kindergarten through third grade. The number of portable units in use around the state also is growing.
An urban or suburban district might not be able to find a large enough piece of property on suitable land that it can afford in the urban growth area, he said. But that property might be available in a nearby rural area that has restrictions under the Growth Management Act.
The county and any affected cities would have to agree the site is suitable; any utilities extended to the rural area must serve only the school unless property owners request service, get government approval and help pay for it; and any impacts from the school must be mitigated under the state Environmental Protection Act.
"I don't see this as a big, gaping hole in the GMA," McCaslin said.
Part of the bill is directed at ongoing disputes in Pierce County, where Sanders and other residents said the growth management area – where state law allows bigger growth – already is adequate to handle school expansions. They say counties and cities just need to do a better job of communicating to districts about new developments so they could build in those neighborhoods.
There's no problem under the law with building rural schools in rural areas to serve rural students, David Friscia, another Graham resident, said. "It's siting urban schools in rural areas to serve urban students."
But legislators said districts across the state are having trouble finding sites for new schools. In a separate interview, McCaslin said he expected Spokane Public Schools to experience these problems in the near future, and the Mead and East Valley school districts may not be far behind.
Senators asked McCaslin if he and other supporters of the bill would accept more changes to ease concerns of opponents.
"If we're going to get this solution to the governor's desk … the less change we can make would probably help the passage of this bill," he replied.
Local journalism is essential.
Give directly to The Spokesman-Review's Northwest Passages community forums series -- which helps to offset the costs of several reporter and editor positions at the newspaper -- by using the easy options below. Gifts processed in this system are not tax deductible, but are predominately used to help meet the local financial requirements needed to receive national matching-grant funds.
Subscribe now to get breaking news alerts in your email inbox
Get breaking news delivered to your inbox as it happens.
---