News > Spokane
Fairchild gets nine refueling tankers and 50 crew as squadron relocates to Spokane
March 23, 2017 Updated Thu., March 23, 2017 at 10:45 p.m.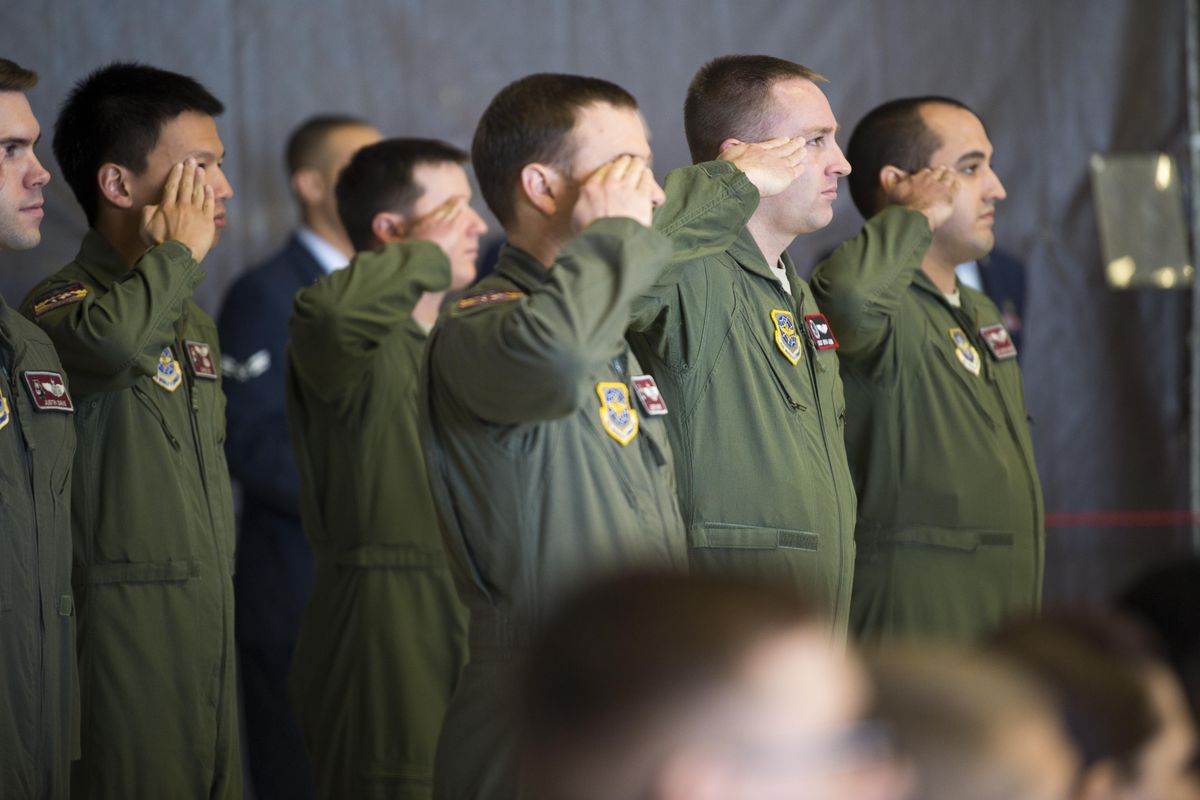 Members of the 384th Air Refueling Squadron salute during the ceremony to mark the joining of their squadron to the 92nd Air Refueling Wing at Fairchild Air Force Base on Thursday. (Jesse Tinsley / The Spokesman-Review)
Fairchild Air Force Base took command of a third refueling tanker squadron Thursday in a transfer of nine aircraft and their 50 personnel from McConnell Air Force Base in Kansas.
The 384th Air Refueling Squadron is now part of what the base likes to call Team Fairchild as the Air Force prepares to take delivery of a new generation of air tankers, the KC-46A Pegasus.
McConnell was chosen three years ago as the first base to receive the new tankers.
Two other bases, Travis AFB and Joint Base McGuire-Dix-Lakehurst, were later chosen for the new tankers as Fairchild was passed over for the initial deployments of the KC-46A. Travis is in California, and McGuire-Dix-Lakehurst is in New Jersey.
The transfer of the 384th is something of a consolation prize and one sought by the state's congressional delegation.
The 384th has a long history in the armed forces. It was formed as a bombing squadron during World War II and later spent 43 years stationed at McConnell in its refueling mission.
The squadron members are known as "squarepatchers" or "squares" because of their distinctive shoulder patches that depart from the Air Force convention of round patches.
Lt. Col. Sean R. McClune was promoted to commander of the 384th during a relocation and assumption-of-command ceremony inside Fairchild's main hangar Thursday morning.
"It's hip to be square," McClune told his personnel during the ceremony, which was attended by forces from Fairchild's other assignments.
During a short speech, McClune noted the proud history of the 384th, which has served in all U.S. conflicts starting in World War II.
"We were never given permission to be average," he said.
McClune previously was director of operations of the 92nd Operations Support Squadron at Fairchild.
Spokane County Commissioner Al French said Fairchild could be in line for even more KC-135 refueling tankers as the Air Force transitions to a new KC-46A fleet.
"In the Northwest, Fairchild is going to be the tanker base," he said. "It's a great short-term solution."
That will solidify Fairchild's role in Air Force readiness for the next 10 to 20 years, he said.
At some point, Fairchild also needs to become a KC-46A base to be an assured part of the Air Force's long-term plan, he said.
The Air Force last August awarded Boeing $2.8 billion for production of the first two lots of KC-46A for a total of 19 tankers.
Then last January, a third lot was awarded for 15 more planes at a cost of $2.1 billion.
The wide-body tanker is capable of refueling all types of aircraft, including those of allied and coalition countries, using a series of fuel offloading systems, including wing refueling pods, according to Boeing's website.
It will have capability to detect, avoid, defeat and survive threats using multiple layers of protection, the website said.
Fairchild will continue as a center of operation for the workhorse KC-135 tankers.
Among the three refueling squadrons at Fairchild, the base is now home to 44 aircraft and 50 additional service personnel, Air Force officials said.
The 384th joins the 92nd and 93rd refueling squadrons already at Fairchild as part of the 92nd Air Refueling Wing.
The 384th began life as the 584th Bombardment Squadron in 1943, flying B-26 Marauders in support of the Normandy landings in June 1944, according to the Fairchild base website. It has gone through a series of changes in the years since.
The tankers from McConnell have the capability for basket-type refueling as opposed to the standard boom-type refueling, Air Force officials said.
Local journalism is essential.
Give directly to The Spokesman-Review's Northwest Passages community forums series -- which helps to offset the costs of several reporter and editor positions at the newspaper -- by using the easy options below. Gifts processed in this system are not tax deductible, but are predominately used to help meet the local financial requirements needed to receive national matching-grant funds.
Subscribe now to get breaking news alerts in your email inbox
Get breaking news delivered to your inbox as it happens.
---