Sports > Gonzaga basketball
John Blanchette: There is no monkey – Gonzaga, Mark Few are legit
Fri., March 24, 2017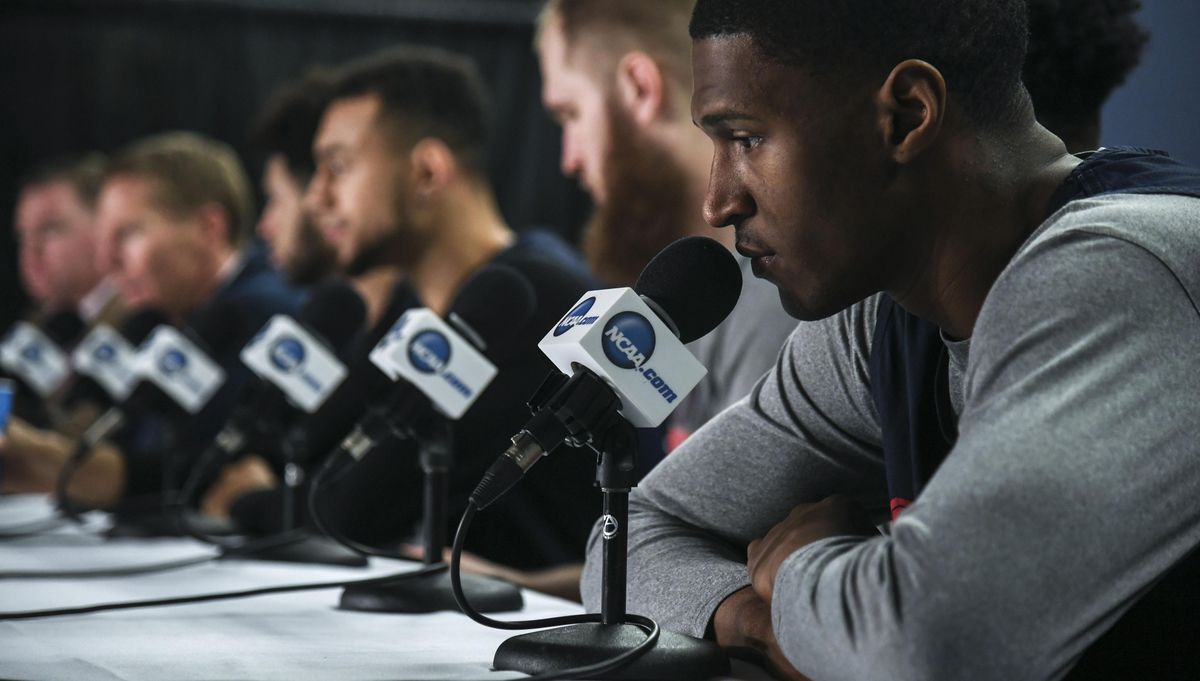 Gonzaga guard Jordan Mathews (right) and teammates answer media questions Friday. (Dan Pelle / The Spokesman-Review)
SAN JOSE, Calif. – Welcome back to the Primate Regional here at the SAP Center.
By now, surely you've read the quote or seen the clip of Gonzaga coach Mark Few responding to a pointed inquiry the other night on what it would mean to him to reach the Final Four and "finally get that monkey off your back."
Because, you know, anything less is failure.
"Bill Gates – what would it mean to you finally earn your college degree and get that monkey off your back? Peter O'Toole – would winning an Oscar finally validate you as an actor? Colonel Sanders – is the fact that the Double Down sandwich was such a flop going to stain your legacy?
Achievement, we discover anew each day, must be absolute.
Sitting at the podium with Zags players Przemek Karnowski, Johnathan Williams and Jordan Mathews, Few absorbed the question yet again and went freestyle:
"First of all, I don't know that I have a monkey on my back. I certainly don't wake up with one or walk around with one. I don't think these guys think I have one. I don't think my wife thinks I have one, or anybody in my family. Close friends. Fishing buddies never talk about it."
He went on to acknowledge that he'd love to get his players to the Final Four by beating Xavier in the NCAA Elite Eight come Saturday afternoon, and included the school and Spokane in that wish. A greater concern: how those players, past and present, regard their time in a Gonzaga uniform.
"It's not about me and my monkeys and my dogs and my cats," he concluded. "It's about them."
At this point, Karnowski and Williams bowed their heads and covered their faces, unable to contain their amusement at this undressing.
But that was only the beginning. On Friday, Xavier coach Chris Mack took the baton.
"I got off the elevator today and was coming to the bus to come over to the arena," he said, "and I saw this monkey running around and I picked him up. So if anybody sees coach Few later on, if they want to return that monkey, it's in our locker room for him.
"That was some funny stuff he had the other day."
Funny stuff, too, this Final Four obsession.
Make no mistake – the Zags are obsessed, too, or at least became so once they outwrestled West Virginia on Thursday to earn Saturday's opportunity.
"Our eyes are on the next 40 minutes," said assistant coach Tommy Lloyd, "not on what it's going to mean to everybody."
It's a nuanced thing, a program desperately aspiring to win a national championship and thus polishing off the prerequisites, and yet deflecting the idea that doing just that is necessary validation. Or maybe not so nuanced.
The Zags care. They just don't care about somebody's black-and-white valuations.
"I don't feel we have to get to a Final Four or Gonzaga's not an elite program if we don't," said guard Nigel Williams-Goss. "I just want to get to it. I think our coach deserves to have it on his resume."
It is true that the Bulldogs are in their 19th straight NCAA and that the furthest they've advanced is this round, three times. To the cynics, that level of consistency means only that They Should Have Won It by Now, regardless of seed and pedigree. Every tournament loss is defined as a choke.
Even with two Elite Eight appearances in three years, the 2018 season won't be a game old before someone tweets that Gonzaga "always flames out early."
Few and the Zags are not alone. After being eliminated by Xavier, Arizona coach Sean Miller was the Internet's dartboard for once again not getting a program that's probably 1B to UCLA's 1A in Pac-10/12 history to the Final Four. He's had eight cracks at it, after all.
It comes with the territory. Lots of coaching greats – Bill Self, Jim Calhoun, Dean Smith – had extended tenures before reaching the Final Four or winning it all. And they ran blueblood programs. Despite their early NCAA successes, it was only a decade ago that Gonzaga became truly worthy of expectation, and the Zags have played beyond their seed as often as they've come up short.
"Every team you have isn't Final Four level," said Lloyd. "I'd probably have to sit down with a six pack of PBR to figure it out, but in the 18 years I've been here maybe there were five or six teams that were Final Four capable.
"But people want things quantifiable. It's easy. It resonates."
As it would this year.
"I want it, desperately want it for this group of guys," Few said Friday. "I desperately want it for everybody who has played at Gonzaga.
"But my legacy is going to be about other things, as far as I'm concerned."
And not monkey business.
Local journalism is essential.
Give directly to The Spokesman-Review's Northwest Passages community forums series -- which helps to offset the costs of several reporter and editor positions at the newspaper -- by using the easy options below. Gifts processed in this system are not tax deductible, but are predominately used to help meet the local financial requirements needed to receive national matching-grant funds.
Follow along with the Zags
Subscribe to our Gonzaga Basketball newsletter to stay up with the latest news.
---