Child care costs rivaling the price of a college degree put Spokane parents in a pinch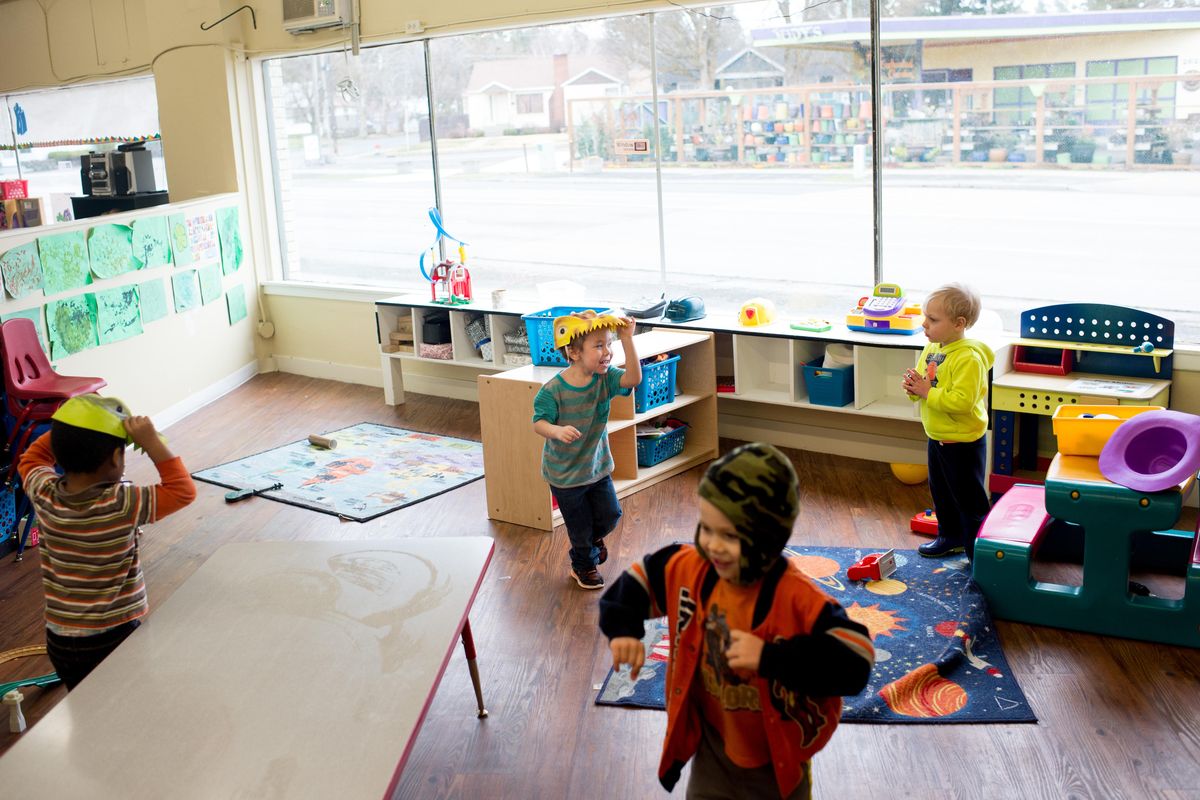 When Kristin DeVleming's daughter was a preschooler, full-time child care was a significant hit to the family's budget.
Each month, DeVleming wrote a check for about $800. The annual bill: Just under $10,000.
"By the time she graduated from preschool, we had paid for a college education," said DeVleming, a Spokane Valley resident whose daughter, Audrey, is now a first-grader.
Most working families find themselves in the same situation. High-quality, state-licensed child care can rival or top the cost of mortgage payments, or – as DeVleming found – a four-year degree at a public university.
Last year, the median cost of full-time child care for an infant in Spokane County was $10,188, according to Child Care Aware of Washington, a nonprofit advocacy group. For a toddler, it was $8,664, and for a preschooler, $7,800.
But those figures already are outdated. At many local child care centers, rates went up after Washington's minimum wage rose to $11 per hour on Jan. 1.
Higher labor costs are rippling through the industry, and the trend will continue. Under Washington's Initiative 1433, passed in November by voters, the state's minimum wage will climb to $13.50 per hour by 2020.
While the higher minimum wage benefits child care workers – traditionally a low-paid field – both families and child care centers are feeling the squeeze.
Providing quality, full-time care now costs an average of about $1,000 per month for children preschool age and younger. That's according to an informal survey of 20 child care centers in Spokane County, done by owners earlier this year.
Some centers have reduced their staff or cut employees' hours. But operators said there is only so much they can cut back on. Minimum staffing levels and the number of children in each center are dictated by state regulations.
"We're not in a business where we can produce more widgets or sell more hamburgers," said Josh Goodley, who owns two child care centers in Spokane County. "We have a certain number of children we can care for, which is regulated by the fire marshal and the state Department of Early Learning."
'We're at a tipping point'
The higher minimum wage is hardest on centers accepting children from families who receive state child care subsidies. Though labor costs went up, the subsidies – already about 30 percent below market rates in Spokane County – didn't increase.
"The subsidies have been low for a long time," said Robin Lester, chief executive for Child Care Aware of Washington. "Now, the minimum wage has increased, and we're at a tipping point."
Ross Hunter, the state Department of Early Learning's director, echoes her concerns.
"Our (subsidy) rates have to keep up," Hunter said. If they don't, some centers will close because they're losing money, he said. Others will shift "the added cost onto middle-class families, or be forced to not serve our most at-risk kids," he said.
About 60 percent of child care centers in Spokane County accept kids from families who receive state subsides. That means the majority of the community's child care infrastructure is under financial strain and at risk, operators say.
Goodley's two child care centers offer an illustration.
At Stepping Stone Christian School in Liberty Lake, families pay the market rate for child care. Most of the staff already were earning $11 an hour. While the higher minimum wage had a negligible effect on the center's rates this year, it will in the future as the minimum wage continues to rise to $13.50 per hour, Goodley said.
At his other operation, Little Rascals Children's Center in northwest Spokane, 85 percent of the students are from families who receive state subsidies. After the minimum wage increase, Goodley laid off three workers at Little Rascals and cut the hours of the remaining staff.
Little Rascals still provides great care, he said. But the center cut out extras aimed at enriching the early learning environment for low-income students.
"We want to pay our teachers more. We pay them as much as we can afford," he said. "I don't draw a salary from Little Rascals. We're just trying to break even every month."
Seeking higher subsidies
Earlier this year, Goodley and other child care operators were in Olympia to talk to state legislators about their dilemma.
Gov. Jay Inslee has proposed an $18.9 million increase in child care subsidies in his 2018-19 budget. The amount was intended to bring subsidies closer to market rates, but the figures are based on rates before the $11 per hour minimum wage took effect, according to the Department of Early Learning.
After accounting for the higher minimum wage, another $7.3 million would be needed to approach current market rates, a department analysis said.
Local legislators say they're aware of the subsidy shortfall. Both Sen. Andy Billig, D-Spokane, and Rep. Bob McCaslin Jr., R-Spokane Valley, said they support higher subsidy rates.
"We know early learning is incredibly important for the success of children in school and in life," Billig said.
But how much money lawmakers will allocate for higher subsidies this year remains to be seen. Legislators are facing a number of big-ticket budget items, including increases for K-12 education and mental health treatment. The Senate's budget allocates a smaller increase for subsidies than the governor's request.
"I think the lawmakers understand there's a problem," Goodley said. "But I don't think they understand the gravity of the problem."
More than 10,000 Spokane County children are in state-licensed child care. The state of child care affects employers and the productivity of the economy as well as families, said Debbie Henry, owner of Children's Montessori Center in Spokane Valley.
Business leaders should be paying attention, she said.
'So much rides on my being able to work'
In the mid-afternoon, Little Rascals Children's Center is a busy place. Toddlers are waking up from their naps. Preschoolers are listing things they're thankful for before their afternoon snack.
Amaelia Vann has been bringing her two sons here for two years. She and her husband, Cory, qualify for state-subsidized child care.
If the center closed, "it would take our whole world and put it in a blender," Amaelia Vann said. "So much rides on my being able to work a full, 40-hour week."
She works as a pharmacy technician. Her husband was left disabled from a car wreck three years ago. Cory Vann's injuries prevent him from caring for their sons full-time. The couple don't have family nearby who could take over child care.
Both of her boys are thriving at Little Rascals, Vann said. Her oldest son, 12-year-old Michael, is on the autism spectrum. He benefits from the structure and routine of being at the center after school.
Her younger son, 3-year-old Leium, is developing social skills and kindergarten readiness through Little Rascals' preschool program.
"He likes it. He says it's his school," Vann said.
If Little Rascals closed, Vann worries about finding another center that would accept her subsidized payment.
State officials worry about that, too. If families don't have options, they'll be pushed into unlicensed child care arrangements and potentially unsafe situations, Hunter said.
---