News > Spokane
New tax on sodas could be Spokane City Council's answer to police staffing woes
March 24, 2017 Updated Fri., March 24, 2017 at 10:41 p.m.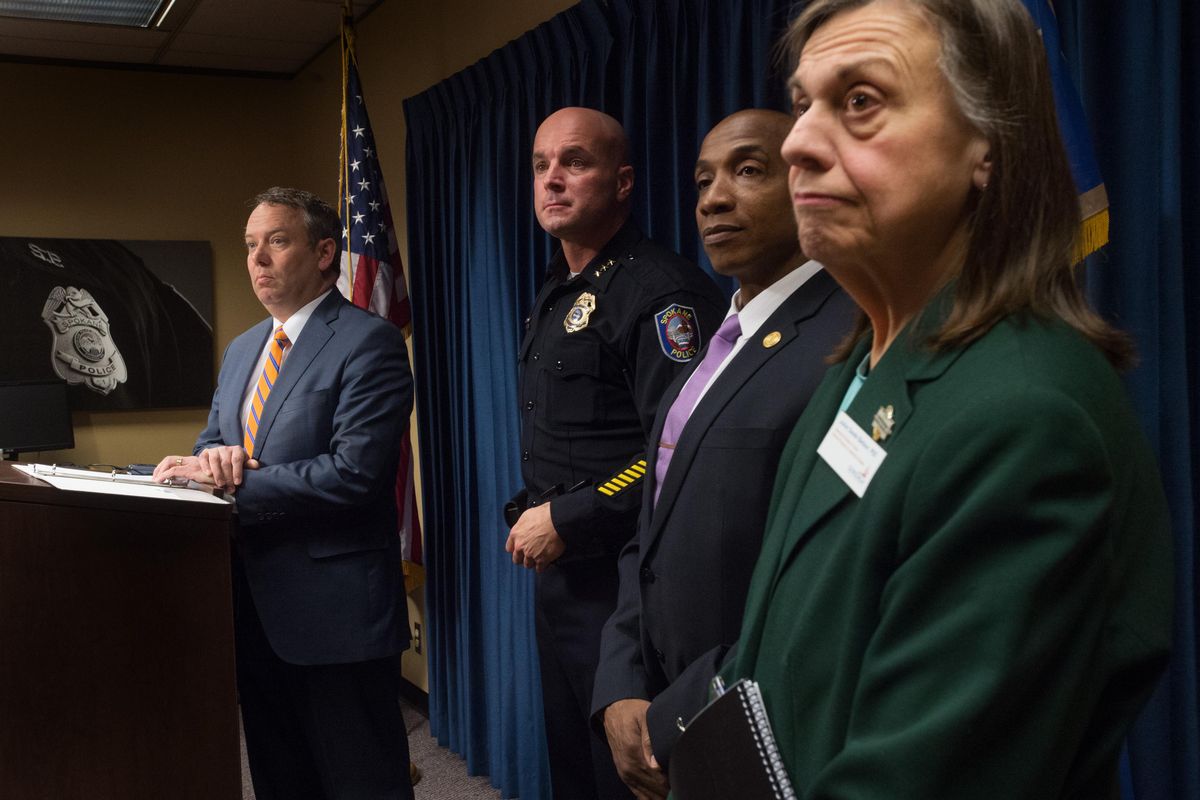 From left, Mayor David Condon, Spokane police Chief Craig Meidl, NAACP President Phillip Tyler and Gonzaga's JoAnn Danelo Barbour – who helped author the report – field questions from the media during a news conference discussing the results of a Spokane Police Department-wide culture audit on Friday, March 24, 2017, at the Public Safety Building in Spokane, Wash. (Tyler Tjomsland / The Spokesman-Review)
The call by Spokane police officers to add to their ranks could lead City Council members to ask for a tax on soda pop.
"I don't think anyone believes there's money in the current budget that can really do the type of hiring these studies are going to call for," said City Councilman Breean Beggs, who's been suggesting the idea at the request of his South Hill district to pay for more patrol officers in the city.
The request for more hires came in writing from the department this week, following the release of an audit in which many police personnel said they felt overworked and understaffed.
Mayor David Condon said Friday that the city has worked toward full staffing in the department, which has been made difficult by the increasing demands of the job.
"We're incrementally getting there," Condon said. "The work of our officers is substantively different than it was even a handful of years ago, and the spectrum of work that they do."
The City Council, in a letter scheduled for discussion at City Hall on Monday, has asked Condon to add commissioned officers to the force to keep up with population growth as part of ongoing negotiations with the Spokane Police Guild.
City Councilman Mike Fagan called a new tax, including one on sugary drinks, "a last resort" for funding new law enforcement positions.
"I would not even think about using that report to see about doing a bond measure, any kind of a tax measure, to give the Police Department additional money" until the release of the staffing report, expected in the next few weeks, Fagan said.
Condon said the department has added 29 new officers in the past several years, including four neighborhood resource officers in this year's budget paid for through traffic infractions caught on cameras near schools. FBI statistics show the number of officers in the department has risen from 280 in 2013 to 309 in 2015.
"We've made huge strides, and very difficult decisions with scarce resources," Condon said. The mayor said the city has begun a hire-ahead program in an effort to add officers to keep up with attrition in the ranks.
Several officers, on condition of anonymity, told a team of Gonzaga University researchers the city hasn't gone far enough to ensure adequate staffing levels, leading to decreased morale and the inability to follow up on investigations important to the community, including property crime. JoAnn Danelo Barbour, the Gonzaga professor leading the study, said Friday that her most immediate response to the audit would be to hire more officers, based on her team's observations.
"I would definitely improve staffing, add police officers and add civilian workers," Barbour said.
Spokane police Chief Craig Meidl commended officers for their candor in interviews with the Gonzaga graduate research assistants, a team of nine doctoral candidates ranging in age from around 30 to 60, according to a team member.
"I felt like the officers really wore their hearts on their sleeves," Meidl said.
One of those officers laid the blame for decreased staffing at the feet of the City Council, who they blamed for "working us to death." According to city salary data, Spokane police personnel accrued $3.3 million in overtime pay last year. That figure fell for the third year in a row, from $3.8 million in 2015 and $4.1 million in 2014.
City Council members contacted Friday offered mixed opinions on whether tax increases should be floated to pay for more officers.
"We need to make the most of our existing budget before we look at any new revenue," said Councilwoman Candace Mumm.
Councilwoman Lori Kinnear said she's heard suggestions that the way to fund additional police services is to cut positions at City Hall, but she wasn't sure there was enough to pay the needed salaries.
"Through the budget process, working closely with (City Administrator) Theresa Sanders, we're pretty darn lean," Kinnear said. "We're staffed appropriately in many departments. Some could be staffed more, such as the Police Department. But there aren't too many other places to cut."
Councilwoman Karen Stratton, who has butted heads with Condon on the hiring of "exempt" positions to lead departments at City Hall, said she believed there were places to cut but also said a public safety bond issue might be necessary.
"If we truly believe in community policing, we should have more police officers in this community," Stratton said. "We've been dealing with this for so many years."
Council President Ben Stuckart said he believed the department needed about 30 more officers, based on his discussions with police and in observing their work. Spokane voters should be asked whether to support or reject a tax that would pay for those officers, he said.
"I really think, at some point, we've got to let the citizens weigh in," Stuckart said.
That could include a tax on sugary sodas, Stuckart said.
Packaged with a tax on candy and bottled water at the state level in 2010, Spokane County voters overwhelmingly rejected imposing a pop tax, with 60 percent of ballots cast to overturn the duty levied by state legislators on carbonated drinks.
Beggs said a ballot measure in Spokane would be different, taxing pop instead of all carbonated beverages.
"The money would pay for the police that people want, and potentially some other things that would lower crime, like mental health treatment," Beggs said.
No proposal is on the table, Beggs said, and likely wouldn't come until after the city receives the police staffing report and can examine how many additional officers might be needed.
Phil Tyler, president of the Spokane chapter of the NAACP, said the community should also be brought in to discuss the findings of the cultural audit. Barbour said the limitations of available researchers and the time necessary to draw conclusions kept her team from speaking with community members as part of the study, though representatives of different citizen groups met before the study began to guide the team's efforts.
"We've measured the department, but as yet, not the community," Tyler said. "This is, however, a foundation point."
Meidl said representatives from the Justice Department, who proposed the cultural audit in their recommendations to Spokane released in December 2014, will be in town next month to develop a way to gauge the public's perceptions of the department.
"That's where we really anticipate we're going to get that feedback from the community," Meidl said.
Local journalism is essential.
Give directly to The Spokesman-Review's Northwest Passages community forums series -- which helps to offset the costs of several reporter and editor positions at the newspaper -- by using the easy options below. Gifts processed in this system are not tax deductible, but are predominately used to help meet the local financial requirements needed to receive national matching-grant funds.
Subscribe now to get breaking news alerts in your email inbox
Get breaking news delivered to your inbox as it happens.
---