News > Spokane
Spokane Valley man uses experience to coach incoming inmates how to cope with prison and accountability
March 28, 2017 Updated Thu., March 30, 2017 at 9:28 a.m.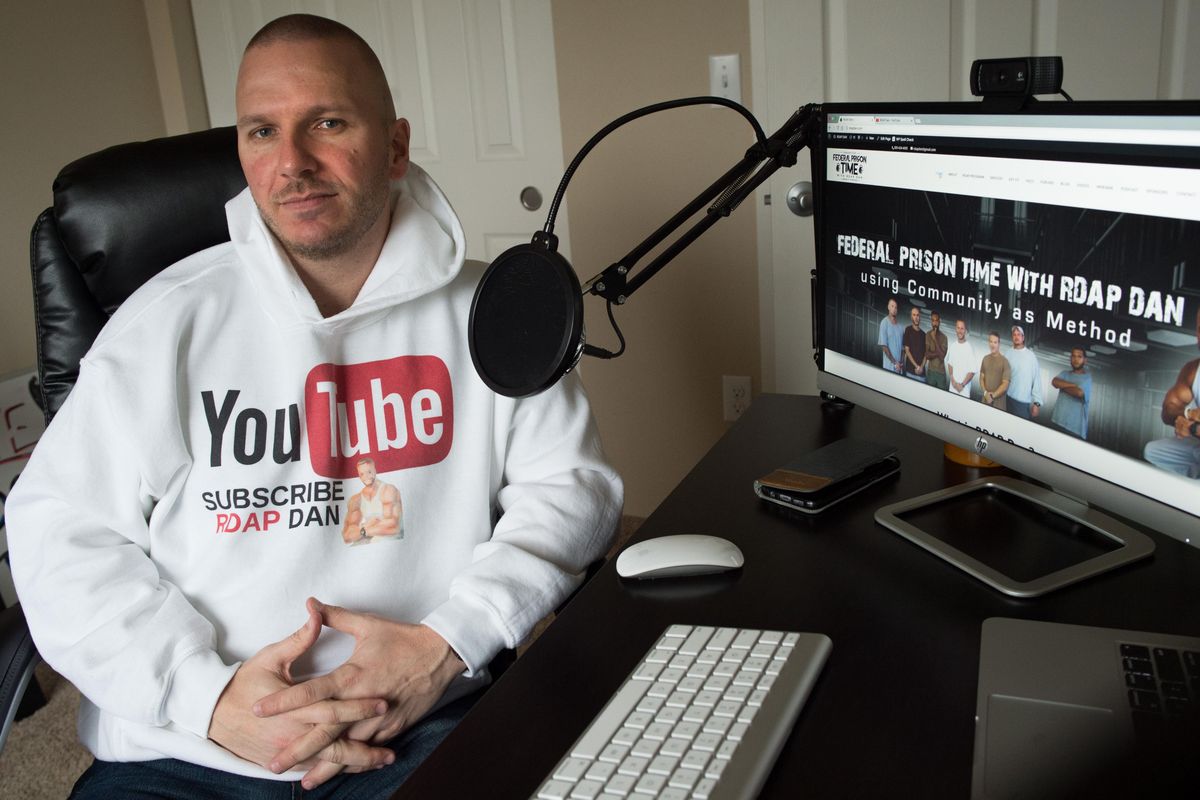 Daniel Wise poses for a photo March 15 in his home studio where he makes YouTube videos in which he coaches soon-to-be prisoners on what to expect while they're serving time at his home in Spokane Valley. (Tyler Tjomsland / The Spokesman-Review)
Daniel Wise had never been to prison when he was sentenced to 43 months on federal drug charges.
The 35-year-old, then a Florida resident, pleaded guilty in 2014 to conspiracy to distribute drugs for his role managing a pill mill pain clinic in Georgia. At the time, he didn't think he'd done anything wrong, but took a plea to avoid the risk of a 20-year prison sentence he'd face if a jury found him guilty.
Three days before his sentence started, Wise pointed a camera at himself and uploaded a 22-minute video to YouTube talking about his crime, plea deal and what he was expecting inside.
"I'm not looking forward to going to prison but at the same time I'm looking forward to taking the next step to getting this behind me," he said. He invited people to contact him if they had questions about life in prison.
"Really the hardest thing is saying goodbye to friends and family, my children," he said, before tearing up as he talked about leaving his 13-year-old blind dog, Kiki.
Wise, who now lives in Spokane Valley, spent 12 months in prison and another 11 at a halfway house. When he got out, he discovered his video had picked up thousands of views and comments from other people who were facing federal sentences and didn't know what to expect. Many had questions about life on the inside or how to prepare for a sentence.
Surprised by the response, Wise began answering questions and continued uploading videos. Over time, he found himself part of a small niche profession: federal prison consultants.
The job title may make some roll their eyes. Consultants, who are usually former federal prison inmates, sometimes charge thousands of dollars for services that include answering questions about prison life and helping with reference letters and other tactics to get people time off their sentences.
Many target white collar criminals who have little or no experience with the criminal justice system. Wise said some use fear tactics to sell their services, implying that soon-to-be inmates will be raped or assaulted once behind bars unless they follow the consultant's advice.
Wise takes a different approach. His YouTube channel is free and answers most basic questions for inmates and their families. How does shower time work? What's the difference between a low-security prison and a camp? Other consultants have criticized him, saying he's giving away trade secrets for free, but he scoffs at that idea.
"There's no secret sauce," he said.
Instead, his focus is on accountability: helping people understand why what they did was wrong and how to communicate with loved ones about their upcoming sentences. For Todd Hanson, a Florida man who was sentenced last week to just over eight years in prison as part of an insurance fraud scheme, Wise's help has made him take responsibility for his crime and prepare mentally for time in prison.
"He definitely has no problem interrogating you and really getting to the deep-down stuff that you really don't want to talk about," he said.
When Hanson got in touch with Wise, he'd already worked with other consultants who had charged tens of thousands of dollars without helping him much. Hanson, who was part of a scheme that earned $175 million from fraudulent insurance claims, still didn't believe he'd done anything wrong.
"I was still trying to shift the blame to others. Daniel helped with that, really digging in," Hanson said.
Wise also has provided emotional support, checking in with Hanson nearly every day to see how he's doing on his restitution.
"I've called that guy at 2 a.m. thinking about putting a bullet in my head," Hanson said. Wise always has talked him down.
Hanson took a plea deal and was supposed to receive a sentence of more than 17 years. At sentencing, his judge, who's notoriously tough, spoke about how Hanson has done more than 1,400 community service hours and taken responsibility for his crimes since he was indicted.
Then, he gave Hanson the much shorter sentence.
Hanson credits that to Wise's work.
"At the end of the day, not only did I get a much more lenient sentence than I ever would have gotten without him. I feel like at the end of the day he made me be a better person," Hanson said.
Like many consultants, Wise helps people get character references from loved ones before sentencing, but he encourages family and friends to be honest.
Most people write a standard letter about how the soon-to-be inmate didn't mean to hurt anyone or do anything wrong. Judges have heard it all before, Wise said. He tried to get people to open up and write about how their loved ones have hurt them and what makes them good people, showing judges that the offenders will be held accountable to their communities.
"Getting people to be honest with themselves brings relationships closer," he said.
For paying clients, Wise charges a flat $1,495 fee, which includes support for the inmate and their family during the sentence and after. He can help clients write letters before sentencing and advocate for additional halfway house time, but his niche is the Residential Drug Abuse Program, or RDAP. Offered in most federal prisons, the program can get inmates a year off their sentence. Wise went through the program and credits it with changing his life.
On his website and YouTube channel, Wise goes by the name RDAP Dan.
Before prison, Wise was a moderate to heavy drinker and smoked marijuana regularly. He still drinks occasionally now and doesn't believe substance abuse was his main problem, but said the program helped him by promoting accountability and forcing him to do critical self-reflection. It includes cognitive behavioral therapy and work on making positive choices.
The work in RDAP forced him to recognize that what the pain clinic was doing was wrong.
"Clearly, I had to look the opposite direction a lot of times," he said. He used to think of it as a victimless crime, but realized now many of the people he helped give prescriptions to were probably going home and selling drugs, getting others addicted.
Through the program, he worked to become less impulsive and manipulative, he said. He doesn't see those as permanent changes, but as gains he has to consciously work toward maintaining.
Hanson said he's accepted his sentence and plans to use his time to better himself and keep learning. He knows hiring a consultant like Wise might seem like an odd choice to someone else, but he said Wise's consulting has helped him start down the path of turning his life around.
"You're so terrified of the consequences you're facing, and you have such underlying guilt and shame that you hate yourself. By him holding you so accountable … it pulls me out of the guilt and shame so that I don't get paralyzed by it so I can move forward," he said.
Through talking to other families who are dealing with a loved one in prison, Hanson has gotten a better understanding of how many people he's hurt.
"I haven't all of a sudden turned the corner or found God but I definitely know what I did now," Hanson said. "I know the victims that I created and I'm still a bad guy, but I'm at least each day trying to be just a little bit better."
This story has been updated to correct the crime Todd Hanson was sentenced for.
Local journalism is essential.
Give directly to The Spokesman-Review's Northwest Passages community forums series -- which helps to offset the costs of several reporter and editor positions at the newspaper -- by using the easy options below. Gifts processed in this system are not tax deductible, but are predominately used to help meet the local financial requirements needed to receive national matching-grant funds.
Subscribe now to get breaking news alerts in your email inbox
Get breaking news delivered to your inbox as it happens.
---