News > Washington
WSU considers selling land to build 'village' of housing, shopping developments on Pullman campus
Tue., March 28, 2017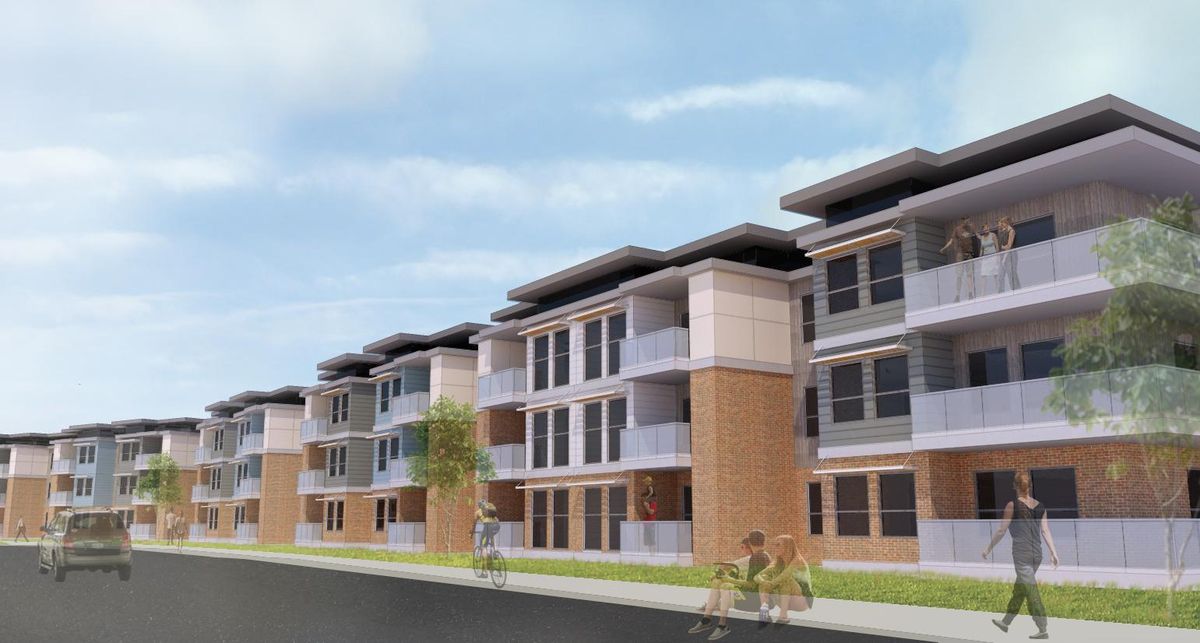 This artist's rendering shows a three-story apartment building that a private developer plans to build as part of a "village" on the Washington State University campus in Pullman. (Corporate Pointe Developers)
Washington State University is working with a private developer to build a "village" of apartments, condos, townhouses, retail stores and dining options on the Pullman campus just west of the Palouse Ridge Golf Course.
The WSU regents on Thursday heard an update on negotiations with Corporate Pointe Developers, a company responsible for many large projects in Pullman, including nine apartment complexes and a movie theater.
WSU says Corporate Pointe was the only company to bid on the project near the golf course when it was proposed about a year ago. The company's founder and president, Duane Brelsford Jr., is a 1981 WSU alum and frequent donor to the university. The Brelsford name appears on the school's visitor center and on a portion of the football stadium.
The mixed-use development would be situated on a triangular 20-acre parcel on the southeast corner of Terre View Drive and Fairway Road, across from a Marriott hotel and the student recreation center.
In an interview Thursday, Brelsford said the development would include up to 40,000 square feet of ground-floor commercial space with three floors of apartments above, and "wings" of additional apartments stretching along both streets.
Behind the apartments, there would be two rows of duplex townhouses totaling more than 100 units. Behind those would be three buildings of stacked condominiums.
All three housing options will be in a slightly higher price range than others located near campus, Brelsford said. The "village" development will be clad in crimson and gray and marketed specifically toward WSU alumni.
"We think what we're doing there is one of the best possible uses for that property," he said. "It's currently underutilized."
Compared to the aging and tightly packed housing projects on College Hill, the area northeast of the campus core is sparsely developed. Brelsford called it "one of the last real avenues" that the university has for expansion.
The university plans to grant Corporate Pointe a 35-year lease for most of the land, with options for two 30-year renewals. For the condos, however, Brelsford insisted on purchasing 9.5 acres.
"People aren't going to want to buy their condo, put all their money into it and then have leased land underneath them," he said.
The regents' meeting documents indicate that the sale and lease prices must meet or exceed values set by an independent appraiser. Corporate Pointe also would be responsible for relocating WSU's turf research farm and a city bus transfer station that sit on the property.
Brelsford declined to estimate how much the development would cost but said he expects the regents will give their "final blessing" in May. The turf farm and bus station will be moved in the summer, and the first phase of construction should begin in about a year, he said.
It's not the first time Brelsford has purchased land from WSU.
In the mid-1990s, he bought about 10 acres from the university to build what later became several adjacent apartment complexes. The land just north of campus previously had horse stables used for research.
Corporate Pointe also is building an 800-bed student housing complex on leased land on WSU's Tri-Cities campus.
Local journalism is essential.
Give directly to The Spokesman-Review's Northwest Passages community forums series -- which helps to offset the costs of several reporter and editor positions at the newspaper -- by using the easy options below. Gifts processed in this system are not tax deductible, but are predominately used to help meet the local financial requirements needed to receive national matching-grant funds.
Subscribe now to get breaking news alerts in your email inbox
Get breaking news delivered to your inbox as it happens.
---