News > Health
John Webster: Death rates among uneducated whites on the rise due to 'despair'
UPDATED: Wed., March 29, 2017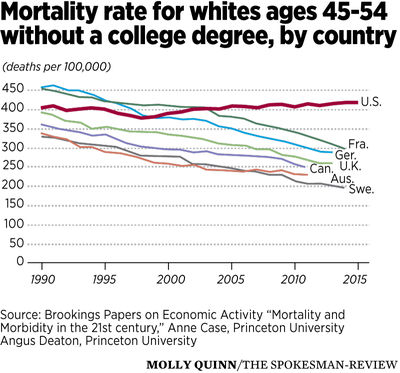 Trump country dodged a bullet last week – a bullet fired by the Republicans elected to represent it.
From Eastern Washington to Appalachia, the people of Trump country are dying – at an extraordinary rate, according to a new research paper from Princeton University.
Who are these victims? And why are they dying?
The victims are whites who did not attend college. This is a group, according to studies of the 2016 election, that sided strongly with President Donald Trump.
The reason for the worsening mortality, according to the research, is "despair" – manifested in abnormally high rates of suicide, opioid overdoses and alcohol-related liver disease.
The Princeton research emerged in the same week Trump and the Republican Congress tried unsuccessfully to do away with Obamacare's requirement that health insurance cover mental health care and treatment for substance abuse.
According to the Princeton study, the dramatically worsening death rate is not occurring among poorly educated whites in Europe – where health care is considered a human right, guaranteed by the government. It isn't occurring among Americans who've attended college. And it isn't occurring among African-Americans.
"It's as if poorly educated whites have now taken over from blacks as the lowest rung of society in terms of mortality rates," said Angus Deaton, one of the study's authors, in an interview with National Public Radio.
Deaton and co-author Anne Case call the worsening death rate, for this one group, "extraordinary." Since the 1930s, they write, mortality rates in general have been improving, thanks to widespread social progress including numerous advances in medical care and the decline in smoking.
So why would the opposite be happening, among white Americans who never attended college?
Some of the most convincing research, the Princeton professors write, points to "the steady deterioration in job opportunities for people with low education."
Automation and globalization are among the reasons, their study says, for the loss of opportunity.
After the early 1970s when working class wages peaked, changes in U.S. culture and economics "made life more difficult for less-educated people, not only in their employment opportunities, but in their marriages, and in the lives of and prospects for their children.
"Traditional structures of social and economic support slowly weakened; no longer was it possible for a man to follow his father and grandfather into a manufacturing job, or to join the union. Marriage was no longer the only way to form intimate partnerships, or to rear children. People moved away from the security of legacy religions or the churches of their parents and grandparents … These changes left people with less structure when they came to choose their careers, their religion and the nature of their family lives."
"More men lose regular contact with their children, which is bad for them, and bad for the children, many of whom live with several men in childhood. Some of a woman's partners may be unsuitable as fathers, and those who are suitable bring renewed loss to children when they leave in turn. Importantly, this behavior is more common among white women than among Hispanics or African Americans," the study says.
Exploding obesity adds diabetes, heart disease and joint disorders to the social despair.
Among white men who have withdrawn from the labor force, half are taking pain medication and two thirds take prescription painkillers such as opioids, often funded by Medicaid, the study says. "Yet it is not only the government that is complicit. Doctors bear some responsibility for their willingness to over prescribe drugs."
"We should note that the main beneficiaries of the opioids are not those who are addicted or who are dying from overdoses, but rather the pharmaceutical companies who have promoted their sales … Purdue Pharmaceutical had earned $31 billion from sales of OxyContin as of mid-2016," the authors write.
Combined, the authors say, these issues amount to a "recipe for suicide" for poorly educated whites.
With Medicaid, Medicare and Obamacare still intact for now, there remains a hope that medical care for the struggling might survive the political climate that prevails in Washington, D.C.
But history's final chapters have yet to be written for the brand of politics that cuts taxes for the gilded rich and attacks the government's safety nets. Pope Francis, perhaps the world's leading critic of this Darwinian mindset, offered a first draft for history's verdict when he said this:
"We live in cities that build skyscrapers and shopping centers and strike big real estate deals. But they abandon a part of themselves on the margins, on the outskirts. As a result, huge sections of the population are excluded and marginalized: without a job, without options, with no way out. ….
"The way to overcome the uncertainty and isolation … is through legislation which protects and guarantees the bare necessities of life so that every home and every person can develop through education and dignified employment."
John Webster, The Spokesman-Review's editorial operations director, is filling in for columnist Shawn Vestal, who is on vacation.
Local journalism is essential.
Give directly to The Spokesman-Review's Northwest Passages community forums series -- which helps to offset the costs of several reporter and editor positions at the newspaper -- by using the easy options below. Gifts processed in this system are not tax deductible, but are predominately used to help meet the local financial requirements needed to receive national matching-grant funds.
Subscribe to the Coronavirus newsletter
Get the day's latest Coronavirus news delivered to your inbox by subscribing to our newsletter.
---