News > Spokane
Przemek Karnowski's biggest fan wished him luck on his way to the Final Four
March 29, 2017 Updated Wed., March 29, 2017 at 7:03 p.m.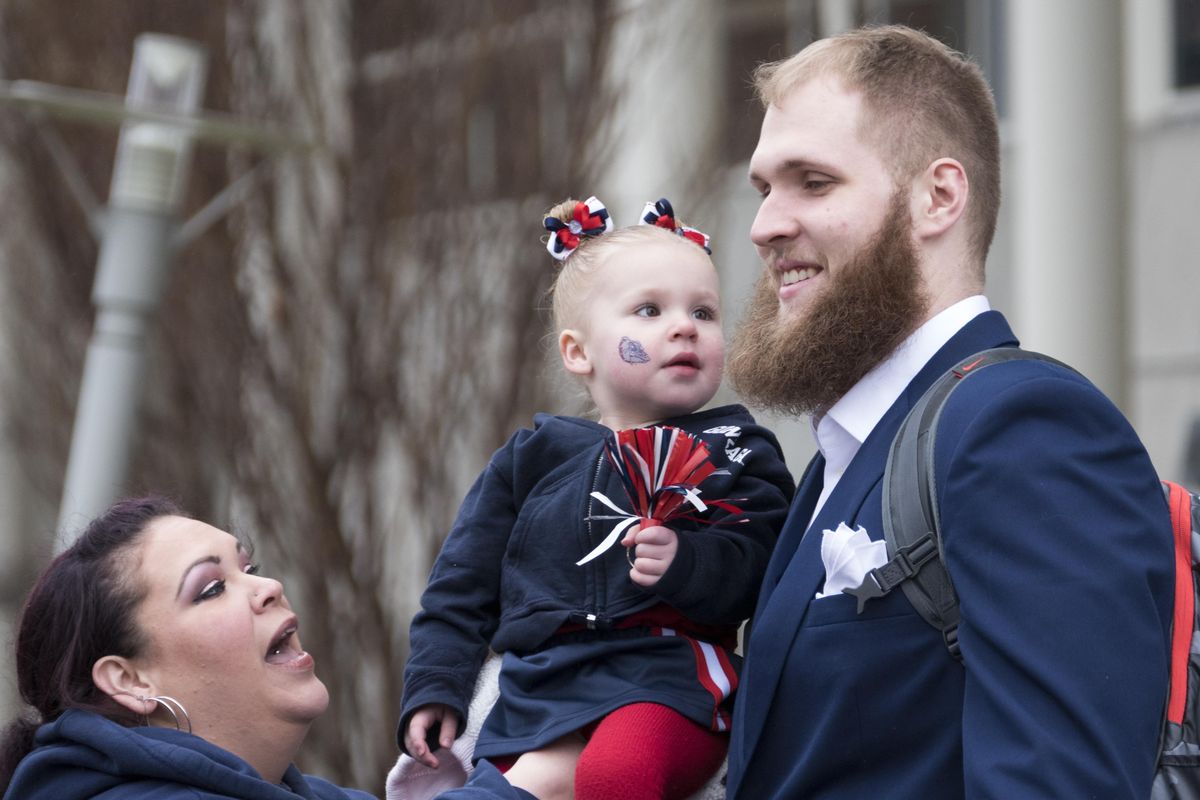 Megan Stokes holds her toddler, Emmalynn Stokes, up for a photo with her favorite Gonzaga Bulldog player, Przemek Karnowski, at Gonzaga University as the team walks to the bus to take them to the airport for their flight to Phoenix on Wednesday, March 29, 2017. (Jesse Tinsley / The Spokesman-Review)
Emmalynn Stokes will turn 2 next month, but she already got her birthday present.
Her mother, Megan Stokes, said her daughter is a huge fan of Gonzaga University basketball player Przemek Karnowski, so much so that they came out in the rain Wednesday to see the basketball team off to their Final Four game in Phoenix.
The family has been Gonzaga basketball fans since Stokes' father attended the school. While Karnowski is her daughter's favorite, she favors Josh Perkins.
"I thought she would inherit that, but she didn't," Stokes said.
As they stood, watching and cheering, Karnowski walked over to say hello to his fans. He posed for a picture with little Emmalynn, who stared at him in wonder. Cameras snapped, preserving the moment.
Other players also posed for pictures and exchanged fist bumps with fans as they walked to the buses that would take them to the airport. It was a low-key crowd of fewer than 50 people who waited in the cold and the rain, but they still cheered and shouted encouragement to the players.
"Let it fly, Josh, let it fly," one man shouted as Perkins walked by.
Jen Wasley brought her kids down to see the team off. "We're just so excited for them," she said. "We wanted to show our support. I wish we could show our support in Phoenix."
While her 11-year-old son Kyler unhesitatingly picked Karnowski as his favorite player, Wasley waffled.
"I have many favorites," she said. "I'm just so happy and excited for them all. It's hard to pick just one."
The bus honked its horn as it pulled away, and the crowd responded with waves and cheers.
Local journalism is essential.
Give directly to The Spokesman-Review's Northwest Passages community forums series -- which helps to offset the costs of several reporter and editor positions at the newspaper -- by using the easy options below. Gifts processed in this system are not tax deductible, but are predominately used to help meet the local financial requirements needed to receive national matching-grant funds.
Subscribe now to get breaking news alerts in your email inbox
Get breaking news delivered to your inbox as it happens.
---