A&E > Stage
Tried-and-true comedy 'Noises Off' opens at Civic
March 30, 2017 Updated Thu., March 30, 2017 at 12:50 p.m.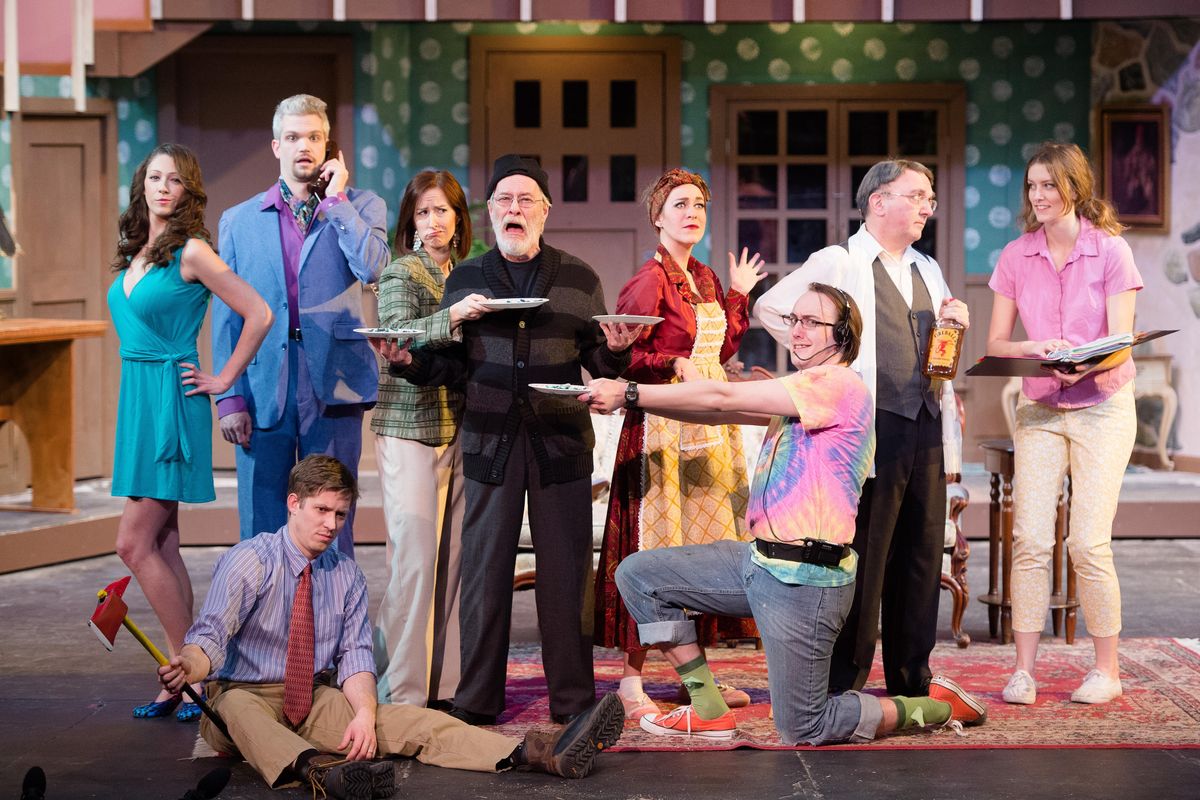 The cast of "Noises Off!" pose for a photo on Monday, March 27, 2017, at the Spokane Civic Theatre in Spokane. (Photos by Tyler Tjomsland / TYLER TJOMSLAND The Spokesman-Review)
It's not every production that Spokane Civic Theatre Artistic Director Lenny Bart suggests audience members "wear (their) Depends," but a show like "Noises Off" calls for such a precaution.
"Some of the laughing may bring results you're not prepared for otherwise," he said.
The Michael Frayn farce opens Friday at Spokane Civic Theatre.
"Noises Off" follows a theater company as it tries to get its production of the farcical "Nothing On" off the ground.
Act One finds the cast at rehearsal the night before the opening performance, struggling with everything from entrances and exits and missed lines to which props to use when, all of which nearly drives director Lloyd Dallas (Jerry Sciarrio) to his breaking point.
Act Two jumps the story ahead one month, to a matinee performance of "Nothing On." It's here that the audience sees just how dysfunctional the cast is.
Dallas is involved in a love triangle with the emotional assistant stage manager Poppy Norton-Taylor (Mikyla Bordner) and actress Brooke Ashton (Rushele Herrmann), who vows to perform her role as written, no matter the chaos around her.
"Nothing On" star Dotty Otley (Audrie Pursch) is in a relationship with the much younger actor Garry Lejeune (Jack Fogarty), who stutters his way through conversations unless it's dialogue from the play, and veteran actor Selsdon Mowbray (Gary Pierce) has a drinking problem that keeps the stage crew on its toes.
Completing the cast are Kyle Ross as the well-meaning but dim-witted Fredrick Fellowes, Laticia Brannon as Belinda Blair, a reliable actress who can sometimes be a gossip, and Samuel Peters as Tim Allgood, the overworked stage manager.
In the final act, tensions are high as the company approaches the end of the run of "Nothing On." Things on- and offstage go even further downhill, leaving cast members to do what they can to make it to curtain call.
Bart understands how following two storylines, those of "Nothing On" and "Noises Off," can hint at a confusing experience, as the cast and crew themselves can get caught up in the back and forth.
"It certainly is a very convoluted piece for an actor first trying to get it and be able to pop in and out of the character that they're playing and then the character that that character plays in the show within the show," he said.
But Bart said the audience can rest assured that everything will be clear under the guidance of director Bill Marlowe.
"His experience and ability to handle challenging material is fantastic," Bart said. "He's putting together a really fine product for our patrons."
Since its 1982 debut, "Noises Off" has been performed numerous times both stateside and in Frayn's native England and has garnered multiple awards and nominations for each successive revival.
The play is such a popular production because it appeals to both theaters and theater-goers. Playing two roles in one show is an interesting challenge for performers to tackle, and, as Bart said, "Noises Off" is a tried-and-true comedy.
"If you're going to see one show this year and you like to laugh, this is the show to come to," he said.
Just don't forget your Depends.
Local journalism is essential.
Give directly to The Spokesman-Review's Northwest Passages community forums series -- which helps to offset the costs of several reporter and editor positions at the newspaper -- by using the easy options below. Gifts processed in this system are not tax deductible, but are predominately used to help meet the local financial requirements needed to receive national matching-grant funds.
Subscribe to the Spokane7 email newsletter
Get the day's top entertainment headlines delivered to your inbox every morning.
---