News > Spokane
Zags put Spokane in the national spotlight as ESPN crew will film fans and the city
Thu., March 30, 2017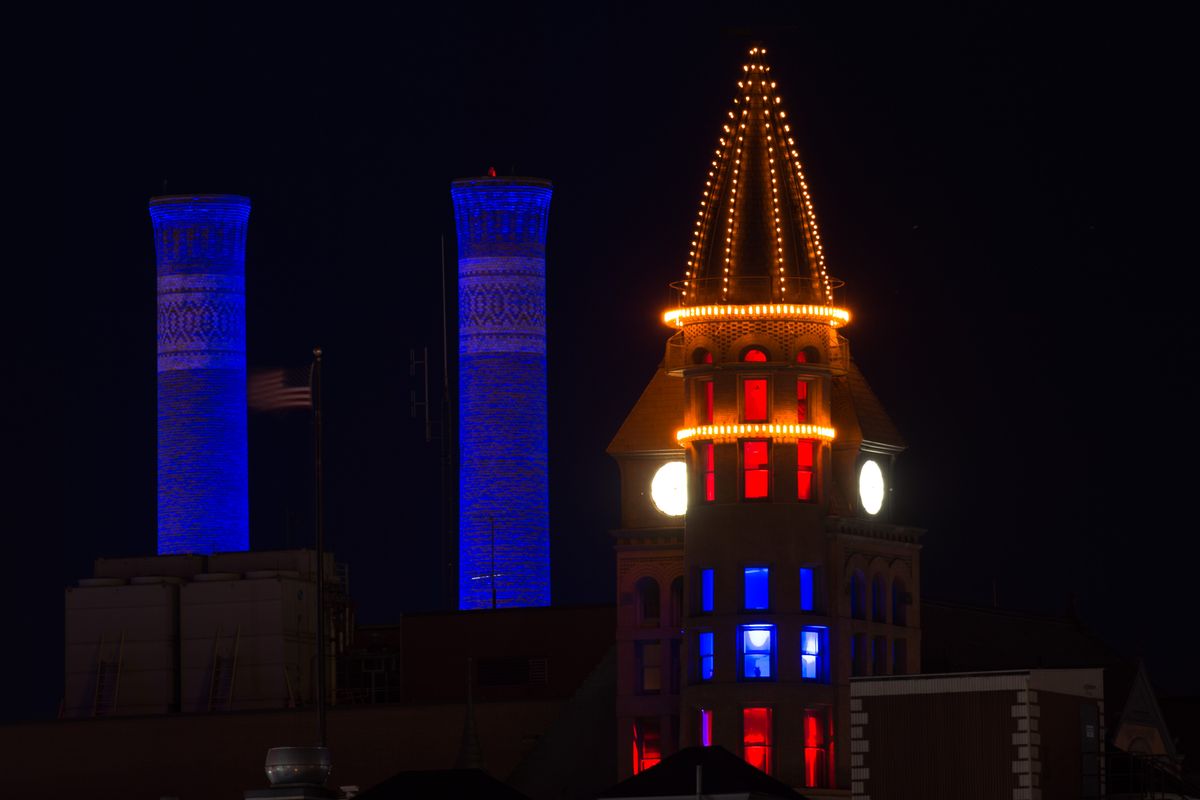 The Spokesman-Review tower is seen lit in Gonzaga livery against the Spokane skyline on Sunday, April 2, 2017, in Spokane, Wash. Tyler Tjomsland/THE SPOKESMAN-REVIEW (Tyler Tjomsland / Spokesman Review)
As the Zags prepare for the Final Four tipoff Saturday, Spokane is gearing up for its own prime-time moment.
An ESPN crew will spend up to four days in Spokane, filming "Zag Nation" fans, game events and local attractions for the network's social media, website and possibly TV coverage, the network has confirmed. Crews will be visiting the hometowns of the universities competing in the Final Four.
"It's absolutely our moment to shine," said Sarah Schwering, Gonzaga University's senior director of marketing and communication. "We're so proud to be in the Final Four. It's been a long time coming."
The national media coverage also pays dividends for the region's economy, local business leaders say. Here are five ways the Spokane area could experience economic benefits.
National exposure
Millions of TV viewers will be watching the Zags game against South Carolina. College basketball fans from across the nation will be Googling Gonzaga, and they'll learn that the Catholic university is in Spokane.
If viewers catch ESPN's social media coverage, they'll have a chance to see some of the city's iconic landmarks, including the falls, Manito Park and the Davenport Hotel.
Visit Spokane will analyze media coverage after the game, estimating the dollar value of the free publicity.
CBS isn't releasing viewership projections for the Final Four games or the championship. In the past two years, however, the NCAA championship games attracted between 18 million and 28 million viewers.
Business groups, meanwhile, are working with Gonzaga University to help the community put its best foot forward while the film crew it here. A four-hour tour of the city is planned for Saturday morning. The crew will meet Zags fans, alumni and local business owners.
"The film crew is going to capture a lot before the game airs," said Cheryl Kilday, president and CEO of Visit Spokane. "This kind of national exposure is a resume builder for the community. It allows us to demonstrate our passion, our heart and our connectedness. It's a springboard for telling the story of what a great community we are."
Gonzaga colors of red and blue are lighting up downtown buildings at night. Downtown Spokane Partnership also is working with various building owners to have "Go Zags" projected onto the exteriors.
As a marketing tool, "I wish I could rename Gonzaga and call it the 'University of Spokane,' " quipped Eric Sawyer, president and CEO of the Spokane Sports Commission.
When Syracuse University sent both men and women's basketball teams to the Final Four in 2016, the central New York city benefited from having the same name as the university.
"It's all about content and buzz," said David Holder, president of Visit Syracuse. "Ask the mayor to change the name of the city to Gonzaga for the weekend."
Tourism and convention business
Tourism is a $947 million per year industry in the Spokane area. Officials expect local tourism to benefit from the Zags advancing to the Final Four.
"When you've got that kind of notoriety, it makes people curious," Kilday said. "They think, 'I'll be heading out West. Maybe I could incorporate a visit.' "
The national exposure also will help Spokane's convention sales, she predicted.
"There's so much community spirit," she said. "That's the essence of what we market all the time.
"We're the community that does more than what people expect."
Recruiting millennials
A winning team never hurts student recruitment at local colleges and universities, said Sawyer, with the Spokane Sports Commission.
Students are looking for a college experience as well as career training. For many, being a spectator at college sporting events is part of that experience, Sawyer said.
Gonzaga and other local colleges bring millennials to Spokane. People born between 1980 and 2000 are a coveted demographic: By 2025, 75 percent of the workforce will be made up of millennials.
Like other cities, Spokane is trying to recruit and retain millennials.
"We want smart, young entrepreneurs in our community. The jobs will follow them or they will create the jobs," Sawyer said.
Attracting sporting events
Spokane's hometown pride in the Zags also helps bring in other sporting events. It's part of the community's story, along with events such as HoopFest, Bloomsday and strong loyalties to other college and high school teams.
"We are clearly a community that embraces sports and athletics," Sawyer said.
That's a strong selling point to the organizers of big sporting events that helped Spokane land the U.S. Figure Skating championships and the first rounds of NCAA tournaments, he said.
Bump for small businesses
Small business can also capitalize on the Zags' successful season, said Visit Spokane's Kilday. She encourages local companies to display Zags signs and creative backdrops that promote fan selfies.
"It's that emotional opportunity to connect with your customers," Kilday said.
Homegrown Spokane business will benefit from media coverage generated by the season, she said.
"When people come here, they want to travel like a local," she said. "They want to know what you and I like about Spokane. They want to know what's undiscovered and off the beaten path."
Local journalism is essential.
Give directly to The Spokesman-Review's Northwest Passages community forums series -- which helps to offset the costs of several reporter and editor positions at the newspaper -- by using the easy options below. Gifts processed in this system are not tax deductible, but are predominately used to help meet the local financial requirements needed to receive national matching-grant funds.
Subscribe now to get breaking news alerts in your email inbox
Get breaking news delivered to your inbox as it happens.
---